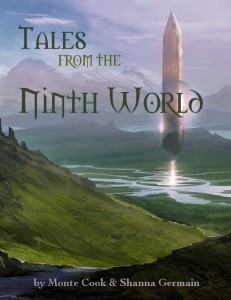 As one of our Numenera Kickstarter stretch goals, we said that we would create a short ebook anthology entitled Tales from the Ninth World. The stories, by Shanna Germain and myself (and one by both of us working together) are finished, and I think you'll really like them. The anthology is available for free to all Kickstarter backers at the ULTIMATE EBOOK FAN and REAL DEAL levels (and everyone at the levels higher than that). However, it is also available for sale on DriveThruRPG.com.
Each copy of the .pdf version comes with an exclusive short preview of the Numenera corebook, so you won't want to miss this!
More Numenera News
Things are going great. The corebook is off to the printer, which means everything is on schedule. What a gorgeous book. I'm so very, very proud of it, and of everyone who contributed to it. Barring unforeseen circumstances, we should start shipping orders to Kickstarter supporters and those who preordered by the first week of August.
Kickstarter backers who ordered the corebook, the deluxe corebook, the Numenera Player's Guide, the Nightmare Switch, the XP Deck, the Cypher Deck, the GM screen, t-shirts, and the dice should get them in August. I can't guarantee a precise date because of the vagaries of shipping, but all of these things should be shipping early August.
Ebooks for those products (including those who have preordered the ebooks from DriveThruRPG) should go out right away at the beginning of August.
The Numenera corebook and the Player's Guide will be in stores probably the middle of August. When it goes on sale in stores, it will also be available to purchase online in ebook and print formats (but not before).
GenCon
The Numenera corebook and the Player's Guide, plus the XP Deck, the Cypher Deck, and the GM screen PLUS SOME SURPRISES! will be available at GenCon. Not certain at this point about the dice. If you're going to GenCon, don't miss out on our events! In particular the Numenera launch event. It's sold out, but you might want to swing by and see if there's an empty seat. If you're going to GenCon, you will regret missing out on this. Trust me.