Description
The Invisible Sun Black Cube is out of print. Invisible Sun is available in PDF
A roleplaying game of surreal fantasy, secrets, and magic that is truly magical. Wield fabulous powers as you uncover the secrets of reality itself.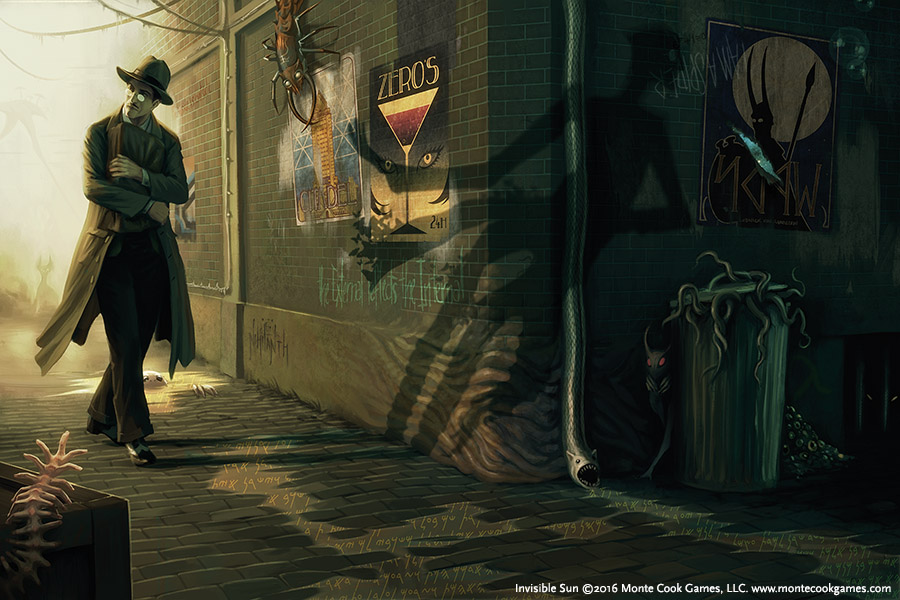 Lorcan made a gun out of demon; its bullets only harm possessed people. On his quest to discover the long-forgotten (and perhaps forbidden) number between 12 and 13, the weapon is proving useful as the Enemies of Sleep appear determined to stop him. 
Duri's face is normally a blur of swirling spiritforms, but occasionally she can make one of them manifest, and she gains its appearance and memories. If she risks keeping the new face too long, however, she can lose her identity. 
Rodir has connections all over the city, and she holds a collection of wicked keys that allow her to unlock any problem by just creating a keyhole to insert a key, turn it, and see what happens. People don't appreciate it when she does this to them, but that's what they get for being in her way.
Take a look inside the Black Cube with our video below!

Do you think you live in the real world?
You don't. This world you see around you is Shadow—a world illuminated only by the Grey Sun. You think it is your home, but that's because you have forgotten your true self. Awaken, and return to the Actuality and Satyrine, the city under the Indigo Sun. You are a vislae, a wielder of fabulous powers and capabilities, a shaper of reality itself. You sought shelter in Shadow to escape the war, but the war is now over and your home has called you back.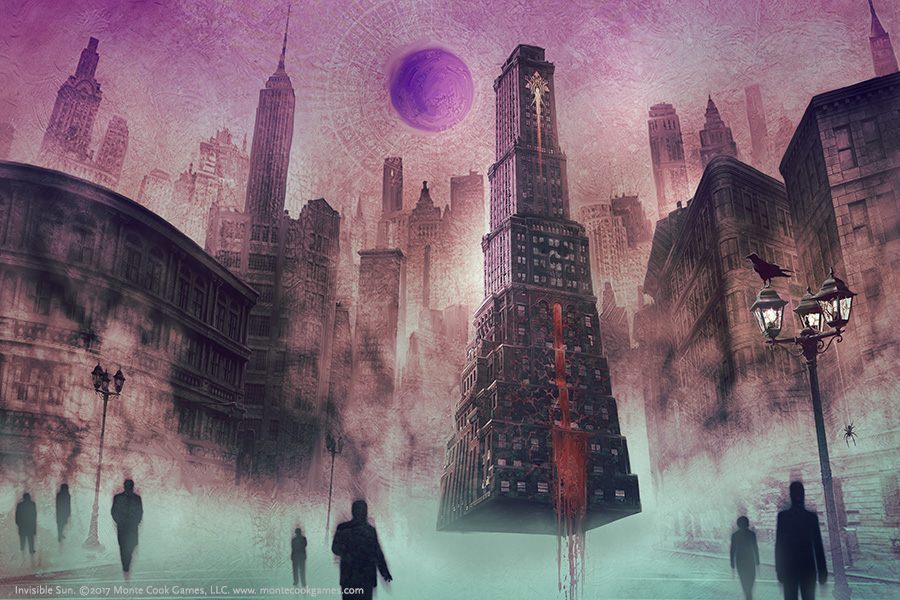 Invisible Sun is a roleplaying game of surreal fantasy. The player characters are vislae—wielders of magical power—recently returned to their true home: the Actuality, a world that seems like a surreal dream to those of us toiling aimlessly in the boring, grey realm you and I falsely believe is the real world. These characters face incredible challenges, visit breathtaking places, and discover secrets so astonishing that the only ones who can cope with them are those who understand the truth that powers the universe: Magic.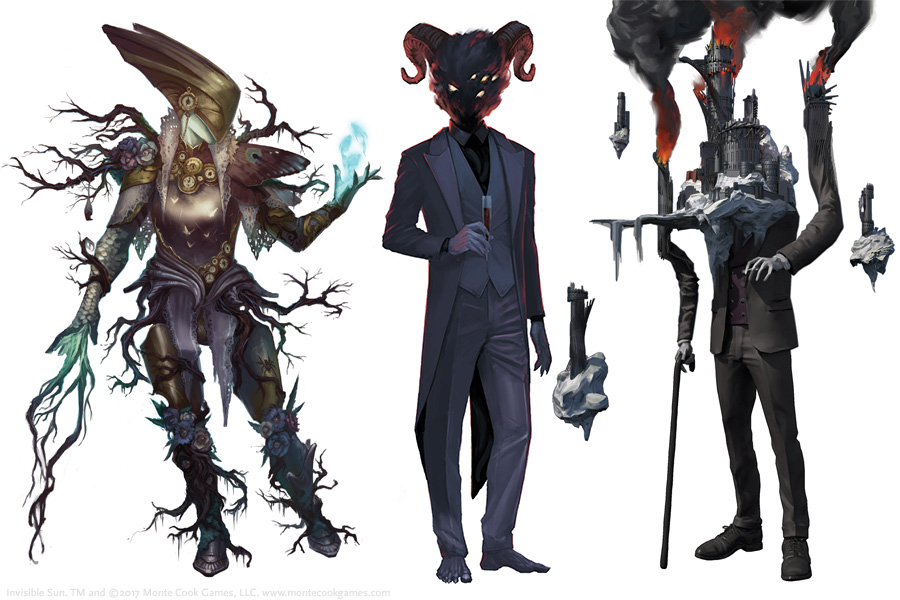 Magic: A power that can be pursued, studied, and even mastered, but never completely understood or controlled. It is fluid, unpredictable, and ever nuanced in effect. Its secrets are boundless. But that does not mean it is without rules and methods. There are four orders, major schools of magical thought and training. Vances study their spells carefully, believing they are, in their own way, intelligent in and of themselves. Makers, as the name suggests, use magic to create powerful items. Weavers cast spells with a fluid and improvisational sort of sorcery. Goetics use their magical skills to summon demons, angels, and other creatures to do their bidding. Outside of the four orders, Apostates are vislae who find their own paths and methods for wielding the power of magic, rejecting the hierarchies of the orders.
It is a rare vislae who does not have a house. Your house is as integral to your being as your spells or character stats. The houses of vislae are often haunted, filled with mysterious unknown rooms, bigger on the inside, or possessed of their own intelligence. And in Satyrine, a house is defined as much by what goes on around it as by the contents of its walls (assuming, of course, that a vislae's house even has walls). Local personalities, sites of interest (or danger), organizations or factions, and ongoing conflicts all affect a vislae's house and life. And all of this is determined as part of the character creation process.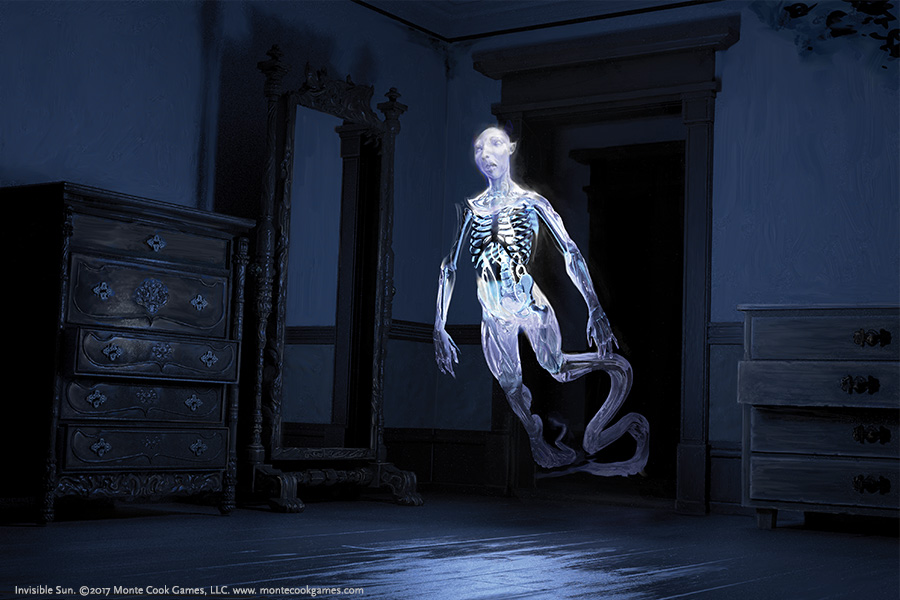 Bonds, character arcs, echoes of your life in Shadow, a secret Soul, your role within your order, and your relationship to other player characters are all addressed during character creation through a fun, interactive process that engages the entire gaming group. And leads to PCs with incredibly rich backstories, inner lives, motivations, and relationships—and a vast array of adventuring hooks.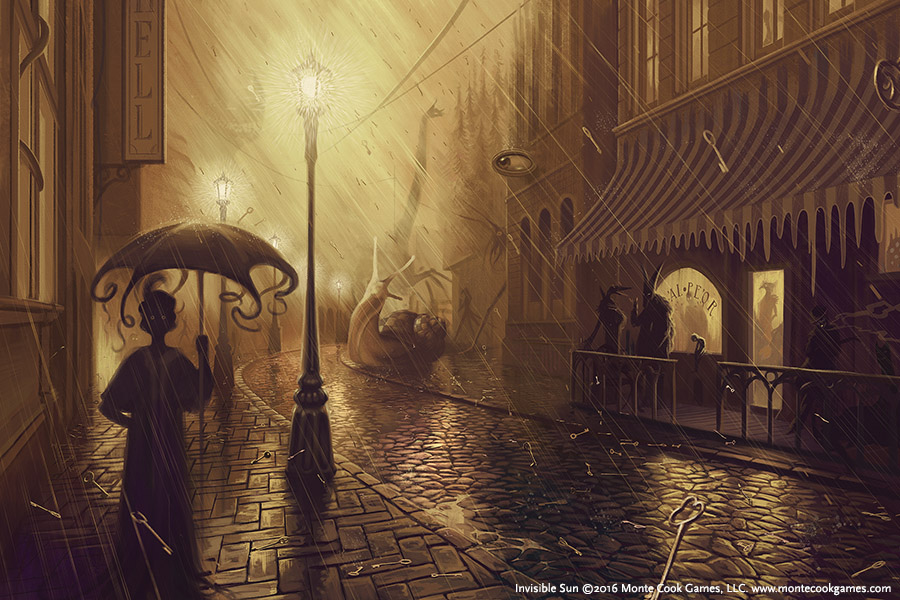 Finally, for Invisible Sun characters, even death is not the end. For in the Actuality, death is simply the realm under the Pale Sun, another world along the Path of Suns.

When exiled to Shadow, you probably believed there was just one sun—but there are in fact eight. Nine, actually—but even many learned people don't know that, for the ninth is a secret. Invisible. As a vislae, that is one of many secrets you know.
The Path of Suns is a representation of the way magic works, the known levels of existence, the stages of a life, and the makeup of the mortal soul, all in one. It is a symbol. A metaphor. A diagram. A map. Each sun represents a different concept, a different "place" and a different fundamental aspect of the universe. These different concepts are signified by the color of each sun, so that color ends up representing the sun and its attendant ideals.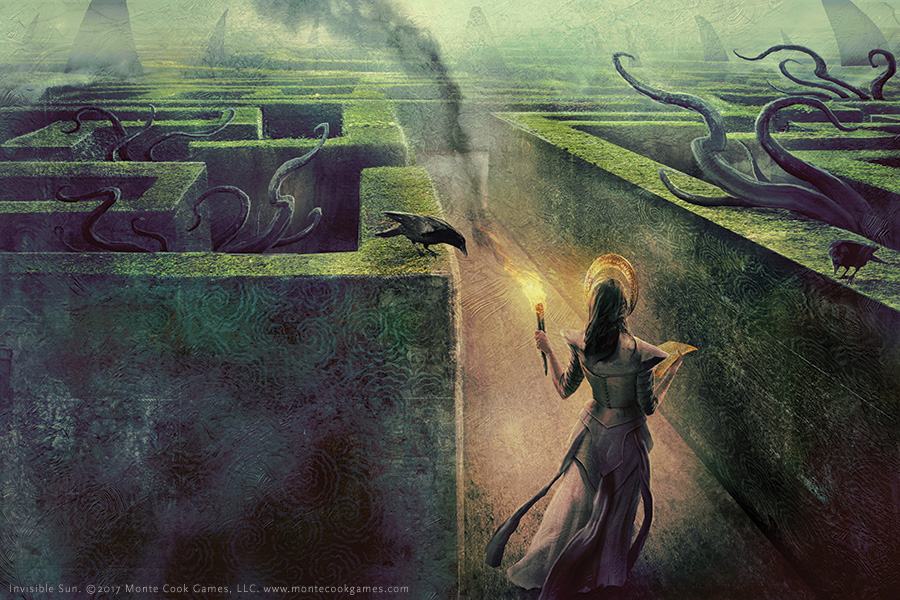 The suns are also planes of existence—literal places vislae can visit. Each realm reflects the nature of the sun that illuminates it, and is guarded by wardens and peopled by creatures great and terrible, mysterious and, very often, dangerous. Magical power flows like a rushing river from the Invisible Sun through the other suns. (Although the main current follows the Path of Suns, not all do.) Powerful vislae travel the Path of Suns to master these different currents and better hone their spells, but to do so they must parlay with the wardens of the Suns and face the perils within their realms.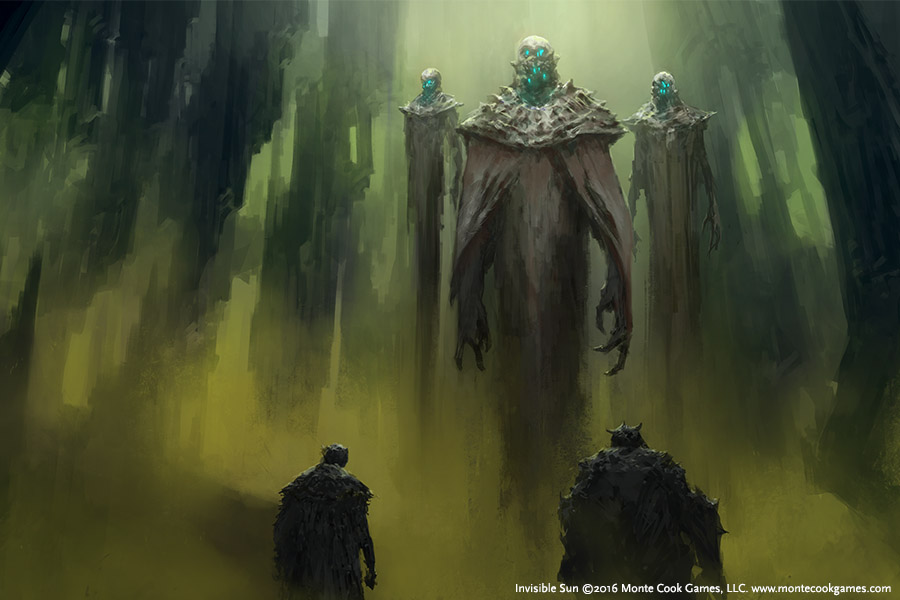 The Path of Suns connects all eight suns, Silver to Green, to Blue, to Indigo, then Grey, next Pale, and Red, and finally Gold. The Invisible Sun is not a part of the path, but rather outside, above, and around it. There are some, however, who follow the Nightside Path, which is the Path of Suns in reverse. In the Nightside Path, each sun has an altered, often darker, aspect. It would be far too simple—and erroneous—to call the Path of Suns "good" and the Nightside path "evil," but some do.
As a vislae, you might travel the path of suns, visiting these realms, parlaying with their wardens, encountering the glories and horrors within, and unlocking their secrets. Or your adventures might never take you beyond the borders of Satyrine, a surreal city rife with intrigue and conflict following the terrors of the recently concluded war.

Conventional RPG game play, with everyone gathering for a few hours every week or two, is what makes RPGs a great experience. It's also one of the greatest obstacles to a successful campaign, for our modern life rarely makes it convenient. Conventional play is the centerpiece of Invisible Sun, but the game also accommodates the realities of our lifestyles, rewards engagement with the game away from the table, and is deliberately made for differing player styles.
Play doesn't have to stop when the session is over. Players can keep the game going—individually or in groups—by creating side-scenes that describe high level actions that their character want to take. They can also create flashback side-scenes that reveal actions their characters have already taken. This also means that even if they can't make it to the regular session, they can still move their character's story forward. A side-scene might cover what Shanna's character does while she's absent from the regular session.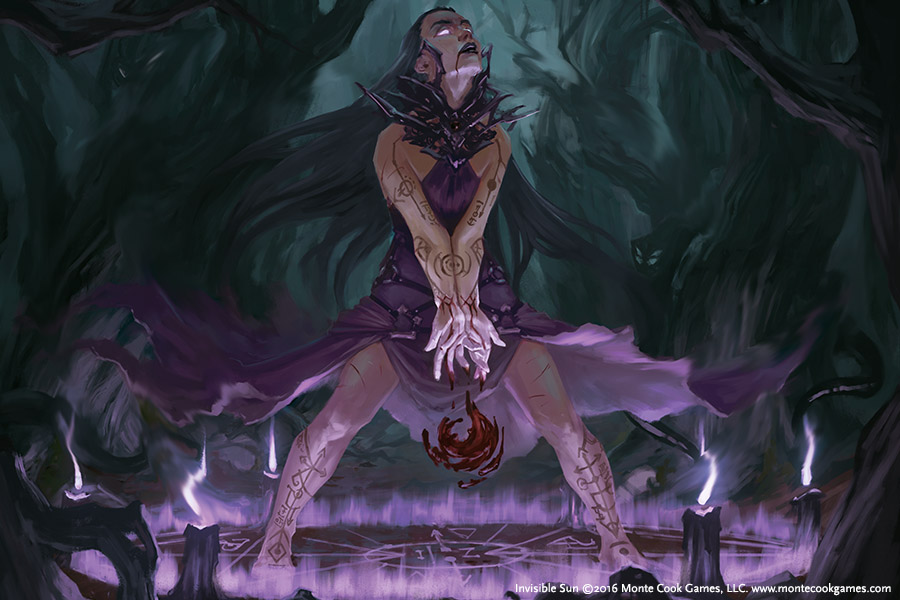 Players can even play if the GM isn't available. A side-scene could involve the entire group taking an action that they discuss in person and then communicate later to the GM. The GM resolves the action(s) by giving them a turn of a Sooth Card and then responding to the players' actions and intentions. The free Invisible Sun app, for iOS, Android, and web, facilitates these modes of play.
While Invisible Sun is aimed primarily at those of us who love deep, complex characters, there are options for when your cousin shows up from out of town and wants to join in for a session. And whether you're an out-loud extrovert who's happy to tell the world about your character, or a quieter player who keeps your character development mostly to yourself, the game is deliberately designed to let you get the most out of it.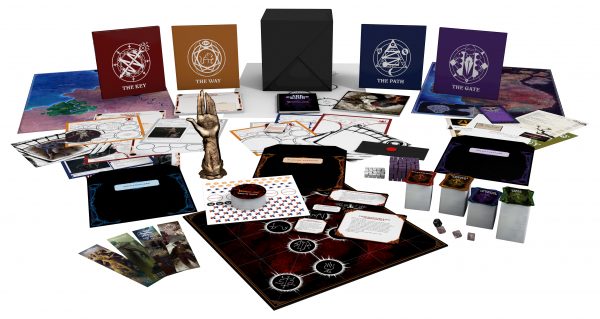 The Invisible Sun roleplaying game is an unprecedented physical production, filled with massive amounts of content for a unique roleplaying experience. The black cube contains (and this is not an exhaustive list):
Four hardcover books totaling over 600 pages of game and setting content. (That's half again the page count of one of our typical corebooks, such as Numenera.)
Roughly 1000 cards. That's the equivalent of about 200 pages of book content, and for the most part the cards do not duplicate text in the books. (That's three or four times the size of a typical Magic: the Gathering core set, or twice the number of cards in a typical deck-building game like Dominion.)
The Sooth Deck, a beautiful tarot-like deck that's instrumental to game play.
The Path of Suns game board, used with the Sooth Deck.
The Testament of Suns, a resin-cast figure that displays the currently ascendant Sooth Card.
A wide variety of tokens for tracking game info.
A set of custom Invisible Sun dice.
Two cloth maps.
A GM's notebook.
Character tomes (similar in function to character sheets in other RPGs) for all four orders, plus apostates.
A character grimoire pad.
Five pregenerated characters.
Loads of in-setting handouts and props.
A gorgeous art book.
And the Invisible Sun app is free.
Invisible Sun is a game about discovery and secrets. There may be other content awaiting your discovery in the black cube.
Invisible Sun is also available in PDF. While no digital file can match the tactile experience of the physical Black Cube, the PDF is optimized for an incredible digital experience. It contains all of the printed components of the Black Cube, including:
The four corebooks, fully hyperlinked and bookmarked.
The cards, laid out in a printer-friendly format.
Roughly 70 additional files including handouts, props, an art book, big maps, five different character sheet designs, and much more.

In addition to the Black Cube, you may also be interested in:
Group Purchase Bundle: A Vislae Kit for you, and a $40 gift certificate. Give the gift certificate to your GM to help share the cost of an Invisible Sun purchase. (Make sure you send it to the email address your GM uses at the MCG Shop.)
Vislae Kit: A player companion to the black cube, with dice, a Sooth Deck, grimoire pad, character tome, tokens, and more, all in a very cool box. The Black Cube contains everything an entire group needs to play, but the Vislae Kit gives a single player their own copy of key elements.
Secrets of Silent Streets: An in-depth tour of Satyrine, the surreal city at the heart of the Invisible Sun setting.
Book M: New forte, long-form magic, and character and house secrets, plus 200 new cards for spells, incantations, ephemera, and objects of power, all within an elegant and sturdy slipcase.
Teratology: Hundreds of creatures, spirits, and other entities that inhabit the realms of Invisible Sun, plus new locations and insights to the Path of Suns.
The Nightside: A dangerous tome of forbidden magic, encased in a protective warding bag. Contains new cards, spells, and a unique experimental die for use with Nightside magic.
Enchiridion of the Path:

A spiral-bound book containing notes, maps, journal clippings, and tons of other handouts for your

table! Tear and rip this perforated book of props apart.

The Threshold: An incomparably strange book which delves into the life of a vislae, the rumors of the Labyrinth, & new character options.