Description
Glorious Gear—Plus the Twelve True Treasures of Storia!
When going on adventures in Storia, it helps to have gear that's as wondrous as the fanciful creatures and places you'll encounter. And whether it's a tickle potion, a tyrannosaurus axe, a bunny bomb, or a third arm, having your items on cards makes it fun and easy to choose and use your gear.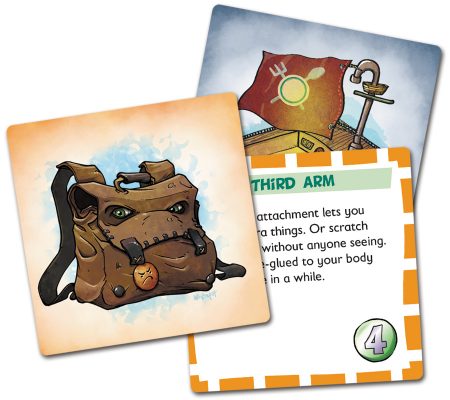 This 54-card deck includes all the equipment from the No Thank You, Evil! rulebook. Each card has a picture of the item on one side, and its description and effects on the other, along with the cost in coins, making it easy for players to decide how to spend their well-earned rewards. You get two copies of each item, because sometimes more than one player wants to buy the same thing. You also get cards for the Twelve True Treasures of Storia, to collect as they are discovered, rescued, or accumulated!