Description
Winner! ENnie Award Gold: Best Cover Art
Explore new lands. Discover new creatures. Unearth new secrets.
The Torment: Tides of Numenera computer game is set in a whole new region of the Ninth World. This book details and expands upon the weird and fascinating places, people, and creatures first glimpsed in Torment. Discover secrets of the computer game, and explore its world in greater depth and detail. Incorporate the region and its inhabitants and conflicts, in whole or in part, into your campaign. Maybe even become a castoff or explore the Tides, mysterious forces that can shape human interactions.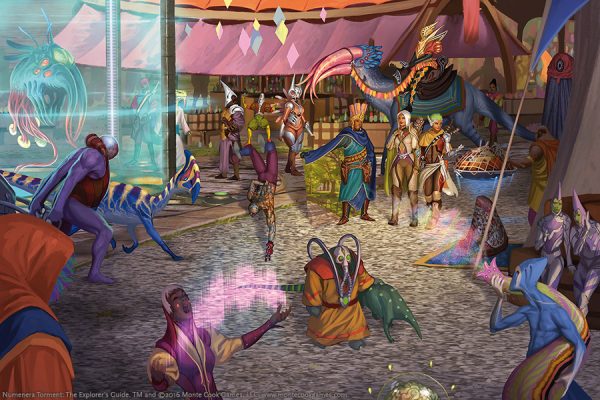 Delve into Greater Garravia and the splendor of Torment: Tides of Numenera. The book includes:
Detailed descriptions and maps of prominent areas in the computer game, including Sagus Cliffs, the Bloom, and the Forge of the Night Sky, along with other points of interest in the region such as the Lost Sea, Tiaow Chain, and the Great Library.
New character options such as the Bloomborn and Slick descriptors, the Breathes Shadow and Speaks With a Silver Tongue foci, and a new racial option: the aquatic Ghibra from the water city of M'ra Jolios.
New creatures, including the ever-hungry corpuscular maw, the transdimensional crystalvore, and the golden nakal.
Stats and details about important NPCs from the computer game who are ready to step into your campaign.
Tips on playing a castoff, the same type of character you play in the computer game, along with optional rules for using the enigmatic forces known as the Tides.