April is upon us, and with it comes one of the coolest events of the gaming calendar: International TableTop Day! On Saturday, April 11th, gamers around the world will gather to play and celebrate the act of tabletop gaming.
April also marks the release of the next Numenera title: Weird Discoveries: Ten Instant Adventures for Numenera!
These two things have something in common. Well, they have a lot in common, but there's a particular synergy I want to talk about. Gaming events like ITTD tend to be well-suited to the board gaming paradigm: A bunch of people sit down, usually with no real prep (and often with no experience with the game), set up a game in just a few minutes, and then play a game from start to finish in a few hours. Contrast that to most RPG play, which requires a GM to have spent hours getting ready beforehand.
But it so happens that Weird Discoveries isn't really like most RPG adventure products. The adventures in it are specifically designed to be run with virtually no prep. Seriously: In the time it takes the players to pick out and look over a set of pre-generated characters, the GM can get up to speed. Everyone can be playing five or ten minutes after sitting down, even from a completely cold start.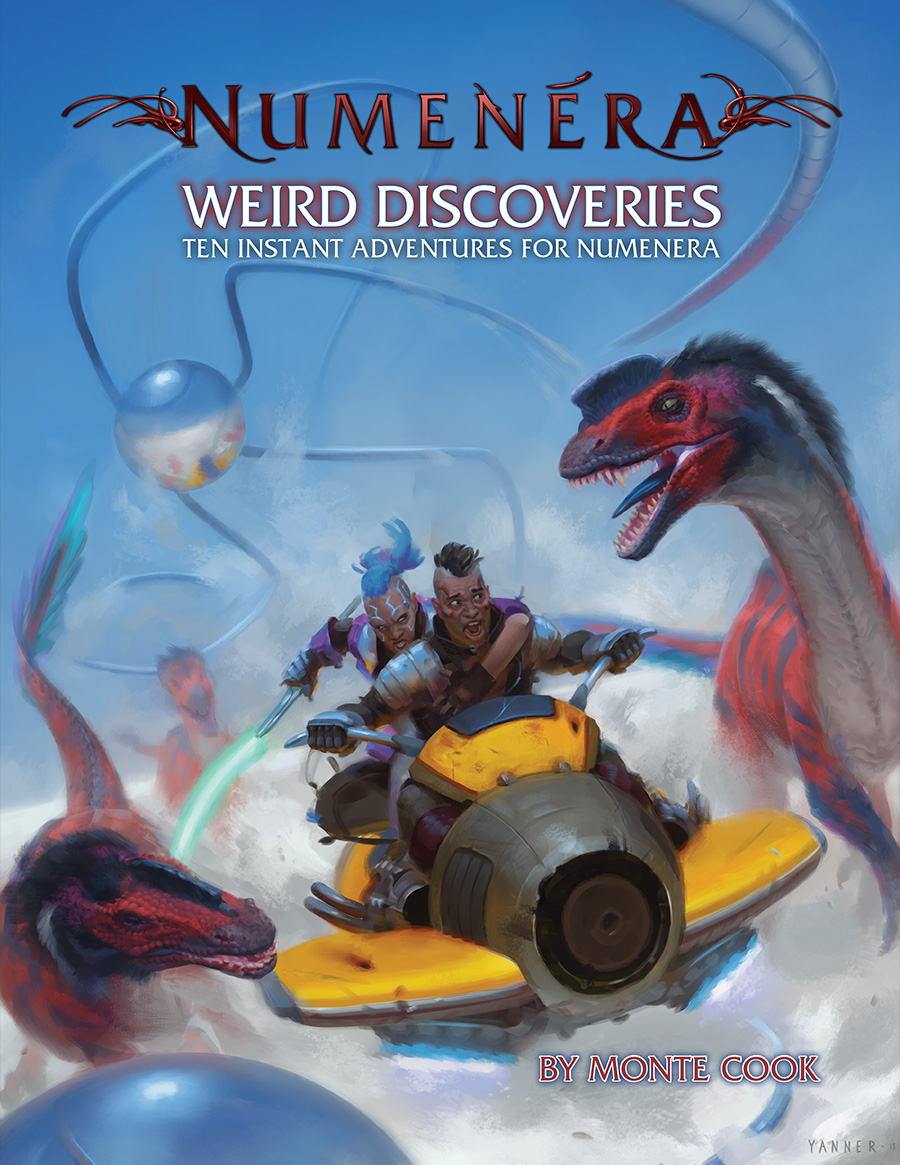 So this new adventure format is ideally suited for an event like International TableTop Day, because it lets you play a full-fledged RPG within the above-mentioned board game constraints. We're going to take advantage of that fact, and we hope you'll join us! Here's the deal:
Run a Numenera Instant Adventure on International TableTop Day (April 11th), and we'll give you a free adventure from Weird Discoveries. You'll get it well ahead of that title's street date. And you'll also get a shot at a really cool prize! You can run the adventure as a public demo game at an official ITTD event, or at home with your regular gaming group—whatever works for you.
How Does It Work?
Running Numenera in celebration of ITTD is pretty cool on its own, but we're also trying to make a point about how unique Weird Discoveries, and the Instant Adventure format, really are. This is how we're going to make it: We aren't going to give you the adventure until right before the event. That's right: We're telling you that you don't need to prep to run this thing—and we're going to prove it by not giving you the time to prep!
Wait! Come back! It's all going to be OK! Here's how it works:
Schedule your event. Like I said, it can be a game at home with a bunch of your friends, or you can work with a local ITTD organizer to include your Numenera game at his or her event. (You can find local ITTD events here.) Use this handy flyer to help coordinate with an organizer.
Sign up with us so we can send you the adventure.
You don't need to prep for this specific adventure, but it's good to know how Instant Adventures work. So download and read the free preview for Weird Discoveries. You can read the adventure that's included in the preview if you like, but the important stuff is the front matter. Instant Adventures is more than a different format—it's a slightly different approach to GMing and adventure structure, so reading that stuff will familiarize you with the differences.
(Of course we're assuming you've played Numenera before. If not, you might want to do so!)
Run your game!
Afterward, we'll ask you to fill out a short survey about your experience.
If you register your game, run it, and fill out the survey, you'll be entered into the drawing!
(Just so you know: We want to get the word out about Weird Discoveries, and the fact that it isn't like your everyday adventure book. So we might quote you in a Facebook post or other marketing message if you say something insightful about running your game.)
What About That Prize?
We'll hold a drawing among all the GMs who reported their event and let us know how it went. You have to complete the whole process (including the final short survey) to be in the drawing. The winner gets a print copy of Weird Discoveries autographed by Monte, along with a PDF of the book and a nifty batch of great Numenera GMing tools: A set of Numenera dice, a copy of the super-helpful Cypher Chest, Numenera Character Sheets in print, and a $25 gift certificate to the Monte Cook Games store so you can round out your collection!
The Fine Print
Since there's a prize involved, of course there's some fine print. (If you don't care about the prize but just want to run Numenera on ITTD, don't worry about this stuff.) Here are the details:
You must fill out and submit the entry form (don't worry; it's super short).
We'll send you the adventure no later than midnight EDT on April 10th.
You must run the supplied Numenera adventure on Saturday, 11 April, 2015. You can run it as a private or public game (that is, with a group of your friends at home, or for a bunch of strangers at an official ITTD event).
We will contact you by email following the event and ask you to complete another very short survey about your experience. You must complete the survey no later than midnight, EDT, on Wednesday, 15 April, 2015. We may quote your responses in marketing or other public communications.
We'll hold the drawing and announce the winner no later than Friday, 17 April.
That's it! Play some Numenera. Get a free adventure. Try out Weird Discoveries and learn how you can play a pick-up RPG as easily as a board game. And maybe end up with an awesome prize!
Are you in?
All those useful links in one handy box: