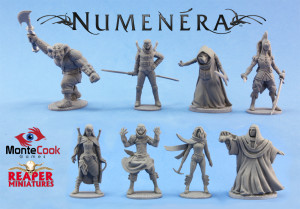 I've been friends with the awesome folks at Reaper Miniatures for a long time. I've loved their minis (and have literally thousands of them) for years, and they've apparently played a lot of the games I've worked on. But we've never worked directly together.
At least, before now.
It's been difficult keeping this one to myself for so many months because I'm so excited about it. Finally, I can share with you that we will have Reaper miniatures specifically designed for Numenera and the Ninth World! Here's the official press release. There will be 10 miniatures in the initial set, 7 characters and three creatures:
Lattimor
Glaive

Murden
Varjellen
A character who Fuses Flesh and Steel
Nano

Jack

Aeon Priest
Two creatures — the ravage bear and erynth grask — are not shown.
Sculpted by Patrick Keith, Brett Admunson, and Kevin Williams, and based on artwork by Kieran Yanner, Jason Engel, Scott Purdy, Mark Terrisse, Shane Tyree, and Cory Trego, these figures look amazing!
These miniatures will be available at GenCon at our booth (1201) and online and at your local retailer after that.