The Strange Kickstarter Backers: It's been a long haul, but The Strange is approaching completion. The Strange corebook, that is—we also have the Player's Guide, the Fan Kit, the Player's Kit, the dice, the Cypher Deck, the unique character cards, the fiction, the conversion guide, the online character generator, and so on. Not to mention The Dark Spiral, The Strange Bestiary, and all the other book titles a bit further down the road! Yes, we're hard at work on all of that, and initial rewards for Kickstarter backers aren't far away!
The Strange corebook went to press last week, and we just turned over the final proofing revisions to the printer. So it's a good time to give our backers a taste of how the fulfillment process will work. This process kicks off in July, so we'll share the specific details in our next Kickstarter update, but here are the broad strokes.
The Fulfillment Process—This is Important! Here's how things are going to unfold:
In mid-July, Kickstarter backers will receive an email from us. It will contain links and codes for all of the items you're slated to receive, including your shipping allowance. Don't throw this away or let it languish in your spam folder!
You'll follow the links to the MCG store, where you'll find a Kickstarter Backer page just for you that lists all of your rewards—your books in print and PDF format, along with any add-ons, such as the Player's Kit or autographed bookplate. You may have to create a store account first—just be sure to use the same email for the store account that you specified in your BackerKit info. Some of the items on this page (in fact, most of them) will be things the general public can't get, because you're getting them a few weeks ahead of general release (or because they're only for Kickstarter backers—the general public will never have a chance to get them). So this page has links to "secret" items the public won't find on our store.
Follow those links to add any or all of the titles to your shopping cart. (While you're logged in, if there's anything else in the store you'd like, you can add it to your cart as well.) Then check out like you're placing a normal order.
During checkout, you'll use the coupon codes included in that first email. They'll make the products free. (Your Kickstarter reward products, that is—you'll still need to pay for anything else you've added to your cart.) They'll also apply your shipping allowance. You'll have the chance to choose an alternate shipping method if you like, but if it's more expensive than your shipping allowance, you'll have to pay the difference.
Your virtual products (PDFs) will be unlocked, but they may not be available right away. As soon as they're available, you'll be able to log into the store at any time, go to your regular account page, and download them.
Your order for your physical products will ship from our warehouse, probably within a day or two of you completing this process. We do expect many hundreds of orders in the first couple of days, so be patient as our warehouse deals with that heavy load.
Overseas backers who want to hold back and ship a bunch of things together? No problem—just don't add any physical products to your shopping cart. They'll wait for you on that Kickstarter Backer page until you want us to ship them.
That's an overview of the process—like I said, we'll have more details and specifics in next month's Kickstarter update. But if you only take away one thing at this point, it should be this: None of your rewards can ship until you complete this process! So look out for next month's update, and for your fulfillment email in mid-July!
Design Update: With The Strange corebook off to press (and the Player's Guide heading off in less than a week), there's not much to report on the game's design. It's a great-looking book, and we can't wait for you to see it! In fact, here's a tiny peek at what it looks like (this is an image of an actual printer's proof).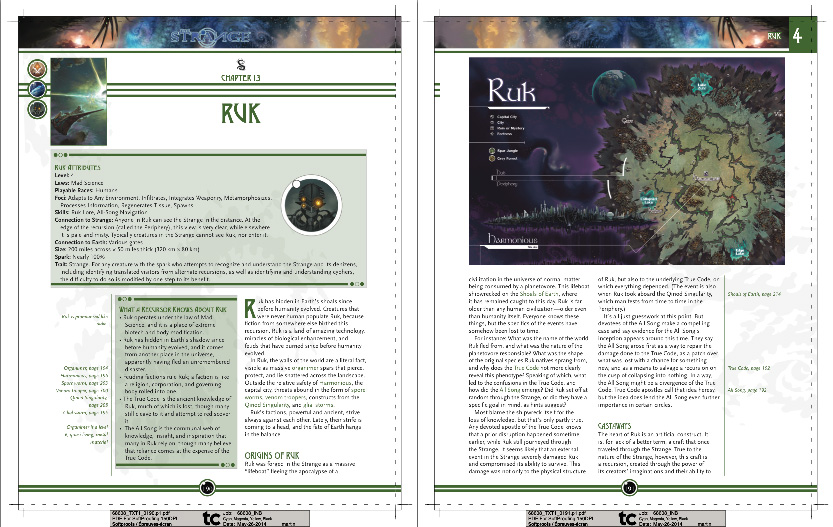 Our attention has already turned to the next few titles: The Dark Spiral has been written, is pretty much through playtest, and is now in editing. It'll be out in September. We're also quite far into The Strange Bestiary. Here's a look at a piece of the art from that book, to whet your whistle.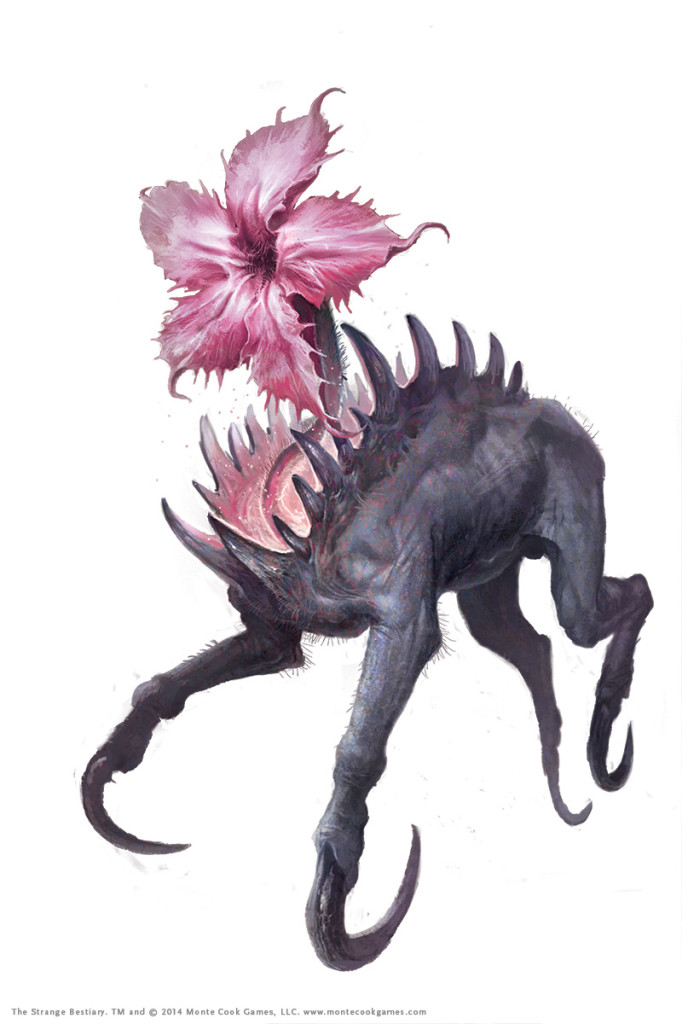 Headed for Gen Con? Along with everything else, we're also preparing for Gen Con, the biggest core hobby gaming event of the year! If you're going, we'd love to see you there—we're in the exhibit hall, in stand number 1653. (If you have trouble finding us, that's why—it's about as bad a location as you can get. All the way at the back of the exhibit hall, facing the back wall. Spread the word!)
We're also running a ton of events. As of this moment, almost all of them are already sold out, but if you can't get in, you have a couple of options. Your first choice is to buy some generic tickets and show up anyway—last year, our sold-out Numenera events sometimes had a no-show or two. A more reliable choice is to run a game of your own! Kickstarter backers should have your copy of the game at least a couple of weeks ahead of Gen Con. Schedule an event at gencon.com, then drop Tammie a line at tammie@montecookgames.com. We'll help you promote the event, and might even be able to support you with a few goodies!
Speaking of events, Bruce is putting the finishing touches on our official The Strange Gen Con adventure: The Eschatology Code. The fabulous Matt Stawicki is doing the cover art—we'll finish this off a look at his sketches for the piece.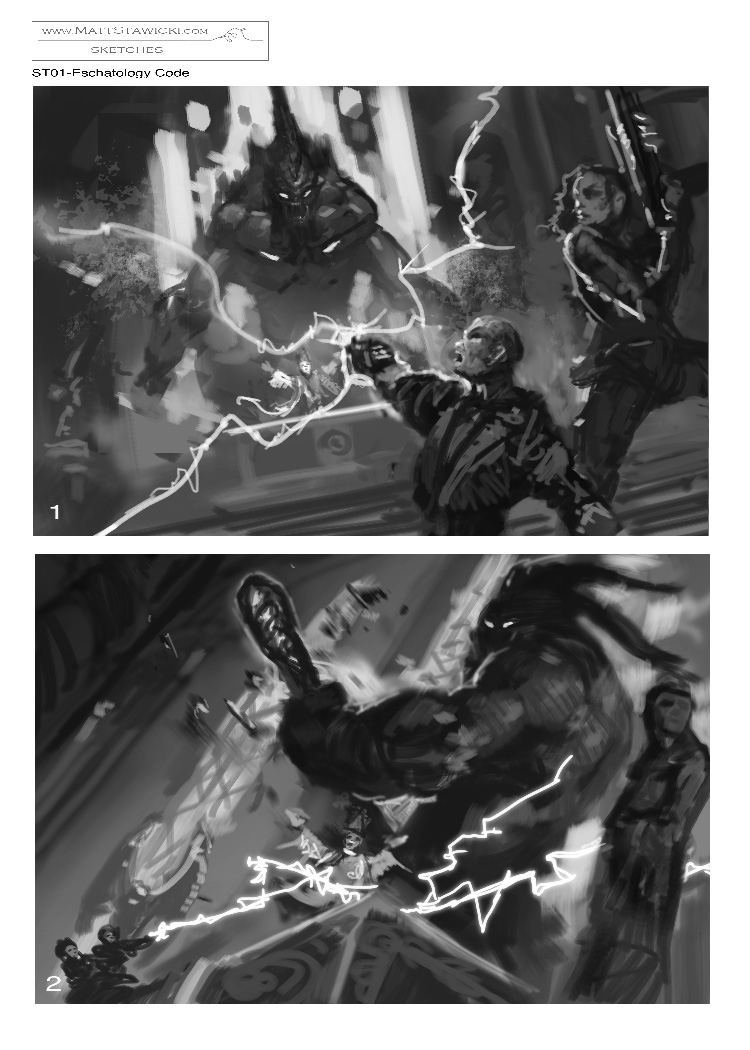 The Strange. Explore. Defend. Create.