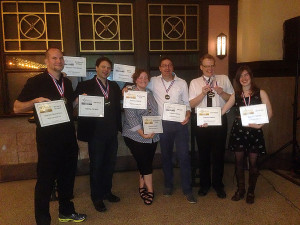 To say that this was a great GenCon is to greatly understate the matter. Monte Cook Games launched our new RPG, The Strange, to both acclaim and success, and we couldn't be more thrilled. Our RPG from last year, Numenera, won ENnie Awards in 10 different categories. We ran 57 Numenera and The Strange games and by virtually all reports, they were a blast, thanks in no small part to the organizational skills of Tammie Ryan.
Thursday was the Numenera seminar and it was well-attended despite some snafus in getting it (and The Strange event) listed by the convention. Those who came got some nice exclusive gifts as well as a peek at upcoming products with lots of inside information and a look at some of the great art that is on its way.
Similarly, on Saturday, we held the launch event for The Strange. Attendees also got some cool free stuff and previews regarding upcoming products. Eventually, however, the event became a fun conversation about recursions and the possibilities of this new setting and system. I think there's a lot of amazing stuff ahead as players and GMs alike fully realize all the potential.
Friday, Bruce Cordell and I each ran games in the afternoon for Kickstarter backers and those who donated to our charity auction. They were a lot of fun. Friday night, of course, was the ENnies. It was a great ceremony with my friends Tom Lommel and Jen Page hosting, and Monte Cook Games did very well. We won either a silver or a gold award in every category we were nominated in, in fact.
The Numenera Creature Deck won Gold for Best Aid or Accessory.
The Numenera Corebook won Silver for Best Interior Art and Best Cartography.
The Numenera Corebook took the Gold award for Best Production Values.
Numenera won Silver for Best Game.
The Ninth World Bestiary won the Silver award for Best Monster product.
We won Gold ENnies for both Best Setting and Best Writing with Numenera.
And Numenera won the Gold award for Product of the Year.
Lastly, Numenera: The Signal won Silver for Best Podcast.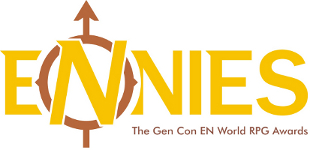 My only regret about the ENnies was that Numenera editor and contributing writer (and Monte Cook Games co-owner) Shanna Germain couldn't be there. She was attending a family wedding. Numenera is really as much her baby as it is mine in so many ways, and it would have been great for her to see the accolades it received.
As great as the ENnies are, though, you know what's just as great? Hearing from players. Some of my favorite recurring comments (I heard each of these in one form or another, ten times or more at GenCon):
"Numenera brought me back to tabletop roleplaying games."
"Numenera convinced me to be a GM."
"Numenera changed the way I look at RPGs."
I spent a lot of time in the Monte Cook Games booth, a beautiful space designed by Charles Ryan and Bear Weiter. I signed a lot of books and talked to a lot of people. To see how Numenera (and now The Strange) is catching people's imaginations and bringing fun and rewarding experiences into their lives was very rewarding and satisfying. I can't wait until next year!