Who: Team MCG and you!
What: The best four days in gaming!
Where: The Indiana Convention Center (ICC) in Indianapolis, Indiana!
Why: To celebrate our tenth anniversary, get a look at what's coming next for MCG, and to play games!
An Evening with Monte Cook Games!
Spend Friday evening with Team MCG! We're hosting a huge get-together at 7pm ET at the Iron Horse in Union Station. We'll have previews of upcoming products and goodies for attendees, but space is limited, so be sure to sign up via the event on the Event Catalog!
Play in our games…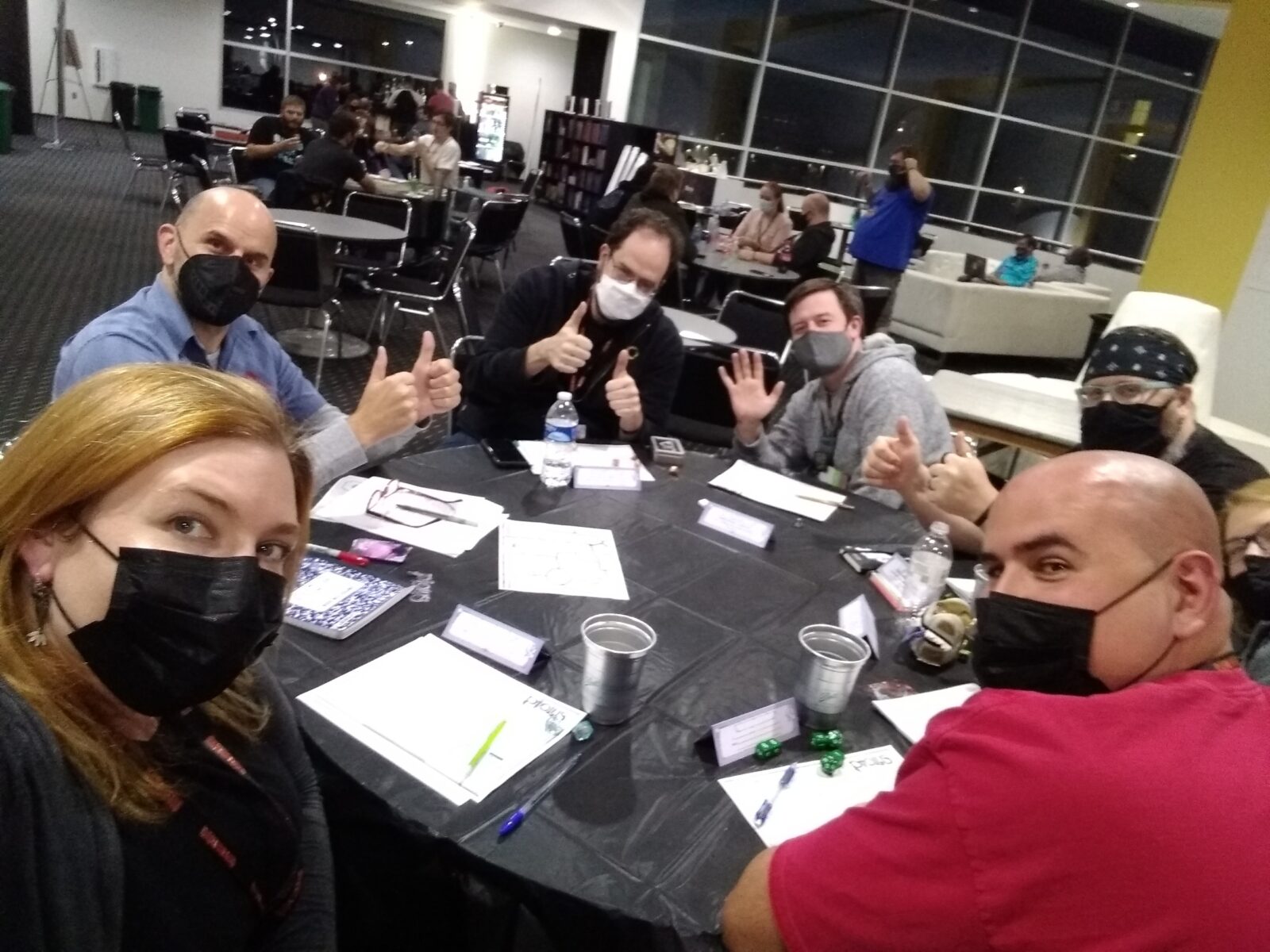 MCG has twelve tables of games and events ready for players to get their gaming on all weekend! See everything we're offering in the Event Catalog! We are debuting three new scenarios for Numenera, Cypher System, and 5th Edition, and Gen Con will be the place players can experience Stealing Stories for the Devil for the first time EVER. Here's what we'll be running this year:
The Takings (Cypher System)
It is 1921. Authorities investigate a series of disappearances in rural Dorset, but the villagers have their own theory: A local myth tells of a vampire that, every few decades, steals away three victims. Is there any truth to the myth, or is something more mundane at work? And what does it all have to do with Creston Grange, the local manor house, now standing derelict and rumored to be one of the most haunted sites in England?

Shards of the Looking Glass (Numenera)
The isolated aldeia called Tavrul is suffering a strange plague: duplicates of its citizens have started wandering into town. They seem to be identical to their originals in personality, memories, and ideals, but their presence is unnerving and confusing at the very least. Duplicates of the living were troubling enough, but now the dead have appeared—and their motives are much more sinister. Can the PCs discover the cause—and what happens when their own duplicates begin to appear?

Tyrant's Key (Cypher System and 5th Edition)
A duke of Hell forged a masterpiece of destruction, a massive flying battlecraft able to cross the planes: the Tyrant of War. Upon reaching a destination, the devilish ship could rain down hellfire-laced attacks of cataclysmic potency. But soon after it was constructed, Tyrant went missing. It's been lost somewhere on the planes for generations—until now. An extraplanar adventure based on Monte Cook Games's new Path of the Planebreaker supplement.

Trouble in Space (No Thank You, Evil!)
It's a long trip to a far-away planet, but the spaceship is self-driving. Opik the Powerful wants you to keep Zow, a young alien, safe on the journey. It should be easy, because the spaceship is stealthy and nobody else is on board. What could go wrong? No Thank You, Evil! is the critically acclaimed RPG for families with creative kids as young as five. Children must be accompanied by a parent or guardian, who can sign up to join the game or just watch!

Master Thieves from the Future Save Reality! (Stealing Stories for the Devil)
The perfect heist. Getting in, getting out. Smooth talk and careful bluffs. Stealth, hacking, and quick action. You and your crew pull it off every time. Because you're not just master thieves—you're master thieves from the future, who bend the very rules of reality when you need to. And you're going to need to, as your perfect heist encounters astonishing twists and turns in this unique zero-prep new game where players and GM collaborate to create the scenario and the plan at the same time. (We had to give it a cooler title because the game's name and system are the same, which wouldn't fly for Gen Con.)
…or run them!
Interested in running games over playing them? We're always looking for GMs, and folks who run for us get pretty good perks! Email LaTia at latia@montecookgames.com to let her know you're interested, and she'll get you all set up!
Come visit us at our booth!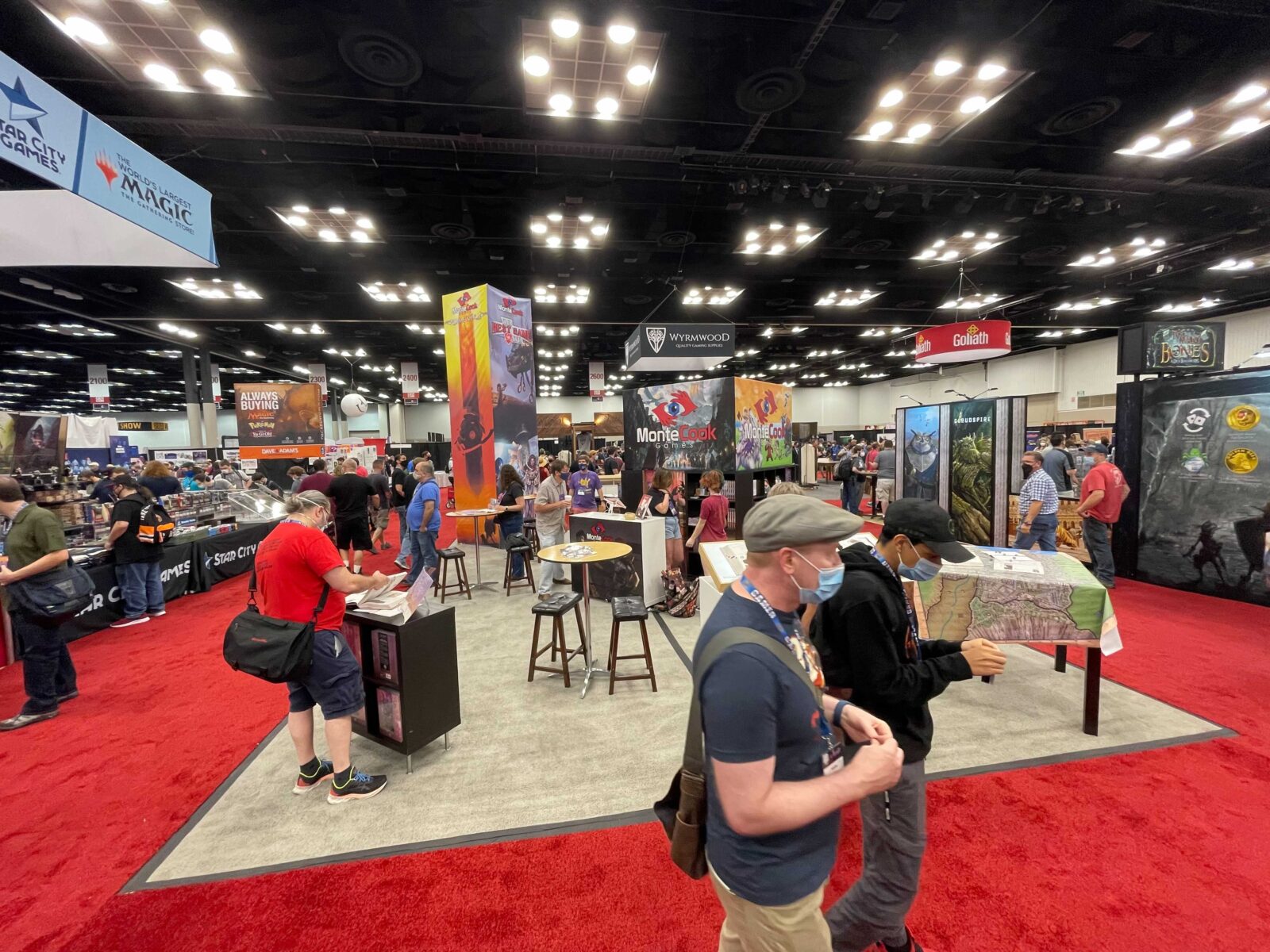 You can find us in the Exhibit Hall at Booth 2519 with all the latest and greatest MCG games and accessories. Come by to complete your collection, participate in a demo, or just to chat with us!