Test drive the Jade Colossus – coming to a store near you!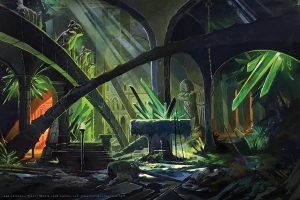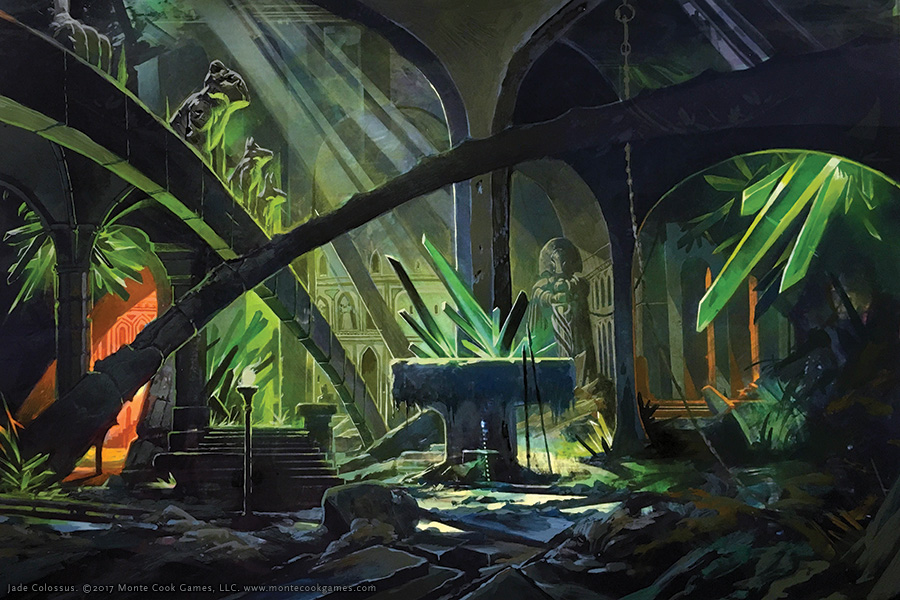 Good things come to those who wait. Fantastic things come to those who bypass ancient locking mechanisms, rappel down scintillating metallic shafts, and reach untouched treasures of forgotten worlds. Jade Colossus: Ruins of the Prior Worlds, an upcoming Numenera supplement, bursts at the seams with rich setting information (prior-world locations, beasts, character options, and adventures) in addition to the perfect tool for you do-it-yourself GMs: the Numenera Ruin Mapping Engine.
Preorders for Jade Colossus start July 5th, but you'll want to get an early taste of the delicious ruin-delving action of this supplement. Come take part in Ruination Weekend, July 15th and 16th, to demo encounters from Jade Colossus!
Further, the Dice Stormers are streaming the adventure on Youtube – tune in on Saturday the 15th at 2am PT, or the much more reasonable 7pm AESTD, or watch it at your leisure once it's uploaded to their channel!
In meatspace, the MCG Asset Team is running demos at the following locations:
USA
Brazil
Nerdzstore (Rua Carvalho 771), Alegrete, Rio Grande do Sul
NERDz (Street Presidente 

Carlos

 Cavalcanti, 900), Centro, Curitiba, Paraná
Spain
United Kingdom
We'll be adding additional stores as we get closer to the event date. Check back soon! And if you don't see your Friendly Local Gaming Store on the list? Ask your FLGS to request some demos from us, or take matters into your own hands: join the Asset Team!