Zoa Smalley Joins Monte Cook Games as Layout Artist and Warehouse Coordinator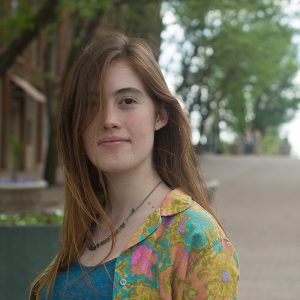 Monte Cook Games, LLC, the company behind the popular and award-winning tabletop roleplaying games Numenera, No Thank You, Evil!, the Cypher System, and The Strange, is very pleased to announce that Zoa Smalley is joining the MCG team as Warehouse Coordinator and Layout Artist as of April 17, 2017.
Zoa has worked with Monte Cook Games since 2014, initially as an intern and then part time, and has now transitioned into a full-time role. Her position spans two disparate sets of responsibilities: As Warehouse Coordinator, she expands her responsibilities in managing MCG's fulfillment process. As Layout Artist, she brings more of her considerable talent and skill in visual design to layout and graphic design MCG's products.
"Zoa has been part of the MCG family for three years," said Tammie Ryan, Administrative Manager at MCG, "and has proven herself to be capable, creative, and generally awesome. It's been an honor mentoring her from her internship through ever-increasing levels of responsibility, and I'm super excited to welcome her to her full-time role."
"Zoa has supported us, production wise, ever since her internship, but over the past few months she has become an integral part of the production team," commented MCG Art Director Bear Weiter. "Technically and creatively, she brings a growing skill set to our production process, and I'm thrilled to have her now working with us full time."
"Monte Cook games is such a great place to work," Zoa commented. "I'm honored to be part of such a kind group of people who have helped me grow professionally and as a person. Even though I've been working with MCG since 2014, it still feels great to join full-time, and to work so close to a medium I truly love with people I wholly respect and admire."
Zoa is a recent graduate of the Kansas City Art Institute, where she studied Game Design and Creative Writing.
The addition of Zoa to Team MCG further establishes this young company as an increasingly important leader in the RPG industry.