The Kickstarter campaign for Monte Cook Games's next big RPG, Invisible Sun, now in its second week, has smashed through its ambitious funding goal and is already racking up stretch goals. It looks likely to eclipse the record-setting campaign for Numenera, MCG's flagship line—but that's not what really makes this campaign newsworthy. Rather, it's the way Monte Cook Games is breaking new ground in the crowdfunding process—once again!
The Kickstarter Campaign as an Experience
"Invisible Sun is a game of secrets, revelation, and transformation—and so is the game's Kickstarter campaign," said Charles Ryan, MCG's COO. "For example, some elements of backer rewards are keyed to the day the backer pledges to the campaign. Special events—such as the first "keyfall" last weekend—keep backers engaged with opportunities to make free upgrades to their rewards. And we've embedded puzzles in the Kickstarter, related web pages, and other communications that are building communities of backers working together to puzzle out more of Invisible Sun's secrets."
Keyfall events, which mirror the fall of Wicked Keys (mystical objects that can unlock any mystery) in the game world, give sharp-eyed backers the chance to upgrade their rewards at no extra cost. The first keyfall, in just 90 minutes, saw over 80 backers upgrading their pledges while 18 new backers pledged for nearly $6000—the type of fast-paced action typically seen only in the first or last few days of a campaign.
Backer rewards also vary as the campaign traverses the Path of Suns, a tour of the setting's mystical cosmology. Backers who pledge when the silver sun is ascendant receive different secrets than those who back on the Indigo sun's days. And what might happen when the campaign, at its midpoint, hits the end of the path and begins to work its way up the "darkside path"?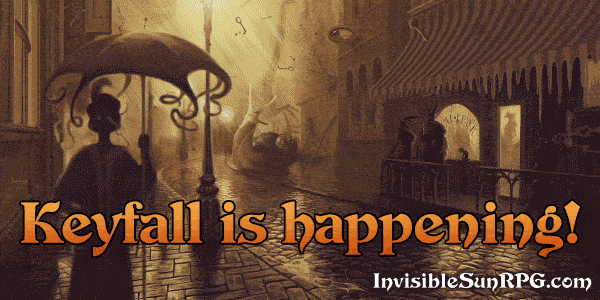 Puzzles and Caches
Keyfalls and other special elements of this campaign are not announced in advance, but clues are hidden in updates and web pages that provide information about Invisible Sun. A passionate community has grown up around the campaign, sharing information, working on puzzles, decoding mystical scripts, and seeking out physical caches that contain prizes and even more information. To date, caches have been unearthed in places as diverse as Delaware, Florida, Colorado, Texas, California, and Washington state. As of this writing, the Invisible Sun Seekers community on Google+ is closing in on a cache its members believe lies hidden in a Chicago park.
Monte Cook, co-founder of Monte Cook Games and lead designer of Invisible Sun, commented, "We want this campaign to give backers a sense of what Invisible Sun is like—its focus on secret knowledge, revelations, and mysteries. And we wanted to do it not just through words and pictures, but through the entire experience of the Kickstarter campaign." To that end, Cook embedded clues, secrets, and hidden information in the campaign's Kickstarter page, audio files on the Path of Suns website, nearly a dozen pages of information at www.invisiblesunRPG.com, and even at the campaign's announcement event at Gen Con in early August.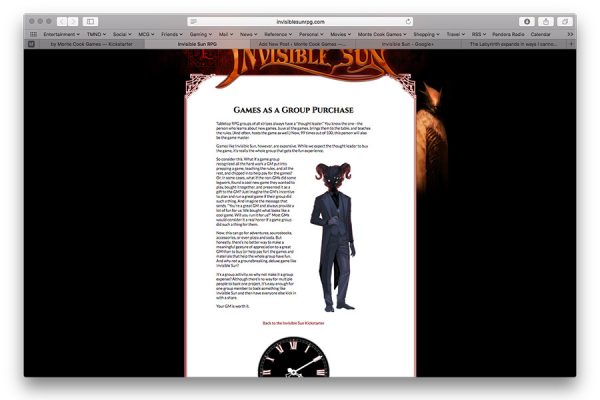 Building Communities
"All this activity is helping build communities of Invisible Sun players even before the game comes out," commented Shanna Germain, co-founder and game designer at Monte Cook Games. In addition to the Google Seekers group, she pointed to a group on Facebook helping gamers who want to share the cost of Invisible Sun connect with one another.
The Invisible Sun campaign has also generated national press coverage, with a recent article appearing in Forbes.
Invisible Sun will be released in late 2017. The Invisible Sun Kickstarter campaign launched August 15 and runs through September 16.
For interviews, more information, or art assets, contact Charles Ryan at [email protected]