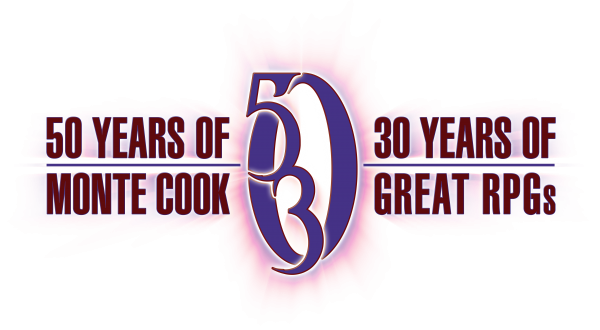 January 27th, 2018
Thanks for being a part of our celebration of 50 years of Monte Cook! Please RSVP here, so we have a sense of how many people are taking part, and what games will be represented. And remember:
Play on January 27th.
Share photos and stories about your events on social media, with the hashtag #HappyBirthdayMonte—that's how Monte will see them.
Afterward, go to mymcg.info/happy-birthday-monte, and let us know how it went. You'll give us your shipping address at that time, and we'll send you a little present to commemorate this event!
Please give us the following information now:
[contact-form-7 id="133566″]
Here's some fine print: Supplies are limited, so the gift offer is while supplies last. There's a limit of six people per reported event (but if you have more than six, you and your friends can report it as two events). You'll need to report your event no later than January 31st to be eligible for the gift. If you live outside the U.S., you might have to pay duties, taxes, or other fees. Void where prohibited, taxed, or otherwise restricted.