Monte Cook's birthday is Monday, January 29th. It's his 50th, which is kind of a significant number to most of us. In addition, 2018 marks 30 years as a professional game designer for Monte, and that also seems like a pretty significant anniversary. So we'd like to celebrate, and we invite you to join us.
We've chosen Saturday, January 27th for our day of celebration. Here's what we have in mind: Gamers across the country and around the world playing games or adventures Monte created—from Rolemaster to D&D to Numenera.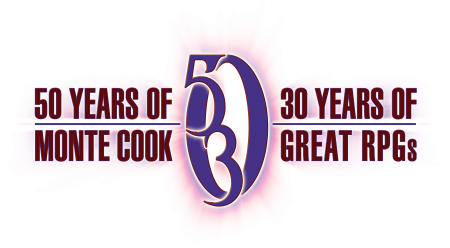 Calling All Gamers!
We'd love it if you took part—and if you do, we have something cool for you to commemorate the event! The best part: To participate, all you need to do is something you love doing already: Play a game. Play one of Monte's games—any game or adventure he's written over his 30-year career—on Saturday, January 27th. What should you play? That's totally up to you, but some of the games Monte is most proud of include:
Ptolus
HeroClix
D&D 3E
Arcana Unearthed
Monte Cook's World of Darkness
And, of course, Numenera and the Cypher System
In a career as storied as Monte's there are literally dozens—hundreds, really—of other options, and any of them are great. You can find a full library of Monte's current and past works at DriveThruRPG.
That's all you need to do to be part of it, but we'd like to make a slightly bigger deal of things. Here's what you can do to really help make the most of the event—and get the most out of it.
Organize your game in advance, including who you plan to game with on the 27th.
Let us know about your game on our RSVP page. We'd love to have a sense in advance of how many people will be participating. Don't be shy—the RSVP form is really short and will only take a moment or two.
Play your game on Saturday, January 27th. Have a great time!
Post photos and stories about your events on social media, with the hashtag #HappyBirthdayMonte—that's how Monte will see them!
Afterwards, report your game by returning to the RSVP page. Let us know who played, and give us your address. We'll send commemorative cloisonne pins for you and the members of your gaming group.
That's it. It basically boils down to playing your game and letting us know about it—and then we send you a little gift to commemorate the event!
Retailer Events
We'd love to have retail stores involved as well, and taking part is just as easy. We even have a free kit to send you. You can find all the details here (scroll toward the bottom).
Haven Comics, Etc.
1871 Slaughter Rd
Madison, AL 35758
Tucson Games & Gadgets
2900 E Broadway Blvd
Tucson, AZ 85716
Tabletop Gaming Center
741 New Britain Ave
Newington, CT 06111
Labyrinth Games & Puzzles
645 Pennsylvania Ave SE
Washington, DC 20003
Tyche's Games
1056 S Lumpkin St
Athens, GA 30605
The Geek Boom
431 Main St
Vincennes, IN 47591
maCnarB Gaming
2307 US-90
Gautier, MS 39553
Twenty Sided Store
362 Grand St,
Brooklyn, NY 11211
Alterniverse
1164 Route 9G Rock Ledge Plaza
Hyde Park, NY 12538
Broken Sentry Games
1375 S Columbia Rd
Grand Forks, ND 58201
Nerdcore Toys & Collectibles
321 N Pearl St
Ellensburg, WA 98926