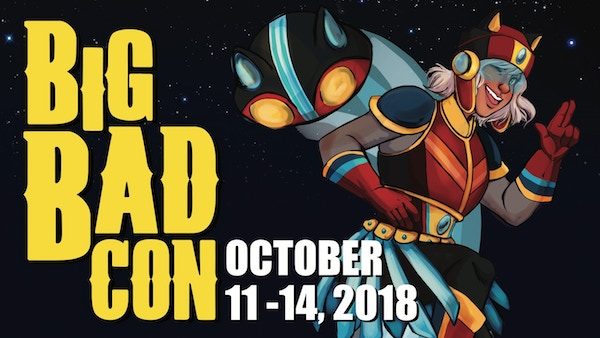 Big Bad Con is a tabletop and live action gaming convention featuring fantastic games in Walnut Creek, California! Darcy is a guest this year, and she'll be running events along with several fantastic Asset Team members. Join us at some of these events:
Darcy's Event Schedule
Friday October 12th
4:00pm-6:00pm—Panel: Streamed RPGs: Advice We Wished We'd Received (California A)
Streamed gaming, whether on Twitch or YouTube or elsewhere, combines gaming, acting, live performance, crowd-hyping, technical wrangling, and much more! In this panel, learn the top tips of what some fantastic streamers wish they knew when they were just starting out, and bring your questions!
Panelists include Darcy Ross, David DC Colllins, Aser Tolentino, James D'Amato, Lauren Bond
Saturday October 13th
9:00am-1:00pm—Numenéra: Taracal and the Sea of Secrets (Room 569, table 17)
Description: A billion years in the future, Earth has been reshaped by eight great civilizations wielding technology so advanced as to seem like magic. Help the Ninth World seize its Destiny and build its legacy on the mysterious bones of prior worlds.
Science so advanced as to seem like magic. A floating arcology on the Sea of Secrets. The depths hold strange creatures and a multitude of wonders, if a team can brave its dangers.
Sunday October 14th
11:00am-1:00pm—An Empty Page (Room 216, table 2)
Description: Who has a girl become? Play archetypes of the Fates influencing the life of a single girl, anchoring flashbacks around found objects. Begin at her funeral, end with her joining an archetype herself. A LARP-ish game co-designed by Darcy Ross.
---
Some fantastic Cypher System and No Thank You, Evil! games are being run by Asset Team members as well! Only two have open spots remaining:
Friday October 12th—2:00pm-6:00pm—Numenéra: Ashes of the Sea (Room Contra Costa II, table 61), GM Ken Davidson
Sunday October 14th—9:00am-1:00pm—No Thank You, Evil! (Room 574, table 22), GM Melanie Stark