In this series of articles members of the team here at MCG look back at products we've released over the past decade and talk about their personal experiences in their creation and the influence the titles have had on them as gamers, professionals, and just, well, people. It's part of our celebration of Monte Cook Games's first ten years. In this post, Managing Editor Teri Litorco talks about one of her favorites so far: The Darkest House.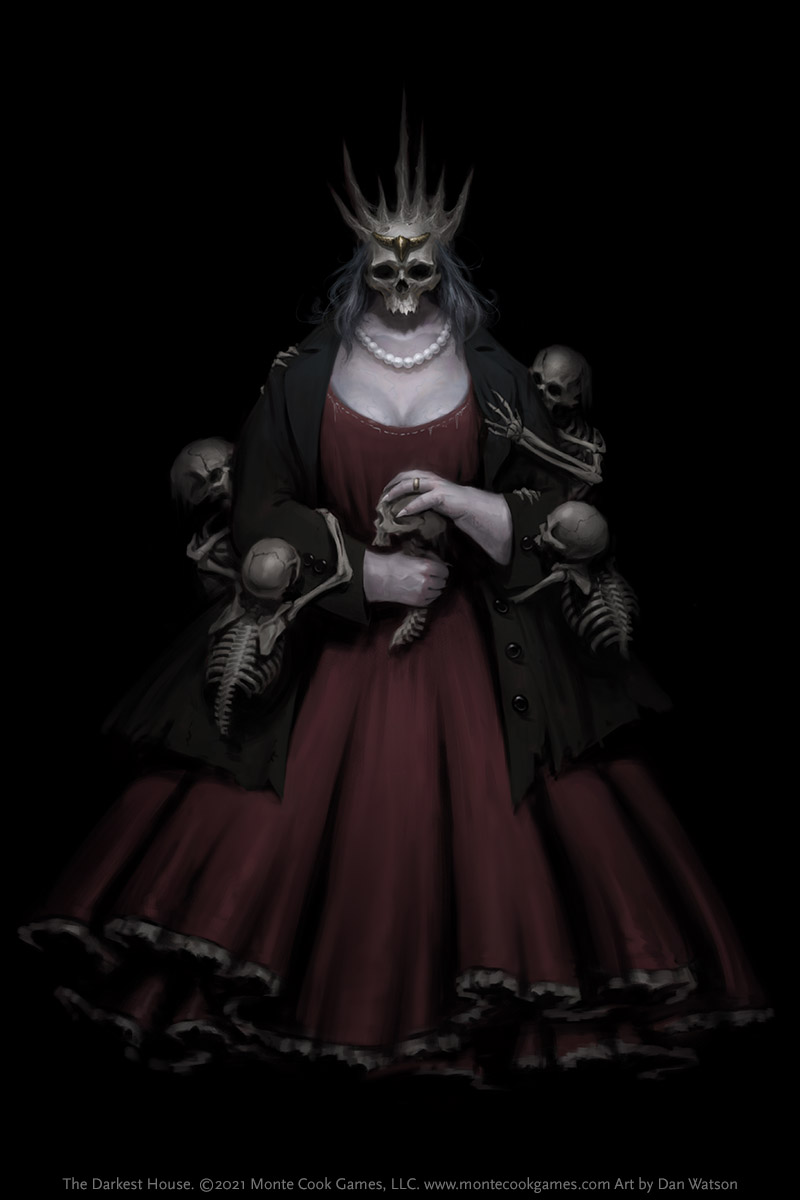 The Darkest House may reside in every world, in every universe, and in every dimension—but it also has a special place in my heart.
There are a lot of things that make it special. A Buzzfeed-style article might read "5 Reasons You NEED to Play The Darkest House!" and extol its virtues: its compatibility with every other RPG system; the way it was built and optimized specifically to be played remotely with friends; its beautiful, dark, and haunting art; how it builds and releases tension while keeping you on the edge of your seat; and how easy it is for the GM to run.
I can only imagine how 13-year-old me (a goth kid a little too obsessed with Sandman comics) would have reacted, knowing there would be games like this in the world. (There would be a lot of squeeing to high heaven—or more appropriately, into various dimensional voids.) While the text of the game says that the House is Clive Barker and House of Leaves, that younger version of me connects the House to The Corinthian. Clicking through the game, she'd put on Bauhaus and imagine her Vampire: The Masquerade character trying to get through it. This game was made for her.
There's also the fact that The Darkest House was the first game I got to work on all the way through, from conception to completion—at MCG or anywhere else. We started on it when I had recently joined the team and was just getting out of the months-long phase where you're getting your feet under you. This game let me peer into the mind of a designer (a little bit, at least) and see—but not exactly grock—how they execute on their design vision for their game. I keenly remember the small moment where I caught myself smiling while reading through the manuscript in the game's early days. I was hearing Monte's voice in the personal and supportive tone of the text, his words providing insight, guidance, and narrative. I remember seeing the mind-blowing art come in: haunting creatures and atmospheric rooms.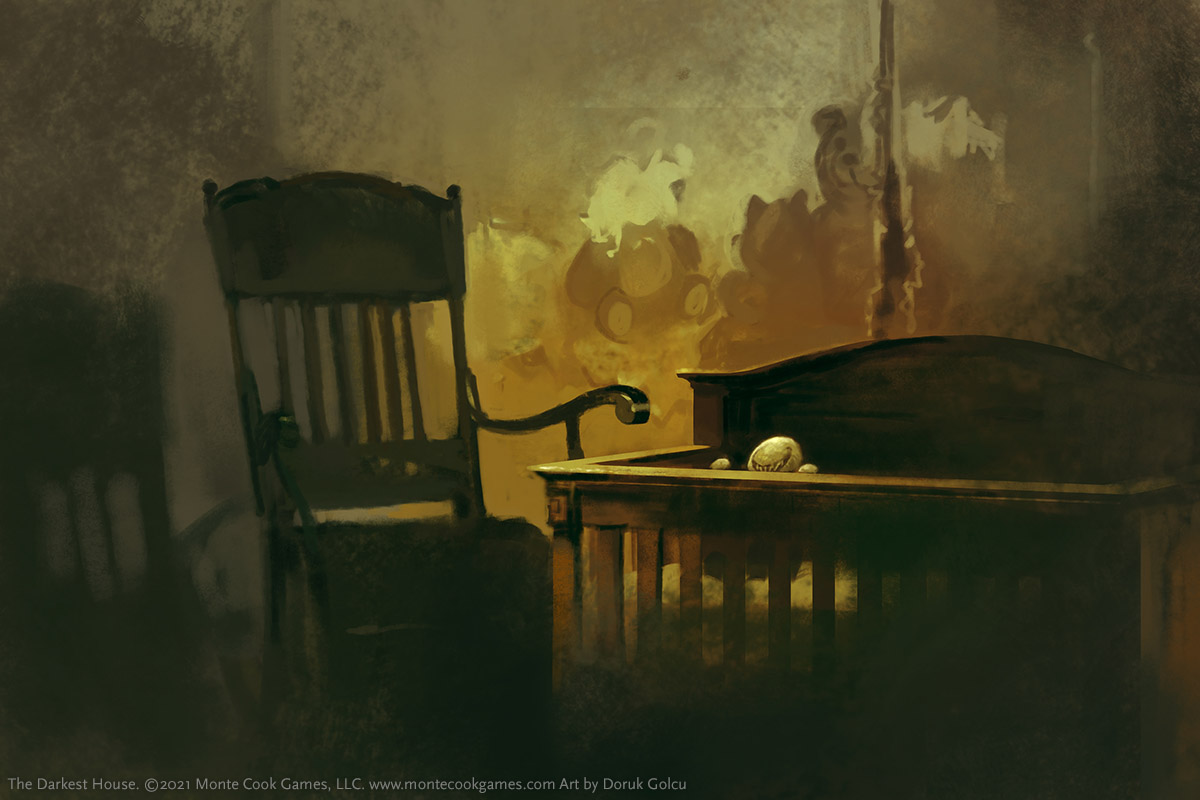 I also had a front-row seat to the MCG team taking on a task they've never faced before, coming together to make it happen, and delivering a game they were proud of. It seems strange to have to say it outright since it's a bit obvious, but Monte Cook Games isn't an app company. MCG makes books. It didn't hinder the team in the least. The commitment and enthusiasm everyone involved had into making The Darkest House the best game it could be was astonishing. It revealed, to me, the team's commitment to the gamers who love their games, and how important it is to everyone to fulfill—or exceed—promises made to those who support MCG. Being a part of this project immersed me in everything MCG. It was the project that made me truly feel part of the team. I learned so much.
Just a sampling of some of the great art from The Darkest House.
Obviously, I love the game. I think The Darkest House is special; I have never played anything like it, and it delights me as an experience. But there's also the moments and memories of its creation that have made me love a House that hates me.
The Darkest House, by Monte Cook, was released in June 2021. It's a digital-only title optimized for use with online gameplay, and delivered in an all-new app format. It's designed for use with virtually any game system, and specifically for integrating into existing campaigns. You can find it at the MCG Shop.