Two weeks ago we put forth an unusual challenge regarding Monte's upcoming adventure book Weird Discoveries: Ten Instant Adventures for Numenera. The challenge? Run an adventure with virtually no prep—and do it on International TableTop Day, in public for a group of strangers (that last part was optional, but about half the participating GMs did it).
Madness, perhaps, but with a method: We wanted to demonstrate the innovative new format Monte came up with, that allows GMs to run a full-fledged, full-length, fully-fleshed-out adventure with no more work put into the prep than is needed to set up a typical board game.
So how'd it go?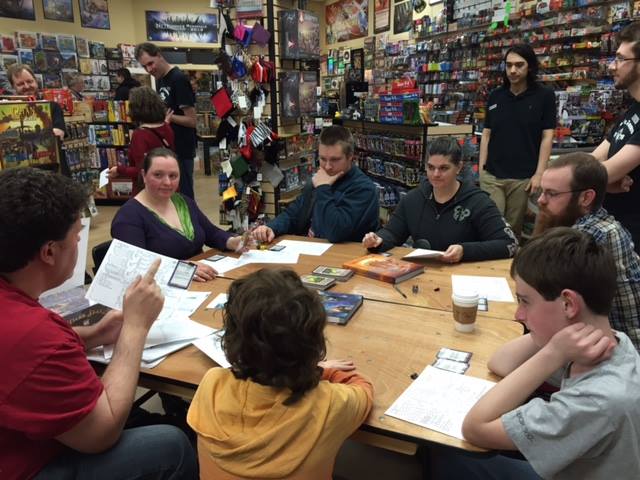 Gamers around the world took up the challenge, and nearly 100 sessions of Guilty!, the adventure we chose from Weird Discoveries, were run on Saturday. To prove our point, we didn't send the adventure out to the GMs until midnight on Friday, meaning that even if they wanted to "cheat" and prepare beforehand, they wouldn't really have much time. I'll let some of those GMs tell you how it went:
"It took about ten minutes to read through and then reread
some of the important bits and I was ready to go."
"Simple, intuitive, and fast! I was able to read and prep a several-hour
investigation adventure in about 10 minutes. It was a joy to run!"
"I was really nervous . . . I thought I didn't have enough information
going in, and I was afraid I was going to really flub the adventure. Instead,
it went really well, and everyone wants to do it again!"
"Preparing for this adventure was simple, requiring only a quick
read-through of the overview and highlights."
"Total prep time was about 15 minutes to include explaining
some of the basic rules and the dice rolls."
Wow, that's a lot of feedback. But wait, there's more!
"I was impressed that it only took 5 – 10 minutes
to have everything ready for the players."
"I was rather skeptical, but MCG has never disappointed me,
so I took a leap of faith. It felt great! Everything went so smoothly,
my players loved the scenario which played for almost five hours, and
I only spent 15 minutes in preparation. I love this new concept!!!"
"It was wonderfully easy to grab the adventure and go . . . much
easier to prepare for as compared to other adventures I have run!"
"My group thought I'd done the same prep as usual
and were very surprised when I said I'd literally just
skimmed four pages at the start of the session. Looking
forward to reading the rest of Weird Discoveries!"
Is that it? Nope. How about this?
"I ran it with literally no preparation and it worked quite well.
I might finally be able to introduce more friends to P&P who
are kinda resistant to it because of the time they think it will take."
"I felt completely prepared to run the adventure with only
about 15 minutes to look it over. Not only did I feel ready
to run it as written, but I felt very confident in handling
anything the players might do "off script"."
"It felt natural going through the adventure even without real
preparation—this format made it really easy to play through the adventure
with a nice game flow."
"A excellent way to throw together a game on the fly
whenever we could find time to get together and play."
"I can say with certainty that I will be purchasing
the Weird Discoveries book as soon as it's available."
"I am pleasantly surprised at how well this format
works, and definitely give it a thumbs up!"
As of this writing, about half the GMs have reported on their games. We asked them specifically to comment on the unique format–how it worked for them with very little prep time. The response was overwhelming—what I've quoted above is literally just a tiny snippet of it.
Weird Discoveries is more than just a new adventure book for Numenera—it's pretty darn cool innovation to a format that hasn't changed much in four decades. (And it contains ten of these adventures. TEN.) It may not change the way you'll run every RPG session, but being able to play a pick-up RPG in the same time (and with the same prep) as a board game? That's pretty sweet. And if that feedback is any indication, Weird Discoveries has nailed it!