"International shipping is so expensive. I wish there was a cheaper way."
This is something we've been saying since we first started Kickstarting our products. And it's something that our international players have been saying since we first started Kickstarting our products.
We have been trying for a couple of years to find a way for a small company like ours to make international shipping less expensive. It's a tough nut to crack—our products are heavy, they come in a number of shipments over a period of a year or two, and we've had a hard time finding international shipping options from people who give a damn. (One of our philosophies here at MCG is that we never want to work with anyone who doesn't give a damn).
After lots and lots of hard work on the part of Tammie and Charles, we have finally cracked that nut! Starting in late spring or early summer, we will have two delivery solutions for most of our players in the UK and EU: Gen Con pickup and cheaper international shipping. This is for both Kickstarted products and products that you purchase off the MCG online store.
While we're still nailing down the details, here is some additional information from Charles about the plan:
Gen Con Pickup
If you are going to Gen Con and would like to pick up your rewards there, we are now making that possible. There are a few reasons you might want to do this:
You live overseas and you're happy to carry your reward home on a plane, so why pay for shipping? (But UK and EU backers, see below for other great news!)
You want to get your product autographed, so you'd rather pick it up there than carry it to Gen Con.
Eh. You're going to Gen Con. Why not?
Now here are some key caveats: For our current Kickstarter, only Gods of the Fall will be out in time for Gen Con 2016. So maybe grab that title this year, and other books at future Gen Cons. For the Into the Ninth World Kickstarter, you'll be able to pick up Into the Deep at Gen Con, if you haven't already.
Second, there will be steps involved. For best results, you'll want to reserve your copy ahead of Gen Con. If you just show up at the booth without prior arrangements, we probably won't be able to fulfill your reward. But don't worry. We'll walk you through how to do that—reserving your copy for Gen Con will be just as easy as getting your rewards shipped.
We'll have more details closer to the release of Gods of the Fall—you don't have to take any action now. But the bottom line is that if you'd like to pick it up at Gen Con, you'll be able to.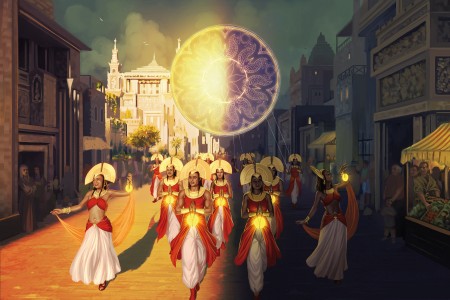 EU and UK Shipping Is Getting Cheaper!
If you're in the UK or the EU, we have some more exciting news.
We are in the process of establishing a shipping center in the UK, and we anticipate that it will be in operation for fulfillment of Gods of the Fall, the first product from the Worlds of the Cypher System Kickstarter. If you're in the UK or most of the EU, this could reduce your shipping costs by around half.
Now, here are some caveats:
To be super-clear, this news applies only to the UK and most of Europe. It does not affect shipping rates to other overseas destinations. Sorry!
Unlike most Kickstarter campaigns, Worlds of the Cypher System ships many rewards over the course of more than a year. Because our fulfillment process is so much more complex than that of many campaigns, we've worked out a custom-tailored solution.
What will your shipping costs be? We've crunched a lot of numbers as we've prepared for this step, and for most of the hypothetical shipments the cost has been cut by a third to a half. But we can't definitively guarantee that yet, and actual savings will vary depending on where you are.
Will our UK center ship to your country? For Britain and the bulk of the EU, the answer is yes. If you're in an Eastern European country or if you have any doubts, the answer is maybe.
Because our fulfillment is so much more complex than that of most Kickstarters, there are bound to be some bugs, especially through the first couple of fulfilled products. Of course we'll do everything we can to reduce them to zero (and we're pretty good at this stuff).
There are a lot of moving parts to an arrangement like this—technical details behind our web store's operations, deals for getting our product over the Atlantic, importation and taxation groundwork to lay, and processes to iron out. And most importantly, relationships to build with the partners who are going to be critical to a successful, long-term fulfillment system. By and large, all the big elements are now in place, but the devil often hides in the details.
So we're going to be open and honest here: We've dotted a lot of Is and crossed a lot of Ts, but there might still be a few unforeseen complications lurking in the shadows. We agonized over whether we should share this info now, and ultimately decided it's something you'd probably want to know before our Worlds of the Cypher System Kickstarter campaign draws to a close, rather than a couple of days after.
So, because we can't 100% guarantee everything will be perfect by the time Gods of the Fall ships, we'll offer this deal. We normally subsidize $10 of the cost of overseas shipping. If we don't have this in place by the time Gods of the Fall ships, and we end up having to ship from the US, we'll increase that subsidy to $20. So either way, you save money.
(Oh, and by the way: This new system will extend to orders from the MCG shop, and if you've backed our previous campaigns and still have rewards coming, they'll also take advantage of this. So the good news extends beyond just this campaign.)
Cutting shipping by a third to one-half, starting with Gods of the Fall? Sounds like a good deal to us.
We think this is going to be really great, and we hope you do too!