Special Features is a regular column in which MCG team members discuss projects they're working on, interesting MCG activities, or things that inspire their work.
Where I live, we're fortunate to have a lot of different grocery store options, and we use them in different ways. We can walk to the nearby, locally-owned market and get fresh produce, bread, and so on. If we need soda or some big brand thing, Safeway's not too far away. If we need a year's supply of paper towels at a great price, we can drive about 15-minutes to Costco.
Each store has a different strength and we can capitalize on all of them.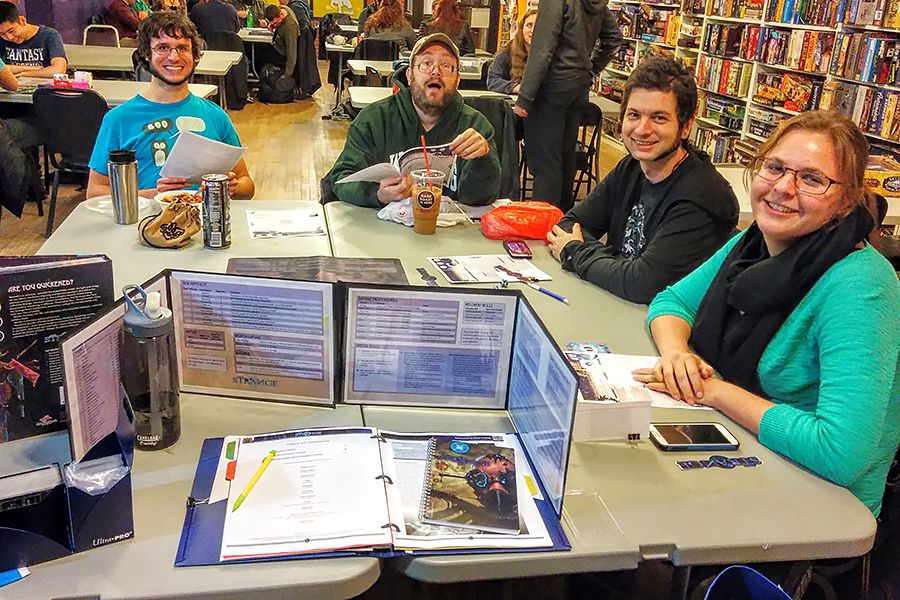 At Monte Cook Games, we have similar opportunities when it comes to selling our products.
As you probably know, we often use Kickstarter to launch a new game or product line. With this, we reach early adopters and gamers who want special offerings like exclusive extras, behind the scenes information, and so on.
We also sell electronic versions of our books through DriveThruRPG and our own website. Digital downloads are great for people who want their game products instantly, enjoy the convenience of electronic products, or just want to avoid shipping charges. We support DriveThru by participating in their site-wide sales, as well as partnering with them on projects like the upcoming Cypher System Creator (which will allow third-party publishers, including members of the gaming community, to create, publish, and distribute their own Cypher System content at DriveThruRPG and its family of sites).
And of course we sell our products through distributors, which is how stores get our print products. Great game stores are fantastic because they offer a place to play, to demonstrate our games, as well as a place to develop a community. We support game stores through our Asset Team—demoers who go to stores to run our games all across the country. We provide stores with posters, shelf talkers, and other retail promotional materials. For our major game releases, we have created retailer pre-order programs to enable stores to offer special deals to customers. Lastly (and this is still a bit hush-hush, so keep this between us for now) we're working on an organized play program to enable and encourage game masters in stores to run ongoing Numenera campaigns.
Each of these channels has different strengths and reaches different customers. Each customer has unique needs and finds new products in their own ways. A PDF user who frequents DriveThru might not have a local game store, and a game store customer might never go to Kickstarter because he wants a more hands-on experience.
But there's more. Since we have started Monte Cook Games (and in truth, since when I ran Malhavoc Press, an innovator in PDF game products), I've seen one channel help another. A rising tide lifts all boats, as they say. For example, I've talked to literally hundreds of gamers who've purchased a PDF and loved it so much they decided to go to their game store and get the same product (or a related one) in print. I've also heard time and again from players whose GM got one of our games through Kickstarter, and later the players bought a copy of the rules for themselves in a store.
In other words, success in one channel doesn't hurt the others, it helps. The more successful a product is in one channel, the more successful it will be elsewhere. I remember when Numenera's very successful Kickstarter campaign finished, and many people thought, "Well, everyone who was going to buy that game already got it through Kickstarter." But that didn't turn out to be the case at all. Through the other channels, post-Kickstarter, we've sold many, many times over the copies we delivered to Kickstarter backers. Even further back, I remember when I first started selling Malhavoc Press PDFs. "No one will buy the physical books now," I was told. Again, that wasn't at all borne out by the eventual sales data.
Combining a multi-tier approach using every channel available ensures that we can get our game products in the hands of as many gamers as possible.