Description
"You must be mad," said the Cat, "or you wouldn't have come here."
Jack climbing the beanstalk. The little mermaid finding her voice. Alice struggling with the madness of a place unruled by the laws of reality. The queen. The child. The woodsman. The knight. When you think about fairy tales, who do you become? Where does your imagination take you?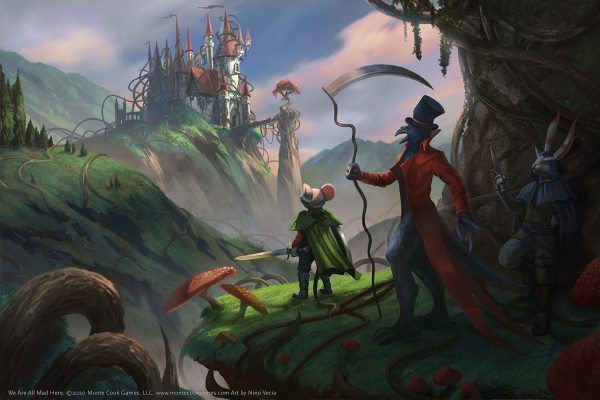 Fairy tales tap into myth and archetype, exploring the fundamental nature of the mind and of human experience. They're filled with magic that's big, bold, unexpected, and wondrous—and characters who, despite humble roots or broken foundations, achieve feats just as grand.
Run one-shots based on traditional stories or those of your own devising. Or build entire campaigns that take the fairy tale concept in whole new directions. We Are All Mad Here includes:
A thorough exploration of the fairy tale genre: how it differs from conventional fantasy, how to build on common tropes, and how to bring fairy tale elements into other genres.
Advice for running fairy tale games, including tips for one-and-done adventures reminiscent of fairy tale stories.
Everything you need to build characters for fairy tale adventures. Become a Frumious Princess who Befriends the Black Dog, a Fragmented Knight who Feigns No Fear, or a Bewitched Woodcutter who Sheds Their Skin.
Loads of fairy tale creatures and characters—specific names from tales you know, and archetypes you can use in any fairy tale game.
The Heartwood, a complete fairy tale setting that draws upon the fictional concept of "madness" in a way that addresses our modern, realistic, and sensitive understanding of mental health. In this setting, characters touched with mental illness in the real world discover a realm where they are empowered, and the wild and imaginative adventures they have there allow them to find even greater strengths within themselves.
An awesome index of fairy tale elements that makes it easy to find characters, cyphers, and mechanics individually, or to assemble all the components of a specific fairy tale.
Three full-length adventures for use in the Heartwood or your own setting, plus two Cypher Shorts.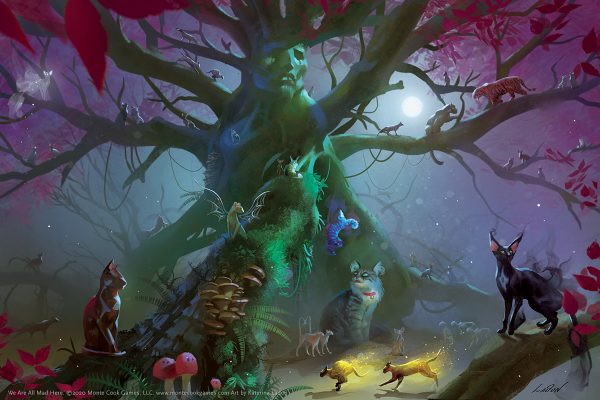 We Are All Mad Here is a setting and supplement for the Cypher System. It requires the Cypher System Rulebook for play.