Cyphers sit at the very heart of the Cypher System. So if I told you we're coming out with over 400 new ones for The Strange or any Cypher System game (along with 250+ new artifacts), you'd want to know more, right?
Well, it's true: the Encyclopedia of Impossible Things gives you over 650 cyphers and artifacts. You can take a peek at a handful of them—complete and ready to be used in your game—right now: Just download the free preview of Encyclopedia of Impossible Things!
But we want to give you a few more! For the next two weeks, starting today and running (on weekdays) through February 3, we're going to post a complete new cypher or artifact from Encyclopedia of Impossible Things to the Monte Cook Games Facebook page every day. Look for objects of power from a huge range of settings—some familiar items of legend, others new and intriging!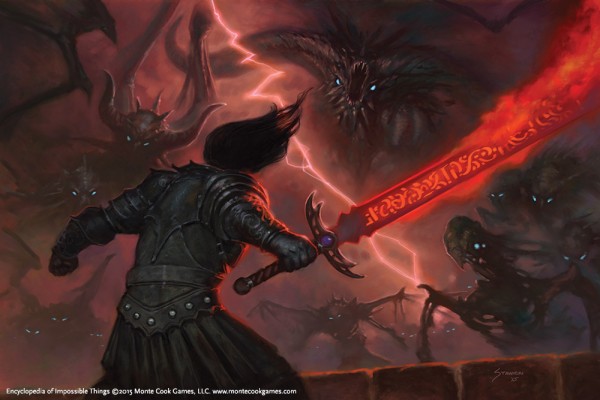 And here's the best part: We're going to pick one of these items to feature prominently in one of our official Gen Con adventures this year. Actually, you are going to pick it! Here's how it works:
Visit the MCG Facebook page each day to see the latest item.
If you like it, hit the Share button. Include our text in the share, but also add a comment to your post saying what you like about the item.
You can upvote (Share) as many or as few of them as you like—drop by the Facebook page every day!
On February 3, we'll determine which item has the most Shares, and we'll start figuring out how to integrate it into our Gen Con adventure.
We'll post a followup blog here—and we'll include your comments on the winning item!
Awesome art. Sweet ideas from the devious and creative mind of Bruce Cordell. Cyphers and artifacts ready for use in your game. And a little added drama as we see which one you like the best. Check it out now!