The 2019 Holiday Gift is here!
Continuing an MCG holiday-season tradition, here's the 2019 MCG Holiday Gift: we're giving you a $5 coupon for the MCG store. Use it to get a little something for yourself or a loved one—or you can turn it into a donation to one of three charities we're supporting this holiday season!
Here's how it works:
Go to the store and shop for your items, just like you normally do.
If you'd like to make a charitable donation, add the 2019 Holiday Gift to your shopping cart. It's a $5 donation, so when you use the coupon code you pay nothing and we make the donation!
At checkout, enter the following coupon code: 2019MCGHolidayGift
Get $5 off Your Best Game Ever, or the Player and GM Notebooks. Or give a gift certificate to a friend (and get a smaller one for yourself, as a gift from us). Get a PDF adventure, like Forgetting Doomsday, absolutely free! Or choose a $5 donation to the ACLU, Doctors Without Borders, or the Warrior Canine Connection and make the holidays a bit brighter for someone else. You can use the 2019MCGHolidayGift gift code for anything you like!
But don't delay: The code expires on December 26th. And one code per user, please!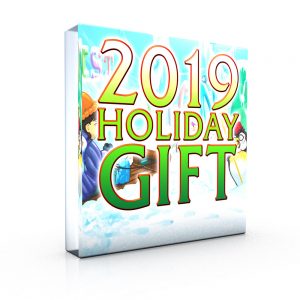 Here's a little information on our three charities:
The American Civil Liberties Union has worked for nearly 100 years to defend and preserve the individual rights and liberties guaranteed by the Constitution and laws of the United States. They are tireless advocates, working in courts, legislatures, and communities to defend and preserve the Constitution's promise of liberty for everyone in our country—people of all races, religions, ethnicities, sexual orientations, and economic statuses.
Doctors Without Borders/Médecins Sans Frontières (MSF) is an international medical humanitarian organization that provides aid in nearly 60 countries to people whose survival is threatened by violence, neglect, or catastrophe, primarily due to armed conflict, epidemics, malnutrition, exclusion from health care, or natural disasters.
Warrior Canine Connection is a pioneering organization that utilizes a Mission Based Trauma Recovery (MBTR) model to help recovering Warriors reconnect with life, their families, their communities, and each other.