Description
Two Great Tools for Making the Most of Any Game.
No matter what RPG you play, it's the details that bring it to life. These two useful and handy notebooks make it easy to create, record, and collect those details—for your character or your campaign.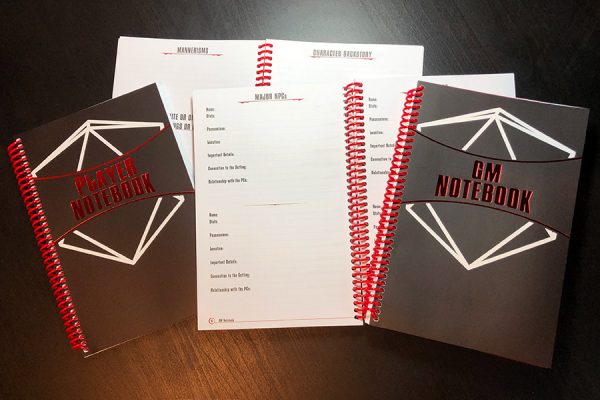 Every Character Has a Story. Every Character Is a Story.
Your character is more than a collection of stats and gear. No matter what tabletop RPG you play, your character has background, interesting traits, and relationships with player characters and NPCs. And as your story grows, you'll visit new places, meet interesting creatures, discover incredible items, and take part in legendary feats.
Build your character's story, and see it grow as your campaign grows. Record background information, notes about NPCs, and details on important places, items, and creatures. Grow your relationship to other PCs and the world around you. Doodle, record maps of the places you visit, or keep a campaign journal. This notebook is handy, organized, and convenient, with terrific cues for developing your character's unique story. With 96 pages and a pocket to hold your character sheets, it's even set up to handle multiple characters in multiple campaigns!
It's Easy to Build, Manage, and Record a Truly Epic Campaign!
Build your world. Create great adventures and interesting locales. Jot down ideas, intriguing creatures and NPCs, and locations you can pull out on the fly. And log the your sessions as the campaign unfolds, so you'll always remember when the players met that key NPC, found that important item, or discovered that vital clue they'll need later.
The GM Notebook cues you through dozens of topics that help you build, manage, and record a great tabletop RPG campaign—whatever game system you're playing. It's freeform enough to let your imagination go where you want, but provides useful prompts to help you prep efficiently for a game that has detail and flair. With 96 pages and a pocket to hold handouts and other loose items, it's everything you need to build, run, and record an awesome campaign!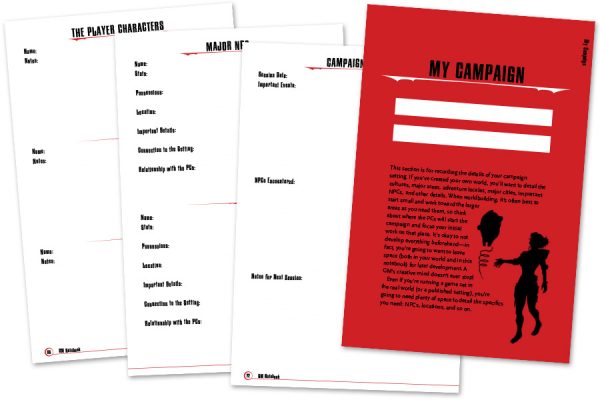 The print version of each 96-page notebook has a deluxe finish and robust paper that takes pencil and eraser easily. The PDF version includes two files: one optimized for print, and the other optimized for use on tablets and devices, with form-fillable pages. You get both with your purchase.