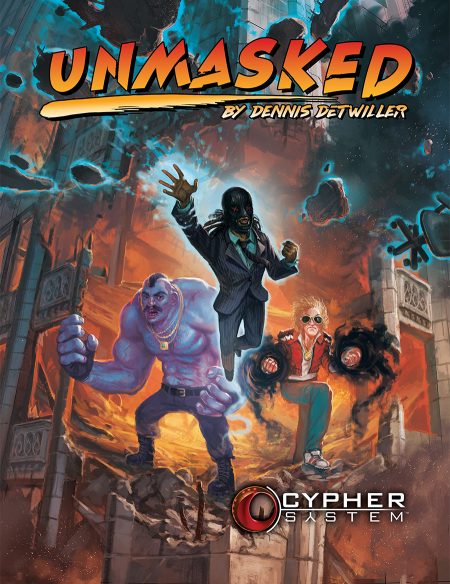 The 1980s are very "hot" right now. We have a new season of Stranger Things, new sequels for Blade Runner and Star Wars, and a new incarnation of Stephen King's IT.
Even if the '80s are before your time, the influence of that decade is everywhere. The music, TV, movies, clothing, and political conflicts of that decade shaped the world we live in now, the seeds planted there sprouting and blooming into modern pop music, "retro" aesthetics, countless TV and movie reboots and re-imaginings, and even wars "won" and "lost" that still simmer and affect modern ideology and discourse.
The upcoming Unmasked setting for the Cypher System is a teenage supernatural horror set in 1986. Think kids on bikes, small town mysteries, D&D in the basement, and high school horrors. (You download a free preview of Unmasked now, to get an even better idea of what it's all about).
To get in the mood to play Unmasked, immerse yourself in these inspirational watching, listening, and reading materials from the mind of the creator, Dennis Detwiller. (This list also appears in Unmasked, which is on pre-order now!)
Movies
Better Off Dead
The Breakfast Club
E.T. the Extra-Terrestrial
Fast Times at Ridgemont High
Ferris Bueller's Day Off
Fright Night
Gremlins
Heathers
Hiding Out
The Legend of Billie Jean
The Lost Boys
Lucas
My Science Project
Night of the Comet
Night of the Creeps
A Nightmare on Elm Street
One Crazy Summer
Repo Man
Risky Business
Say Anything
Sixteen Candles
Some Kind of Wonderful
Weird Science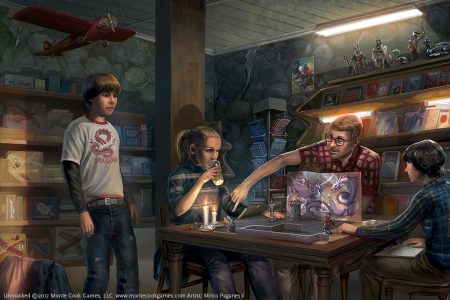 Television
Music
Appetite for Destruction, Guns N' Roses
Back in Black, AC/DC
Born in the U.S.A., Bruce Springsteen
Brothers in Arms, Dire Straits
Closer, Joy Division
Disintegration, The Cure
Doolittle, Pixies
Eliminator, ZZ Top
Hysteria, Def Leppard
Isn't Anything, My Bloody Valentine
The Joshua Tree, U2
Let It Be, The Replacements
Licensed to Ill, Beastie Boys
Master of Puppets, Metallica
Moving Pictures, Rush
Murmur, R.E.M.
Nothing's Shocking, Jane's Addiction
Purple Rain, Prince and the Revolution
The Queen Is Dead, The Smiths
Remain in Light, Talking Heads
Scary Monsters (and Super Creeps), David Bowie
Skylarking, XTC
Slippery When Wet, Bon Jovi
Spirit of Eden, Talk Talk
Synchronicity, The Police
Treasure, Cocteau Twins
Zen Arcade, Hüsker Dü
You can also read Day One, an Unmasked short story by designer Dennis Detwiller. Unmasked will be available in stores in just a few weeks, and it's available for preorder now, along with a free PDF preview!