It's spooky season and we're here for it! This issue of Cypher Chronicles showcases some of our favorite creepy art, visits a dark house that is eerily familiar and won't let go, previews a new website for an iconic game, and ends with a tome that explores the horror genre in breadth and depth.
You can get Cypher Chronicles, and other MCG news, delivered right to your inbox! Enter your email address and click the Subscribe button in the right-hand column, and you'll never miss a post. You can also suggest topics for Cypher Chronicles by emailing us at cychron@montecookgames.com.

Spooky Season Is upon Us!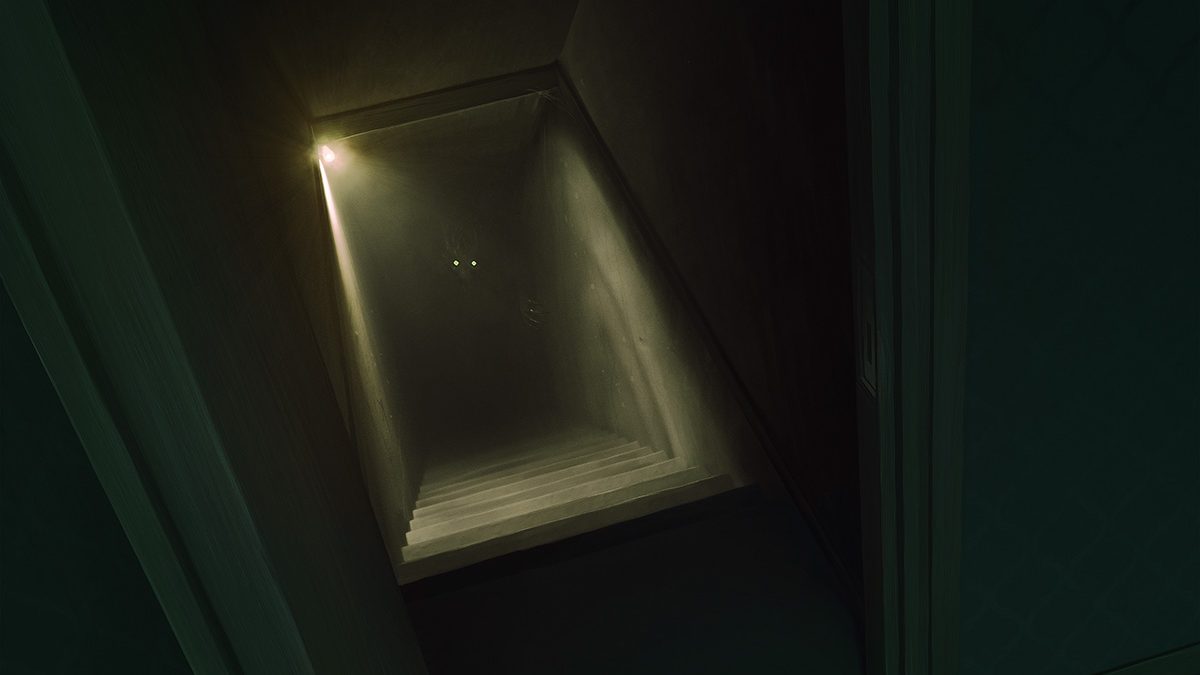 It's that time of year again: that uneasy season when the dark becomes ascendant and spiteful things worm their way from the corners of our world. A time when we start thinking about creepy costumes, carving creepy pumpkins, and queuing up creepy movies on our streaming lists.
And, for some of us, running creepy games!
Eleven Years of Spooky Art
Over the years we've created a lot of creepy artwork. To help get you into the mood, here's a peek at just a small sample of our favorites—and there's even more in the stories that follow!
The Darkest House Hates You. The Darkest House Wants You.
The Darkest House is a great choice any time you want to make your players' skin crawl—and what better time is there than now? The best part: you don't have to set aside your current campaign—The Darkest House works with the game you're playing now. In fact, it was designed for it!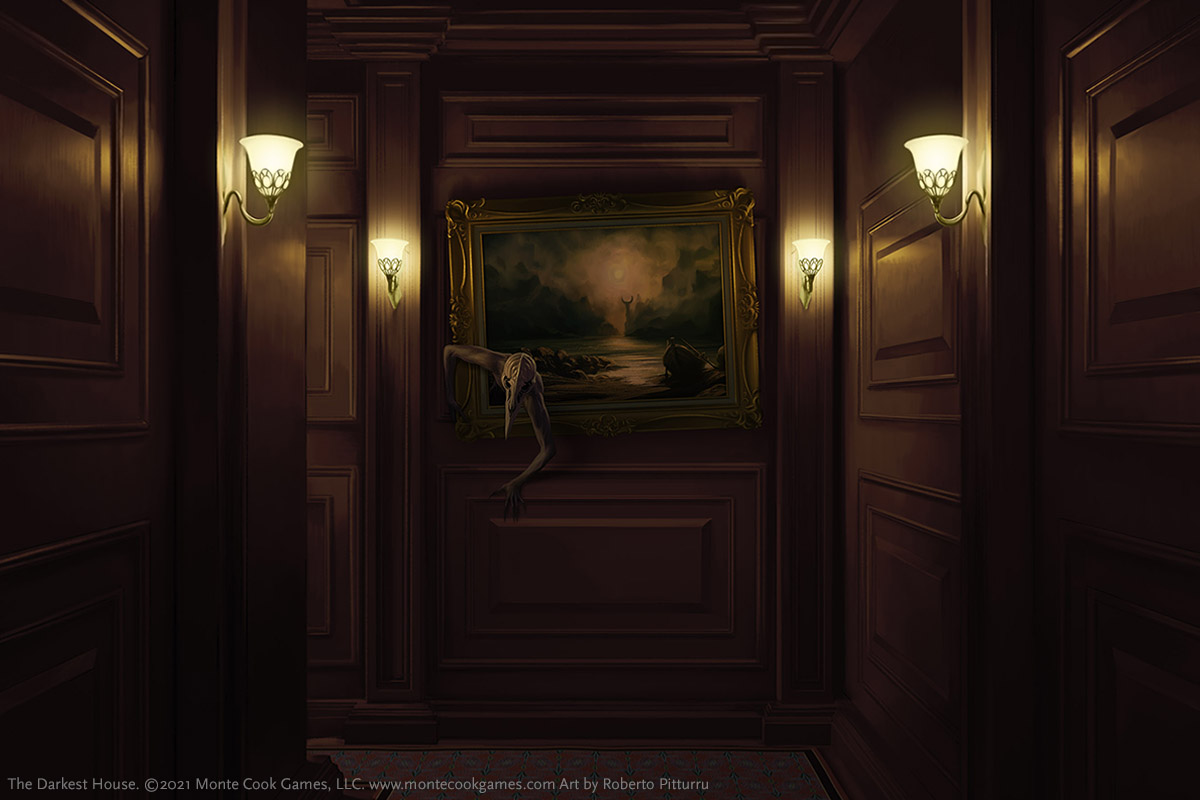 Speaking of Creepy…
The Darkest House touches all worlds. Its deepest roots go back to Monte's original Ptolus campaign, but the House really came into its own in his personal Invisible Sun campaign. (Many of us here at MCG were lucky enough to first encounter it at his game table.) Invisible Sun is first and foremost a game of surrealism and magic, but it definitely has its creepier side—not just in the dusty corridors of the Darkest House, but also in the Pale, along the Nightside Path, and in the darker corners and alleyways of Satyrine. In fact, the Invisible Sun experience is often as unsettling as it is beautiful.
So perhaps it's fitting that we're launching the crowdfunding campaign to reprint the Black Cube soon—at the very peak of spooky season, in fact. If you're new to Invisible Sun, you'll definitely want to check out this masterwork game.
And if you've already glimpsed the Actuality? It's not lost on us that so many narratives of this beautiful game, which so begs to be played face-to-face, were cut short or pre-empted by the events of the past few years. So we're planning something for you, too—something that will help you call your fellow vislae to the Actuality and bring your narrative back from its long hiatus in the Grey!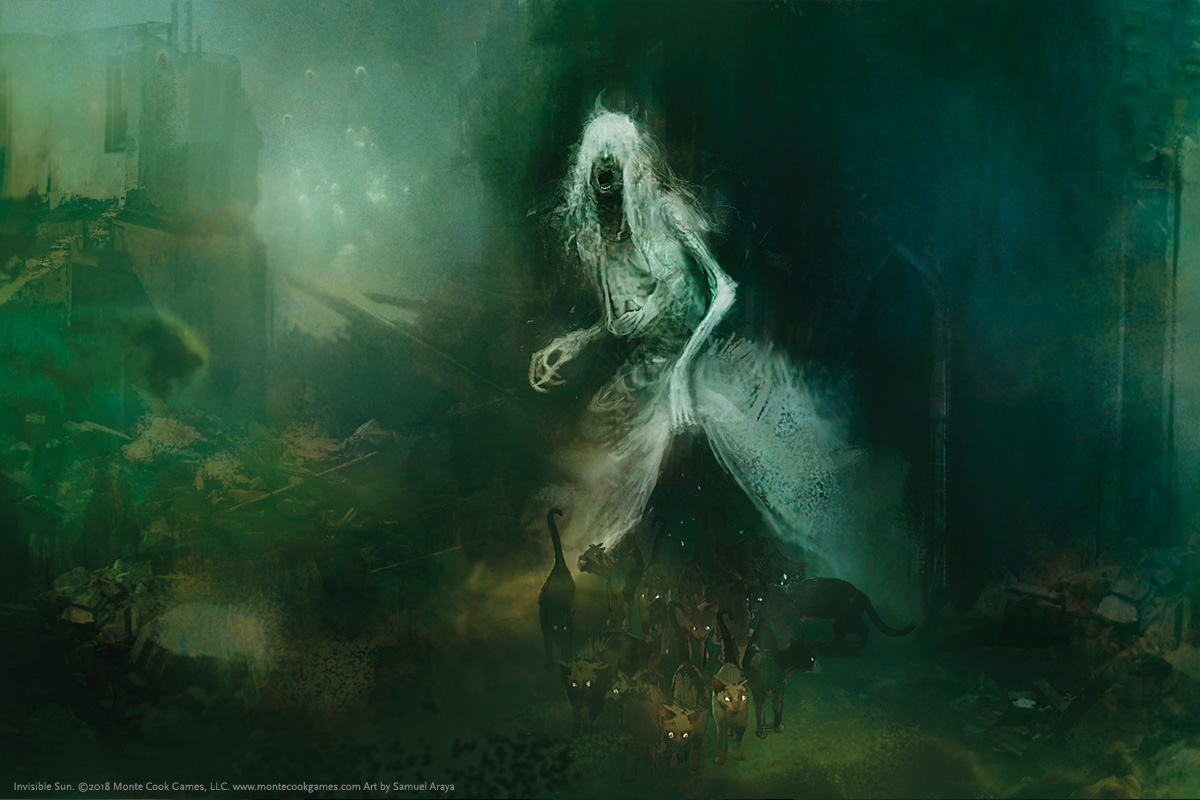 Invisible Sun gets a new website!
On the topic of Invisible Sun, check out the new website. We quietly relaunched it this week, with a new selection of art and text that's been tweaked and updated. It's not a radical departure from the previous version, but new audiences will find it more helpful and relevant as they explore the many mysteries of Invisible Sun.
Grab Supplements While You Can!
The Invisible Sun: Return of the Black Cube campaign will offer the existing Invisible Sun supplements. To manage our inventory and make sure we don't over-promise the limited supply of these titles, they'll be coming down from the MCG Shop later this month. If you've been thinking of picking up one or two, don't dawdle—you might not have another chance!
The supplements will be offered during the campaign in a bundle. You won't be able to get individual titles. So if you just want a single item (or two or three), now's the time.

Want to add a touch of terror to your Cypher System game? Run a horror one-shot for Halloween? Or build an entire campaign around Lovecraftian investigations, monster hunting, vampire nightlife, or the zombie apocalypse?
Stay Alive! explores the horror genre in breadth and depth. It's loaded with character options, GM advice, adventure ideas, optional rules, creatures, cyphers, and everything else you need to add a touch of chill—or abject terror—to your games.
And like all Cypher System products, it's compatible with any Cypher System game. So throw some hivemind children into your Ptolus campaign. Encounter a yithian in your Numenera game. Introduce the hysteria rules when that delve reaches the deepest part of the dungeon. A good scare makes for a great game!