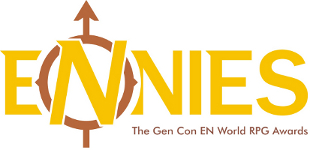 In our report on Gen Con a couple of weeks back, we mentioned that Numenera picked up a few awards at the ENnies Award ceremony. Ten of them, to be exact. Well, actually nine: The tenth Numenera Ennie was for the excellent podcast Numenera: The Signal, which isn't an MCG production. But we're proud of it anyway!
We are super-pleased to have been honored by these awards, and to have won the Origins Award for Best RPG earlier this summer, and of Numenera in general. We would have loved to have celebrated immediately, but the rest of Gen Con, along with the aftermath, PAX Prime, and the Alliance Open House, plus getting The Dark Spiral off to press and wrapping up work on The Strange Bestiary, sorta got in the way. But sweeping the awards has focused a lot of attention on Numenera, and a lot of new gamers are now maybe thinking about trying it out. So we're going to make it easy for you!
We're holding an ENnies sale on the Numenera corebook. If you're thinking of giving Numenera a try, now's the time to pick it up! We're running the sale for 10 days in honor of 10 ENnies, and knocking 10% off the cover price while it runs. Nope, that's not celebratory enough: Let's make it 25%! That's right: 25% off the Numenera corebook for the next 10 days.
It's a great time to give Numenera a try, or if you're already playing, to introduce it to a friend. But don't dawdle: This sale ends September 19th!