Gods! Dinosaurs! Superheroes!
Last week we announced the launch of a new line of products supporting the Cypher System Rulebook. We are now funding this through the Worlds of the Cypher System Kickstarter campaign. The campaign began Monday morning and quickly blew through its funding target—we're now adding new features and content through stretch goals.

The first product in this line will be the Gods of the Fall campaign setting. It's a 192-page hardcover sourcebook for an epic-level high-fantasy campaign set in a world in which the old gods have fallen, but you can awaken your divine spark and, through challenges and labors, take their place. You won't have to wait too long to get this reward: Gods of the Fall releases in June. Kickstarter backers will enjoy extra exclusive features, such as a poster map (we've already hit that stretch goal—future goals might further expand this reward!).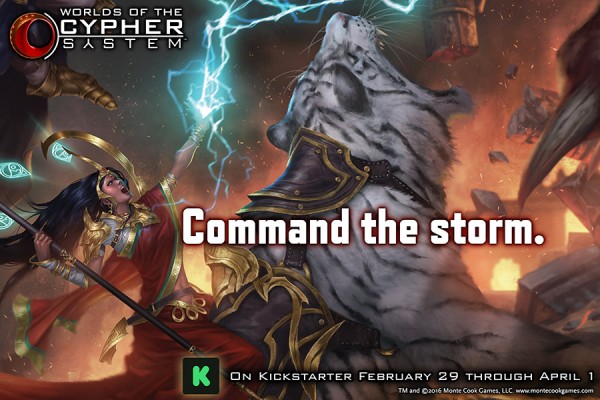 In Predation, you're one of a small society of time travelers trapped in the Cretaceous Period. First you'll have to figure out how to survive using the tech you brought from the future—modern weapons, advanced science, and bioengineered dinosaurs. Then you can worry about the asteroid that history says wipes out most life on earth. Predation will also be a 192-page hardcover.
Unmasked is a dark superhero setting. They say you're dangerous. Insane. That you suffer from Dissociative Mask Disorder. Your parents and the doctors and the press and the military—they can't believe what's happening. They can't believe what you can do. And they wouldn't believe the price you pay.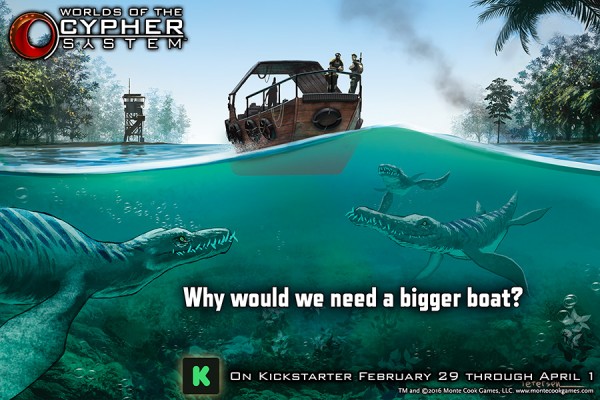 But these titles are just the beginning! The campaign is going gangbusters, and we've already unlocked a stretch goal for Myth of the Maker, a novel for The Strange to be penned by Bruce Cordell and released in hardcover and popular ebook formats. The next stretch goal up at $115,000 is a large, beautifully illustrated poster map for Unmasked. Like the other poster maps, this one will be a Kickstarter exclusive—only backers will get it. And we have plenty of great ideas for more titles and features!
The Worlds of the Cypher System Kickstarter campaign launched on February 29, and runs through April 1 (no foolin'). It features many Kickstarter-exclusive rewards, and the All the Print Books package, a feature of most backer levels, is an incredible deal that just keeps getting better. Whether you're an existing player or haven't yet tried the Cypher System, this is an opportunity you don't want to miss!