A new season of Cypher Play starts January 15th, and this time we're visiting Ellomyr, the little village that was the home and story setting of the Numenera 2 Kickstarter.
The six scenarios for the Defenders of Ellomyr season of Cypher Play begin a short time before the margr attack on the town. Players will interact with familiar faces like Gurner, Nieten, and Calistina, find out the real reason for the Angry Red River's deadly history, salvage iotum, craft some cyphers, investigate the nearby sinkhole and its deadly secrets, chat with a near-human species that lives nearby, see the village start to grow into its potential, and even take part in the battle for Ellomyr. (That's right, Season 18-1 is also a sneak peek at the crafting rules, and puts you in the middle of the action as the margr horde attacks the town!)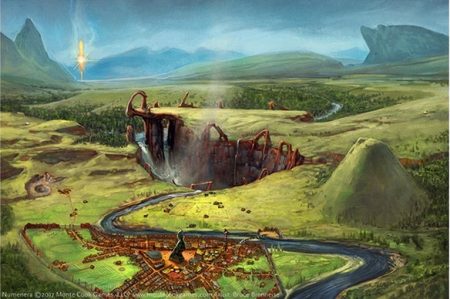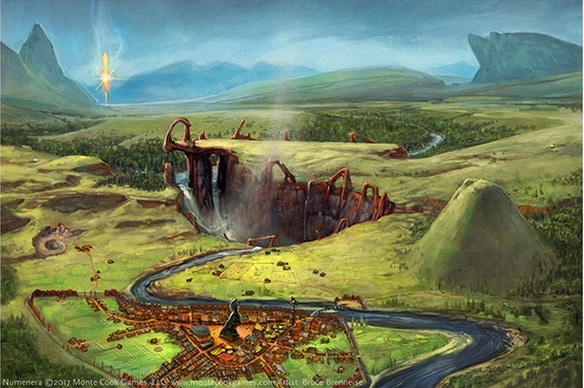 Do you want to play these scenarios? They're not for sale—they're only available in stores that sign up to participate in Cypher Play. If your local store isn't signed up, ask them to sign up at the Cypher Play website—it's totally free. If that store doesn't have a GM who knows Numenera, volunteer to be the GM. Each scenario is short (about two hours of gameplay), newbie-friendly, and meant to be easy for GMs to run. (If you're new to GMing, that's okay, January also happens to be New Gamemaster Month, and we're sharing a series of articles that teach you how to be a GM.)
Plus, the Cypher Play stores and GMs get cool rewards at the end of the season. And everyone who plays through a Cypher Play scenario gets to take a copy of the scenario home so they can run it for other people (we call that the "Play On reward").
We start shipping the Cypher Play kits to stores the first week of January, so there's still time to get your store to sign up. Email them, call them, post to their social media, or drop by in person and talk to a manager or owner. Do it… for Ellomyr!