From the very beginning, when Monte was designing Invisible Sun, he had an uncompromising idea for the form he wanted the game to take. He envisioned not just a game that was fun and compelling, but also an amazing box to open and explore. He wanted to really celebrate the game group as an entity that gathered together around this physical object—the Black Cube.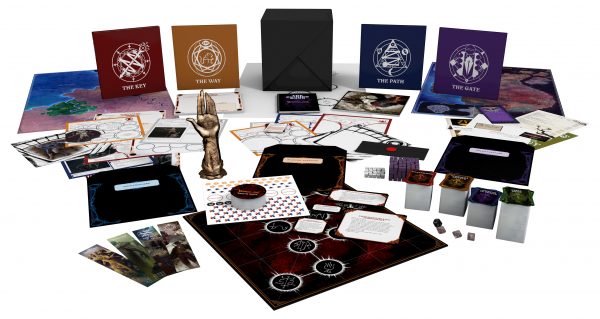 Demand for Invisible Sun was and is very high: the first print run sold out in preorder before street date. A second print run is in production now, and may do the same thing. But the Black Cube is a difficult and expensive game to make, warehouse, and distribute, which limits our ability to make it more widely available. And fans have been asking for PDFs since the game was first announced. Not just as a lower-cost or immediately available alternative for those who don't yet have the game, but also for the convenience of gamers who already own the 30-pound Black Cube, and want an easy way to peruse the books during their lunch hour, or to more easily run games over VTT platforms.
The deluxe nature of the Black Cube itself was keeping it out of the hands and away from the tables of many people who wanted to explore the surreal world of the Actuality. We want nothing more than for people to play the games we make. The play's the thing, and while the digital version might not be the absolute optimal experience, it's more than enough to give people a great Invisible Sun game. And that's what's important.
Today we are releasing Invisible Sun in PDF format. While no digital file can match the tactile experience of the physical Black Cube, the PDF is optimized for an incredible digital experience. It contains all of the printed components of the Black Cube, including:
The four corebooks, fully hyperlinked and bookmarked.
The roughly 1000 cards, laid out in a printer-friendly format.
Approximately 70 additional files including handouts, props, an art book, big maps, five different character sheet designs, secrets, posters, and much more.
Monte's original vision for Invisible Sun remains the ultimate way to experience the game. The tactile nature of the many great components—the cards, the tokens, the counters, the dice, the Sooth Deck, the props, the board, the Testament of Suns, and on and on—make the physical game by far the best experience (and, for the money, the best value). But there are thousands of gamers for whom the physical Black Cube is simply not a practical option, and even for owners of the Black Cube there's a benefit to having hyperlinked PDFs of all of the books, printable files for the props, and many of the other digital elements. For all of these great reasons, the PDF is now available!