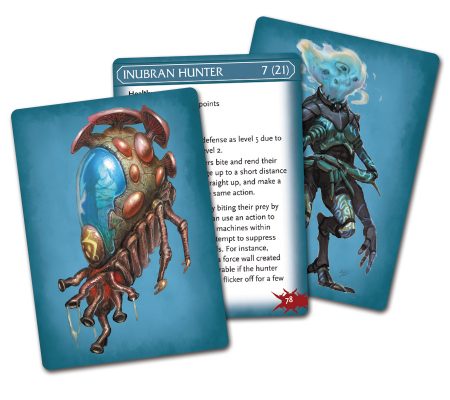 At MCG, we love tools that inspire our games and make them even easier to run. In our huge Goes to Eleven Sale, the biggest discounts are on accessories that will surprise you in how much they improve your gaming.
For example, our many convenient card decks are 25% off, but which ones might you want to try out?
Take a tour through spotlights of cool Cypher System card decks, along with quotes from Asset Team GMs and other players about their experiences!
GM Intrusion Deck
Awesome GM intrusions are like snappy comebacks: you always think of them about five minutes too late. What if you were never short of ideas? What if you had a stack of GM intrusion ideas at hand—100 of them, divided up for combat, social, and miscellaneous situations? The Numenera Intrusion Deck means you're never stumped. Great for game prep, and even better at the game table!
"The Intrusion Deck really helps keep my games exciting when I am drawing a blank. A great tool!"
Kitty Bomb, Numenera GM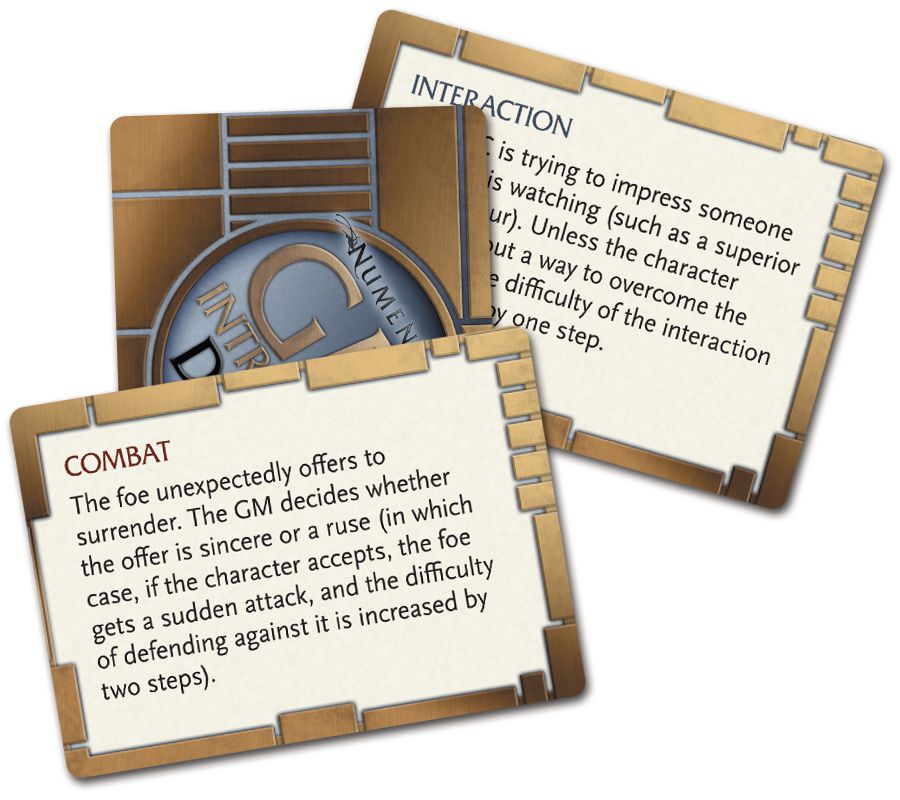 NPC Deck
What if you had 100 NPC names, that you could mix and match with 100 descriptions, 100 quirks and memorable details, and so on? The NPC Deck gives you a bunch of great character details on a single card. Draw a few cards and pick one that works—or draw a few and mix and match features from each. The NPC Deck helps you flesh out your NPCs with great prompts for game prep or on the fly. And it works with any game!
Weird Deck
What if you had hundreds of prompts for Ninth-World weirdness at your fingertips, ready to go as you design that prior-world ruin or run an unexpected encounter on the fly? Draw a few cards and pick one that works for the encounter you're building—or just let their suggestions unlock your own ideas and get the creative juices flowing! The Numenera Weird Deck helps you come up with great ideas, saving time while prepping for the game and keeping things flying at the table!
"Have your players decided to visit a town on the spur of the moment and you need something to make it stand out? Grab the Weird Deck and use the prompt to describe the what makes the area unique."
Will Adams, MCG Asset Team GM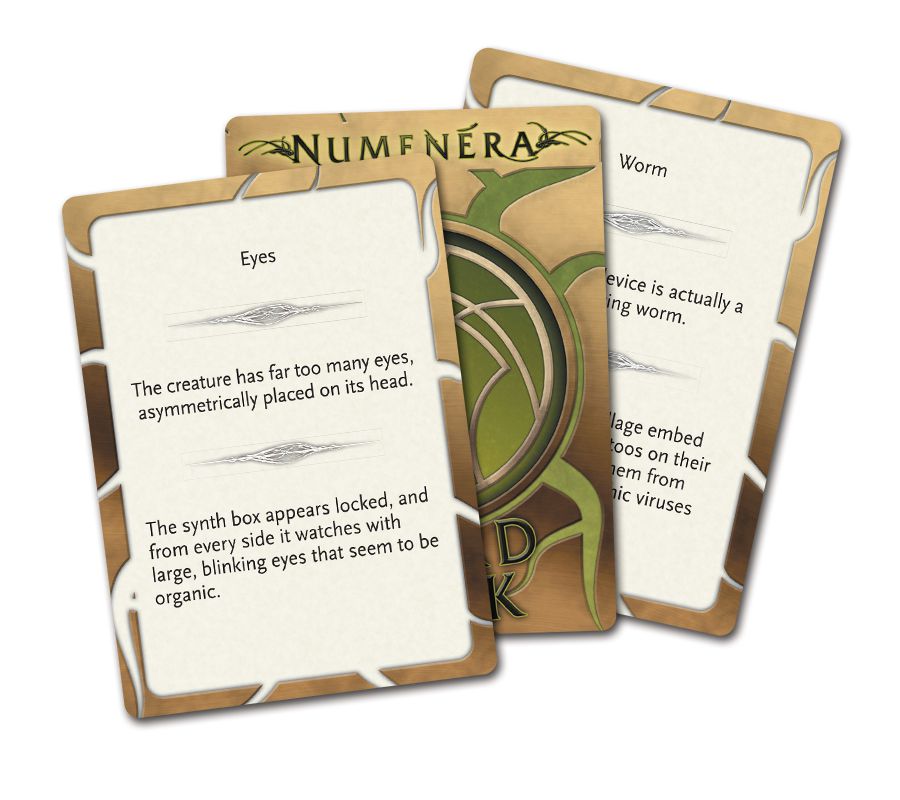 Creature Decks
Many of our Asset Team GMs shared their enthusiasm for our various Creature Decks, each of which gives you one creature per card, with vital stats on one side and a picture to show the players on the other. Take it from these GMs:
"The Numenera Creature Deck makes it easy to keep track of your adventure's monsters. Instead of having to keep a book open, the Deck has everything you need in a simple card: it has a picture of the creature, its level, and important attack and defense data. All in the size of a playing card."
David R Howard, Numenera Player & GM
"I find the Creature Decks very useful to quickly get some information for me and to show the players what the next threat looks like."
Matt Schelsky, Cypher System Enthusiast
"Whether I need a creature in a pinch at the table or during my pre-session prep, flipping through these cards always comes through. I can show the players the art without having to cover up the stats in the book and it has enough game info on the back to run the creature without needing to look it up in the book."
John Kramer, MCG Asset Team GM