Monte Cook Games, LLC, the company behind popular and award-winning tabletop roleplaying games including the Cypher System, Numenera, No Thank You, Evil!, and Stealing Stories for the Devil, welcomes Kate Evans to the MCG team as our new Marketing Manager.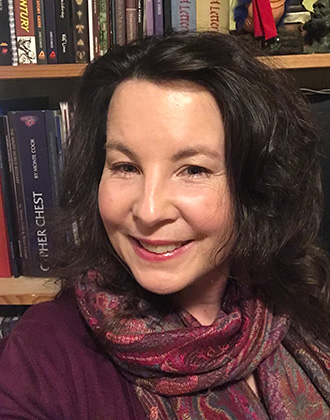 Kate brings an amazingly diverse background to her new role, with an education that includes a biology degree and PhD study and past work in futures trading and the film industry. She transitioned into marketing as a more sustainable—while fun and varied—way of making a living. In that field she's done agency and client-side work including strategising, planning, and managing marketing campaigns for everything from multinationals to small businesses.
Her marketing role with the UK's largest game convention, UK Games Expo, brought her professionally into the game trade, but Kate has had a life-long love of games and storytelling. Her first RPG experience was playing through the classic D&D module Dwellers of the Forbidden City when she was seven years old—and since then she's been hooked. Over the years, roleplaying has made her friends, brought her jobs, and resulted in a large collection of games and gaming paraphernalia along with a need for an extensive adjustable shelving scheme!
Kate lives in the UK, where her night owl habits align nicely with MCG's North American workday.
As MCG's new Marketing Manager, Kate will oversee retailer relations; the Asset Team; MCG's convention appearances; community relations; and marketing strategy and implementation for product launches, crowdfunding campaigns, and, well, everything!
"I'm absolutely delighted to be part of this award winning and inclusive team," Kate commented. "I've backed, played and GM'd MCG games for years, so this is a dream job and a wonderful opportunity as the Marketing Manager to bring more people into the RPG hobby via Monte Cook Games."
"We couldn't be more excited to welcome Kate to MCG," said MCG's COO Charles Ryan. "She's an enthusiastic booster of our games and RPGs in general, and the skills, insight, and experience she brings is really going to level us up when it comes to bringing the joy and excitement of our games to new audiences as well as our fantastic player community."