Monte Says is a regular feature here on the Monte Cook Games website, in which Monte talks about topics related to the Cypher System—or anything else on his mind!
In my latest visit to one of our ULTIMATE RETAILER stores, I traveled to New York City, specifically Brooklyn, to spend a day at Twenty Sided Store. Not only does it have one of my favorite names for a store, this place really puts the F in FLGS (Friendly Local Game Store). The entire day that I spent there they made me feel very welcome, but more striking was the fact that practically everyone that walked through the door was someone the owners, Lauren and Luis, knew by name.
Lauren and some of the regulars at the store were already big Cypher System fans before I got there, having run Numenera, The Strange, and Cypher System games. But for my visit, they went all out. The back room, where they have space for gaming, held a long table where people ran "the gauntlet," a short, fast-moving Numenera game centered around Into the Deep. GMs Leo and Sharang took players further and further underwater until they found their way into the Coral Cathedral of the Octopus Queen. This was a great way to introduce a lot of people to Numenera throughout the day, with a dynamic visual set up (the players and GM moved down along the table to show the descent deeper and deeper into the deep) and also allowing more than one GM and small player group to play at a time.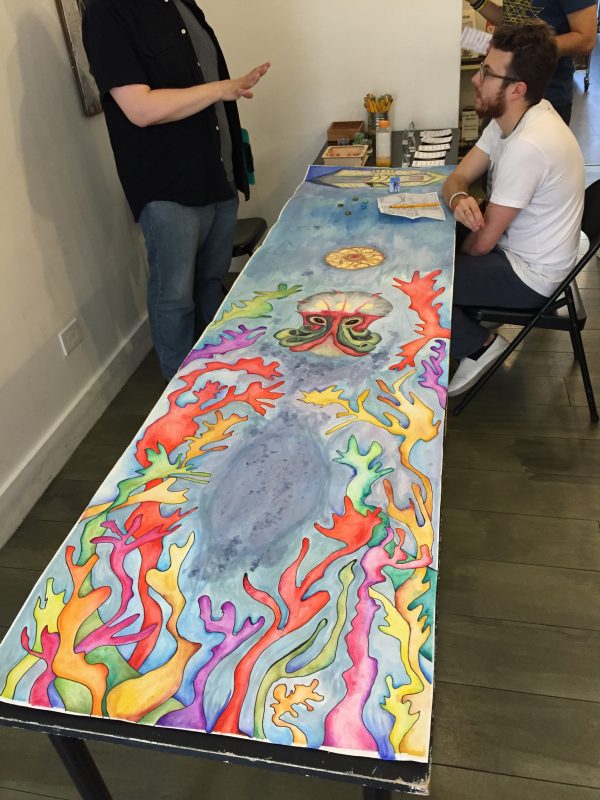 During all this, I chatted with customers, answered questions, signed a lot of books, and helped a few people make Numenera characters. Eventually, though, it came time for me to run a game. In a wild scenario, I took the six players Into the Night while another twenty or so people watched, cheered, laughed and sometimes even shouted out suggestions—roleplaying gaming as theater!
Even though we'd already dined on some excellent pizza from next door, after the game Lauren, Luis, and a whole group of the gamers and attendees took me to a nearby place for margaritas (it's like they knew me) and really great nachos. I feel like I made some great new friends at this event, and when I next return to NYC, I will make a point to return to Twenty Sided Store.