Have you been holding back, waiting for just the right moment to jump into Numenera? Perhaps you just heard about it, and it would be handy to have an inexpensive way to sample the game. Or maybe you have friends who'd love Numenera, but haven't yet taken the plunge. (Or, just maybe, you're that guy–the person who shows up for game night every week, always borrowing everyone else's book because you don't have one of your own.)
If any of that describes you, boy howdy, do we have good news!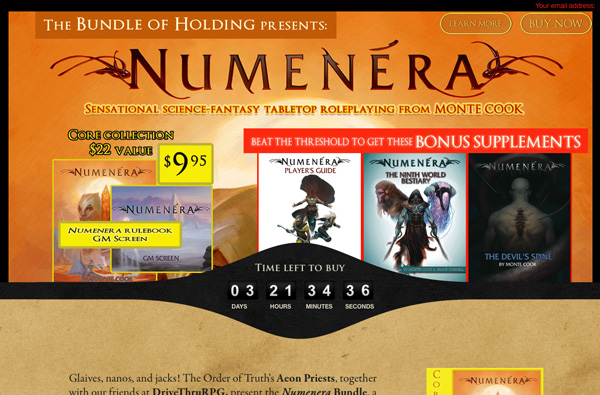 Numenera is featured this week on Bundle of Holding, and it's an incredible deal! You can grab a small or large bundle of Numenera PDFs at amazing discounts, either for yourself or as a gift for a friend.
But here's the best part: This Bundle of Holding promotion is raising thousands of dollars for two global charities working toward issues important to us here at Monte Cook Games: Human Rights Watch and Women's Learning Partnership. Both organizations are respected, efficient, and deeply involved in issues of human dignity. A portion of your Bundle of Holding purchase (and you can set your own price, above the minimum) goes to these two charities.
Seriously, this deal is so good even we're tempted to get in on it! So if you haven't built your Numenera collection, or you have a friend who'd really love the game, check it out now. But don't delay–Bundle of Holding deals only run for a few days, and this one expires this week!