Well, after an exhausting and exhilarating five or so weeks, I think the team at Monte Cook Games has recovered thanks to some restful days of playing games, watching Stranger Things, and eating too much Halloween candy. Now that we're all upright and functional again, I just wanted to take the time, on behalf of everyone here, to express my gratitude to all of you that helped make Numenera 2 the second most successful RPG Kickstarter of all time, far surpassing even the original Numenera Kickstarter of five years ago.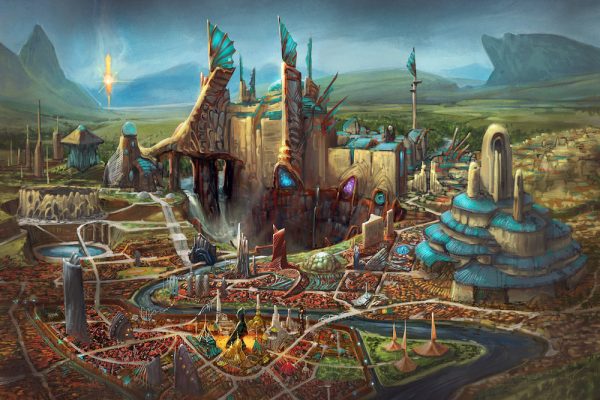 I can't find words adequate to express the outpouring of support not only for the project but for the narrative that we created in the course of the campaign. Backers and gamers wrote fiction, drew illustrations, crafted poetry, and even recorded audio and video pieces to flesh out the events around our Ninth World village of Ellomyr and the chronicle of events that led to its development into a sophisticated city despite horrendous threats and dangers.
In a way, the support is indicative of the gameplay we want to explore with the Numenera 2 books, Discovery and, in particular, Destiny. In the same way that backers joined together to make Numenera 2 such an astounding and record-breaking success, player characters can use the new rules to combine their skills, knowledge, discoveries, and bravery and work together to build a new future.
This week marks what we call the MCG Summit for 2017, where all the scattered members of the team gather in one location for planning, discussions, and—of course—gaming. We'll spend this year's summit not only planning the steps to deliver all the great products unlocked in this campaign but reflecting on the support, feedback, and contributions you provided to Numenera 2.
Monte