Back in November (and into December), we ran a Kickstarter campaign to create a boxed set for Numenera. Inspired by the boxed set format our Italian translator debuted a month before, we decided to create a version for the English-language audience. We didn't know how popular the idea would be, so we set fairly modest expectations. And it was a short campaign, spanning just three weeks (which included the Thanksgiving holiday).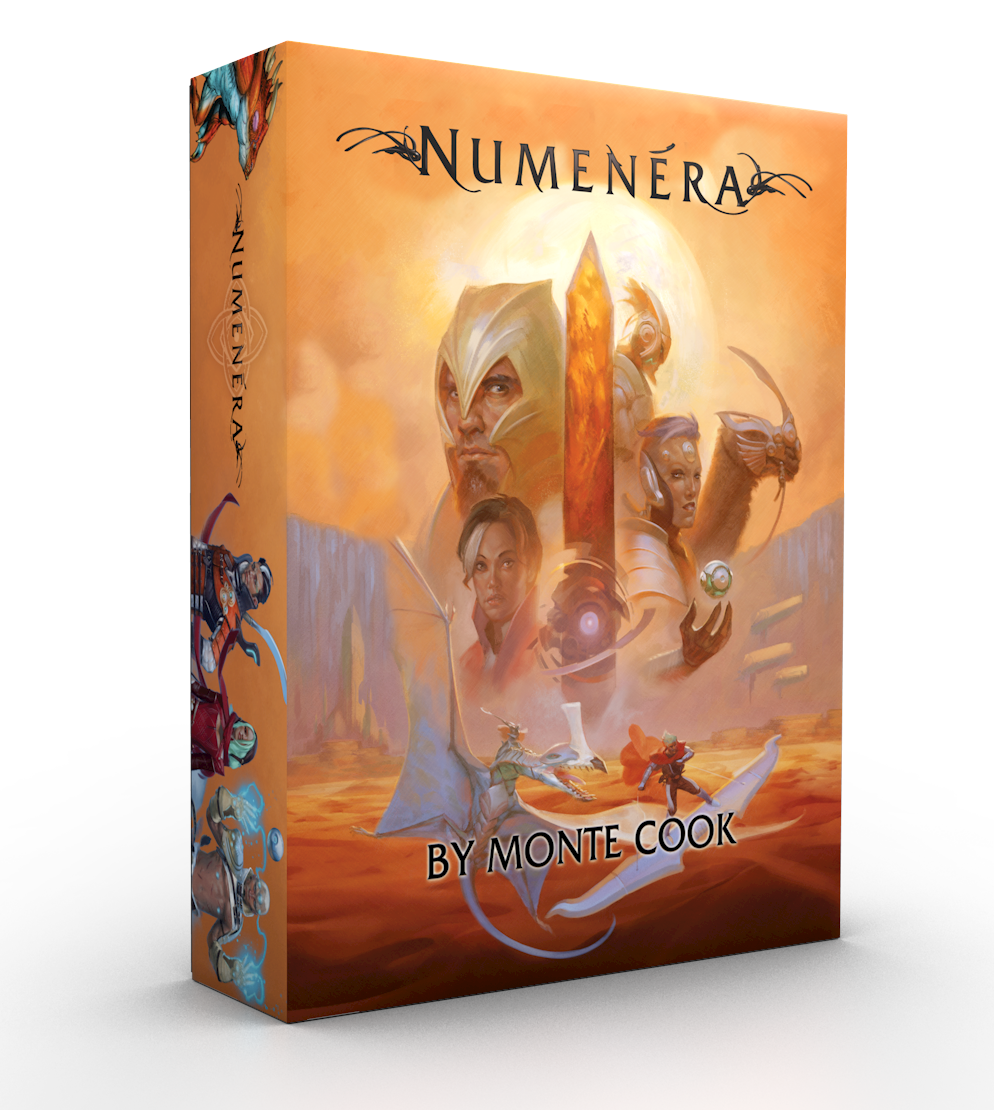 The campaign was an incredible hit; we exceeded our funding goal almost 20 times over. Along the way we hit 24 stretch goals. Twenty-four! The boxed set didn't turn out to be just handy and attractive–it ended up absolutely loaded with incredible extras. An incredible deal for a boxed set that's going to be amazing when we start shipping it in April.
We're making the boxed set to order, and it won't be available through stores. (Not completely true: We had about 15 retail backers, so those few stores will have a limited supply of the basic boxed set (without most of the cool extras).) Not surprisingly, in the few weeks since the Kickstarter campaign ended we've heard from a LOT of gamers who missed out, wondering if there's any chance they can still get on board.
Before I answer that, let's talk a bit about those 24 stretch goals. Some of these added new content–a deck of GM intrusions, for example, or the three new pieces of cover art by Kieran Yanner. Others upgraded the format of the product: For example, the last stretch goal involved making the box itself one of the most beautiful, elegant, and unique boxes an RPG has ever come in. Throughout the campaign, we tried to be cognizant of the April delivery date (which was based on those modest initial expectations), but the enormity of the project in its final form really strained our ability to get the whole thing to press by early January.
And to compound things, we overlooked Chinese New Year, a two-week holiday in February that pretty much shuts down all manufacturing in the country. I (Charles) have worked with Chinese manufacturing before, so I really should have seen that coming—but I didn't.
The upshot of all of this is that instead of planning to have the boxed set in early April, we're looking more toward the end of the month. Which means a late January press date.
If you missed the Kickstarter, that's good news for you. This timing means we don't have to turn over our final order to the printer in early January, as originally planned, but instead have a couple of extra weeks to finalize our numbers. So we're opening up the chance to get in on the deal. Between now and January 20th, you can pre-order the Exclusive Numenera Boxed Set Edition.
It's not exactly the same deal as the Kickstarter backers got. To make this work, we have to keep things simple, so we're offering only one option: The RELIQUARY box. (This was the most popular choice among Kickstarter backers by a very wide margin, and far and away the most awesome deal.) The RELIQUARY box offers hundreds of dollars of value, but we simply can't afford to extend the awesome deal the backers got, so the price on this offer is a bit higher (it's still an incredible bargain, though!). Kickstarter backers will get the first shot at shipping, so you'll get your copy a week or so later than if you were a backer. And it's too late to add names to the books, so while backers can choose to have their names listed as supporters, that option's not open to you.
This is a very limited offer. As we've said from the beginning, we'll print a small quantity of extras (a wise move to cover any product lost or damaged in shipping), and if any of those are left over we might bring them to Gen Con or something. But don't count on that. The only way to be sure to get this once-in-a-lifetime value, and incredibly beautiful gaming product, is to get in on it now!