At Gen Con 2015, we announced the launch a new line of Numenera products, which we call Into the Ninth World. MCG is now funding this line through a Kickstarter campaign that's already reached its goal and is adding new titles and features through stretch goals.
The first product in this line will be a sourcebook called Into the Night, to be followed up next year with Into the Deep and Into the Outside. Into the Night explores the vast reaches of space beyond the Ninth World, Into the Deep details regions beneath the sea, and Into the Outside peers into ultraterrestrial and interdimensional realms beyond our universe.

But these products are just the beginning. The campaign has already funded additional titles, including The Poison Eater, a novel to be penned by Shanna Germain and released in hardcover and popular ebook formats. It is also closing in on Numenera Character Options 2, to be a 96-page softcover companion to the original, and very popular, Numenera Character Options. And these titles are in addition to numerous PDF products and product upgrades already achieved through stretch goals.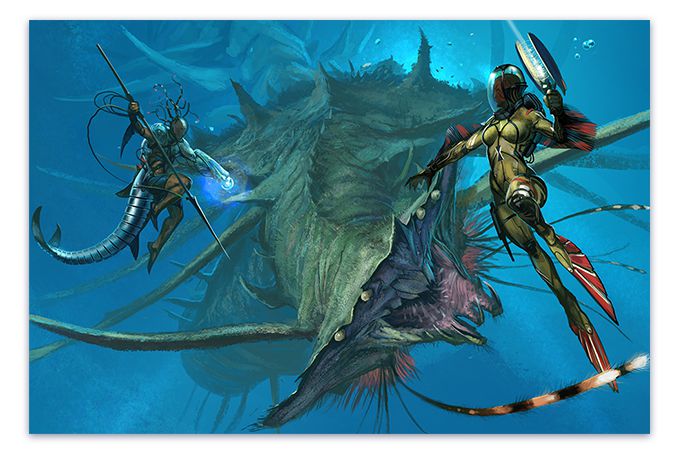 The Into the Ninth World Kickstarter campaign launched on August 5th, and runs into early September. It features many Kickstarter-exclusive rewards, and the All the Print Books package, a feature of most backer levels, is an incredible deal that just keeps getting better. Whether you're an existing fan or new to Numenera, this is an opportunity you don't want to miss!