Update: We'll offer achievement rewards during the campaign—and you can start earning them NOW. Help the campaign thrive and increase your backer rewards! All the details here.
It only happens every four years, so we decided to celebrate leap year with an exciting new campaign on February 29. Worlds of the Cypher System will focus on the flexibility of the Cypher System and one of the strengths of the designers here at Monte Cook Games: crafting really cool settings.
If you're a fan of Numenera or The Strange, you'll want to check this out. Why? Because the Cypher System uses the same game mechanics as those games to let you create adventures and campaigns in any setting, any genre, you want. Science fiction? Fantasy? Horror? Superheroes? The Cypher System Rulebook covers all those and more. If you like those games, just wait until you see what we have in store.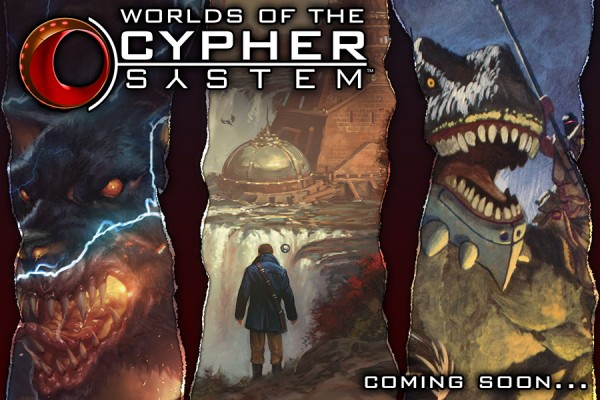 The Worlds of the Cypher System Kickstarter campaign is a great starting point for gamers who haven't yet got the Cypher System Rulebook. But what about those people who already have those rules? Well, we've got not one, not two, but three of those cool new settings I mentioned, just for you.
Gods of the Fall: Awaken your divine spark, claim a dominion, and become a god in a fantasy world in which the heavens smashed upon the Earth like a vengeful star.
Predation: First figure out how to survive the dark and dangerous world of the Cretaceous Period using the technology of the future—high-tech weapons, advanced science, and bioengineered dinosaurs—and then worry about the asteroid that history says wipes out all life on earth.
Unmasked: They say you're insane. Dangerous. That you suffer from Dissociative Mask Disorder. Your parents and the doctors and the press and the military—they can't believe what's happening. They can't believe what you can do.
Each of these will be a massive, meaty tome that will provide tons of gaming potential for you—and with Kickstarter stretch goals, who knows what great enhancements we can add in. Poster maps? Adventures? Fiction? The sky's the limit.
Here's a little bit about why we're making this a Kickstarter campaign: A couple of years ago, after the amazingly successful launch of Numenera, we were working on The Strange, our next RPG. It was based on the same game engine—the Cypher System. As Monte and Bruce worked on The Strange, they found that converting Numenera's rules to a new game—even a game with an infinite number of micro-settings in almost every imaginable genre—worked really well. Which got us thinking: Why not make those rules available for you to run your own campaigns, in any setting of your choice?
This was the genesis of the Cypher System Rulebook. At that time, though, we were still thinking this would be a minor release—probably just a 160-page rulebook with little more than the existing core rules. But we kept finding more and more ways to make it better. The book's specs kept growing: A 224-page hardcover. A 320-pager.
The more Monte worked on it—and the more we ran our own Cypher System adventures and campaigns—the more we realized how awesome this book could be. By this time last year we'd grown it into a full-sized, 416-page hardcover corebook.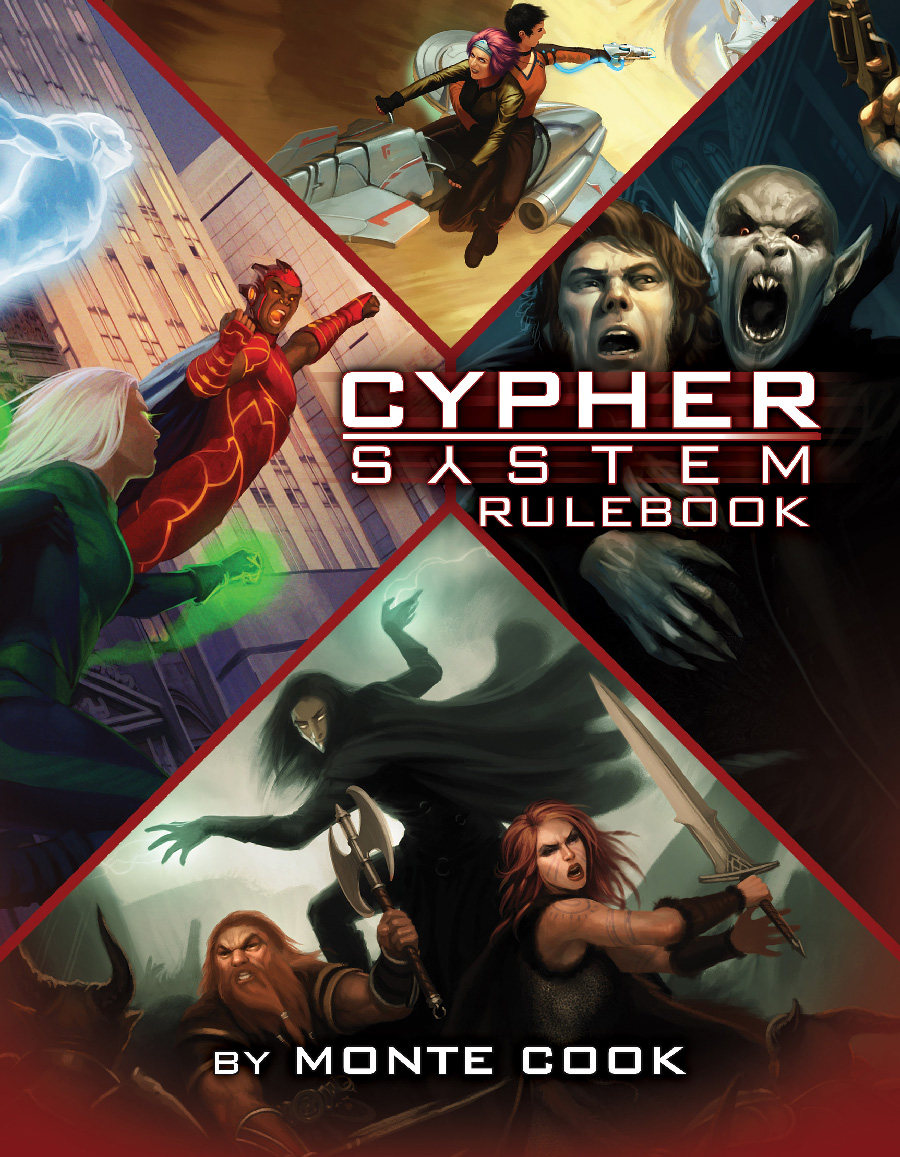 For well over a year now, we've been running our own Cypher System games. Horror. Superheroes. Space opera and hard science-fiction. Even dungeon crawls. And some of us have started building and running more unique standalone settings. Just as it took us a few months and some hands-on work to realize the Cypher System deserved full-fledged corebook treatment, we've also come to realize that the CSR deserves full-fledged game line support.
If we'd been thinking this way from the beginning, we would have Kickstarted the CSR. Why?
A Kickstarter campaign lets us do things we can't do for a product—or a line—that goes to market in the conventional manner. We can reach for stretch goals that improve the product. We can add new titles. We learn from your feedback about what you like most in the product, and can tailor it accordingly. And we can take risks on things we think are really cool—but that we couldn't gamble on in the old-fashioned publishing methods. Because we sort of evolved our way into it, we didn't do that for the Cypher System Rulebook.
But there's no time like the present!
The Cypher System is an incredible game engine that delivers all the narrative power and ease of play of Numenera in any campaign you want to run. The content in this Kickstarter will provide at least two full years of awesome Cypher System campaigns—plus the tools and content to build your own incredible games—all straight from the minds of the legendary Monte Cook Games creative team. We're brewing some awesome books, and if this campaign does well, we'll add more cool stuff, like expanded rules and maybe even some fiction.
There will be more details in the days to come. But mark your calendars for February 29th. You'll want to get in on this one—we have so many cool things in store!