You've probably already heard about Worlds of the Cypher System. Holy cats, are we excited!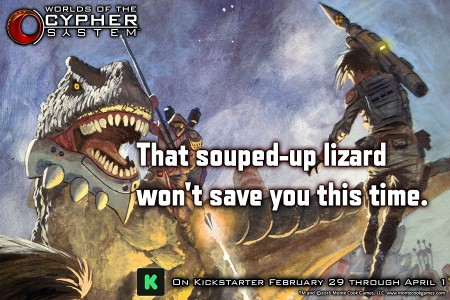 Now, we at MCG have been around the block once or twice with Kickstarter—in fact, our company owes its founding and a lot of its growth to crowdfunding success. But here's a little secret: No matter how much we hone our skills, no matter how carefully we build our campaign, and no matter how mindblowingly awesome our products might be (note that I said "might" there!), our Kickstarter success still relies almost entirely on you.
Reaching Beyond the Community
We have a great community of fans, and we're pretty good about communicating with you. But the big numbers in a Kickstarter (the numbers that add all those cool stretch goals to your rewards) come from getting the word out past that immediate community—to all the thousands of gamers who might have heard of Numenera or the Cypher System or Monte, but haven't yet given us a close look. These aren't people we can reach—but you can. Because they're your friends and friends-of-friends—the people you're in touch with in real life and on social media.
In our Into the Ninth World campaign last summer, we introduced a string of social media achievements for our backers. Share a post, write a blog, tweet a photo, or whatever, and help reach goals that unlocked cool little extras for the campaign. It seemed to work pretty well—it gave backers who wanted to help spread the word specific ideas for things they could do, and rewarded them (and us) with some neat extras.
(If you like the new form-fillable character sheets for Numenera, or the cool stuff at the Numenera Gear shop, you can thank Into the Ninth World achievements.)
Hitting Rewards Now!
This time, we're taking it a step further. You can start on hitting those achievements right now! Here are a few things you can do:
Write a blog post about the Cypher System and the Worlds of the Cypher System campaign, and share it to the MCG Facebook page. We'll tick off an achievement at 2, 5, and 10 blog posts.
Take a photo of your gaming group playing the Cypher System and share it with the hashtag #CypherSystem. (Be sure you have your friends' permission if you show their faces). Achievement hits at 5, 10, and 20 pics.
Like the MCG Facebook page, if you haven't already. Achievements at 10,500, 10,750, and 11,000 followers.
And follow us on Twitter. Achievements at 5600, 5750 and 5900 followers.
All of these achievements will count toward the campaign's achievement goals. So when the campaign launches on Monday, you could have some rewards already in the bag!
Here's something else that can help out the campaign—and if you like Kickstarter in general, it's good for you too. Kickstarter has a feature through which you can connect with your friends. When they back something, you get a notification by email. (I back a fair number of campaigns—maybe 15 or 20 a year—and notifications from my friends are the number one way I discover cool new projects.) Follow your friends, and many of them will follow you back. Just be sure to do it before the Worlds of the Cypher System campaign starts, so they get the notification when you back it!
(To do this, in Kickstarter go to Accounts–>Settings and make sure your Kickstarter account is connected to your Facebook account. Then click Find Friends.)
What Else Can We Do?
Lastly, a question from you: What would you like us to do? What would you like to see as achievement rewards, and what ideas do you have for spreading the word? One of the great things about crowdfunding is that it lets you have a hand in shaping our products. Give us a hand in shaping the campaign as well! Comment here.
Can't wait for Monday—hope to see you there!