It's the season of giving, so let's make it a great holiday season for some great causes!
Continuing an MCG holiday-season tradition, here's the 2018 MCG Holiday Gift! We're giving you a $5 coupon for the MCG store. Use it to get a little something for yourself or a loved one—or you can turn it into a donation to one of three charities we're supporting this holiday season!
Here's how it works:
Go to the store and shop for your items, just like you normally do.
If you'd like to make a charitable donation, add the 2018 Holiday Gift to your shopping cart. It's a $5 donation, so when you use the coupon code you pay nothing and we make the donation!
At checkout, enter the following coupon code: 2018MCGHolidayGift
Get $5 off the new Numenera corebooks. Or give a gift certificate to a friend (and get a smaller one for yourself, as a gift from us). Get a PDF adventure, like Escape from the Jade Colossus, absolutely free! Or choose a $5 donation to the ACLU, Dogs for Better Lives, or Operation USA (California Wildfire Relief) and make the holidays a bit brighter for someone else. You can use the 2018MCGHolidayGift gift code for anything you like!
But don't delay: The code expires on December 26th. And one code per user, please!
And look out for our Cypher Monday special deals on Monday, November 26th. You can use your 2018MCGHolidayGift code on Cypher Monday deals!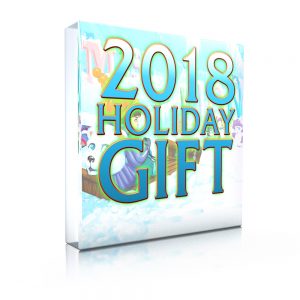 Here's a little information on our three charities:
American Civil Liberties Union
The American Civil Liberties Union has worked for nearly 100 years to defend and preserve the individual rights and liberties guaranteed by the Constitution and laws of the United States. They are tireless advocates, working in courts, legislatures, and communities to defend and preserve the Constitution's promise of liberty for everyone in our country—people of all races, religions, ethnicities, sexual orientations, and economic statuses.
Dogs for Better Lives
Dogs for Better Lives trains and places assistance dogs with individuals who are deaf or who have hearing loss, and with children on the autism spectrum. Professionals also use their dogs in work with special needs students and others who benefit from the dogs' calming presence. Most of the dogs are rescue animals, and are placed at no or minimal cost to the recipient.
Operation USA (California Wildfire Relief)
Operation USA helps communities in the US and overseas alleviate the effects of disasters, disease, and endemic poverty by providing privately-funded relief, reconstruction, and development aid. They rapidly and expertly provide on-the-ground aid by sending vital life-saving supplies and cash grants to meet the immediate needs of first responders and affected communities, while also assisting with long-term recovery efforts. Operation USA is heavily involved in California wildlife relief.