One question we get asked at every convention is whether we're going to do a boxed set for The Strange like we did for Numenera. We asked fans of The Strange and they responded enthusiastically. So, we decided to give them the most spectacular experience with The Strange that we could create: a deluxe boxed edition—A Strange Box.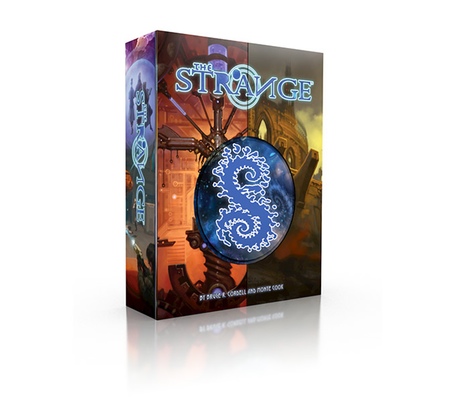 As you can imagine, we want to make it absolutely beautiful and crammed full of all the coolest extra content we can come up with: character sheets, new XP cards, and maybe even a gorgeous cloth version of the Ardeyn poster map (if we hit some stretch goals). We did it once before, and with your help, we're going to make that dream a reality again.
This isn't a new edition of The Strange—just a new format that's attractive and handy. (Although we are looking at adding some really cool bits and pieces that take maximum advantage of the boxed format.) There are different backer levels with some really interesting rewards (and even a backer level for retailers).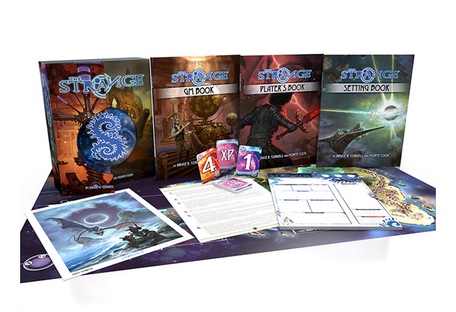 So why a boxed set when we already have a beautiful corebook for The Strange? Well, a few years ago we created the Numenera Reliquary Box and it was nothing short of stunning (it won a gold ENnie Award). Over the course of its Kickstarter it grew to become something truly amazing, including over $400 worth of content in a $120 box set! We're hoping with your support that A Strange Box can reach similar goals.
This is an exclusive item—we're printing these boxed sets to order, and after the Kickstarter campaign is over they won't be available anywhere else. (Well, it's always smart to print a few extras, in case some get lost in shipping or damaged or whatever—so if there are any left over we might take them to Gen Con or put them in our web store. But it won't be a normal part of our lineup, and any leftover quantities will be super slim.)
The Kickstarter campaign runs for four weeks only, so if this sounds as cool to you as it does to us, check it out and make your pledge right away! (This Kickstarter campaign ends March 17.)