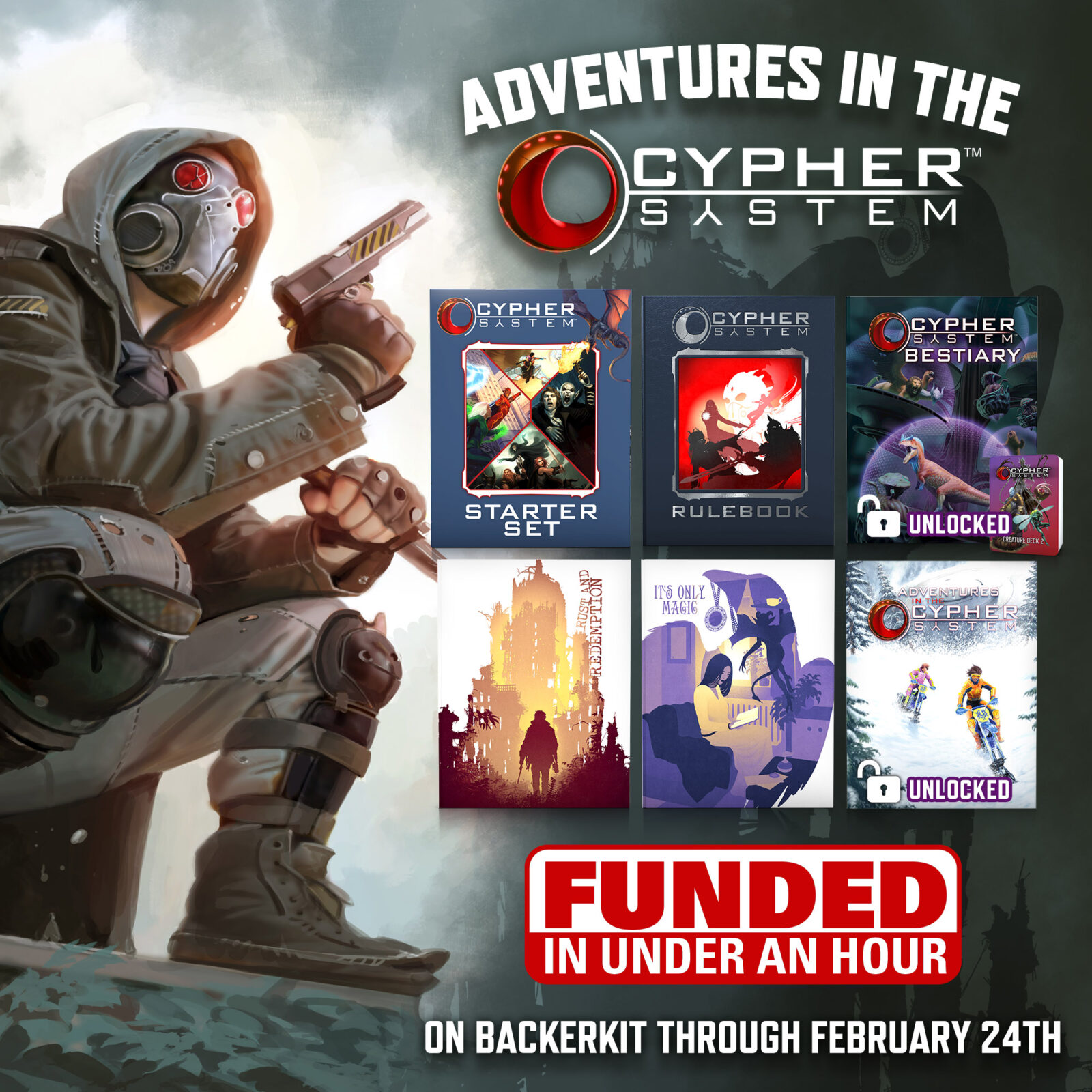 The Adventures in the Cypher System campaign is now closed. You still can make a late pledge and get in on some of the campaign exclusive titles and rewards.
The Cypher System is the critically acclaimed game engine that powers any campaign in any genre. Lauded for its elegance, ease of use, flexibility, and narrative focus, the Cypher System unleashes the creativity of GMs and players with intuitive character creation, fast-paced gameplay, and a uniquely GM-friendly design.

Numenera, Old Gods of Appalachia Roleplaying Game, The Strange, Tidal Blades Roleplaying Game, and other acclaimed TTRPGs are all powered by the Cypher System. With the Cypher System Rulebook, it can also power any campaign you can imagine.
If you play it already, you probably love it. If you haven't, it's about to become your new favorite RPG!
Because either way, the upcoming Adventures in the Cypher System campaign has something for you. From a new Starter Set to hefty new genre books to a stunning new deluxe edition of the Cypher System Rulebook itself—plus additional titles we'll unlock through stretch goals—this exciting campaign is loaded with Cypher System goodness for new players and old.

New to the Cypher System?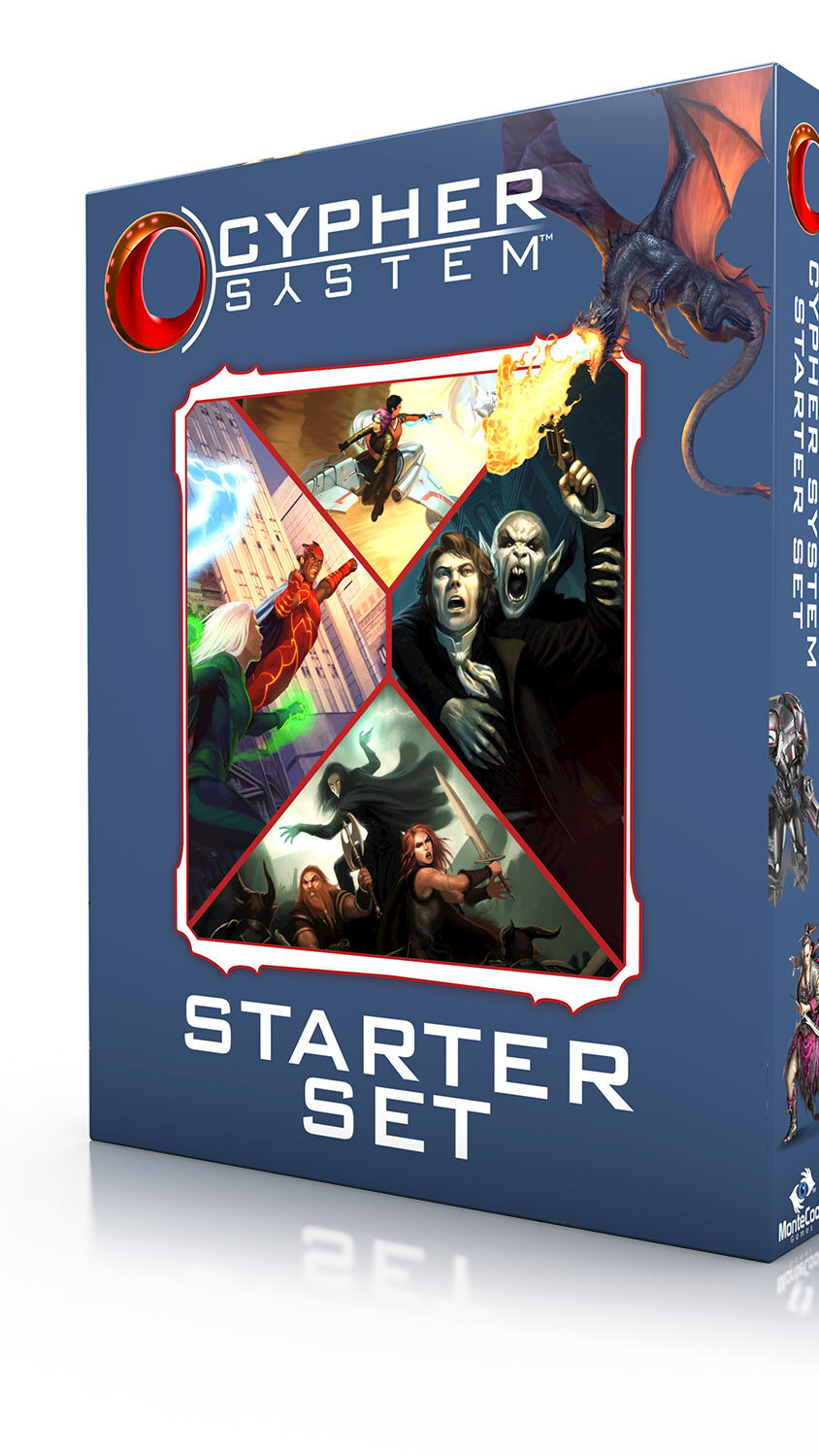 Gather your friends, open the box, and begin playing right away! The Cypher System is easy to learn and fun to play—and the Cypher System Starter Set is perfect for getting started. The boxed Starter Set includes the game rules in an easy-to-learn format, along with pregenerated characters and several adventures.
Ultimately, you'll need the Cypher System Rulebook to build your own campaigns and explore everything the Cypher System has to offer (fortunately, every pledge level includes the Cypher System Rulebook in PDF for free!). But if you just want to try it out—or teach it to new players—the Cypher System Starter Set is a fun and inexpensive way to learn the game.
(And since every pledge level includes a copy of the 448-page Cypher System Rulebook in PDF for free—fulfilled shortly after the pledge manager closes—you can dig into this awesome game system right away!)
For Veteran Players—or Anyone Who Wants to Go Deeper
Venture into the hardscrabble world of a post-apocalyptic future with Rust and Redemption. Or build an urban fantasy or modern magic campaign with It's Only Magic. Like all of our genre books, these 224-page hardcovers explore the breadth and depth of their topics, giving you new descriptors, foci, character options, creatures, cyphers, artifacts, GM advice, adventures, and a complete campaign setting, ready to run.
Adventures in the Cypher System also offers a limited-edition deluxe version of the Cypher System Rulebook. All the content of the standard edition, delivered in opulent style with a vegan leather cover plus foil stamping and debossing, edge gilding, a satin ribbon bookmark—and maybe a few surprise features!
And that's not all—we have exciting stretch goals planned! With a game as broad and flexible as the Cypher System, there's always room for more. We're looking forward to unlocking additional titles through stretch goals!