Today Nerdist Industries announced the release of the Carnival Row Roleplaying Guide, based on the Cypher System. The Carnival Row Roleplaying Guide is available as a free download via the Nerdist website (www.nerdist.com). The PDF product enables gamers to create characters of the sort seen on the hit Amazon series Carnival Row, using the flexible Cypher System. It's also loaded with lore and information about The Burgue and the world of Carnival Row, including maps, characters, creatures, and other details to allow game masters to create their own adventures and campaigns within the setting. The Carnival Row Roleplaying Guide requires the use of the Cypher System Rulebook, from Monte Cook Games.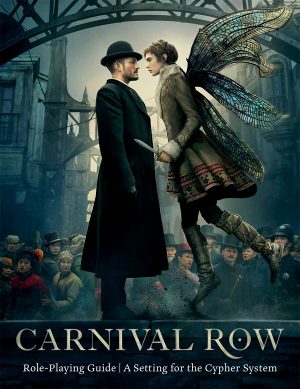 Nerdist also launched "The Heist on the Row," a streamed Carnival Row game today, with showrunner and Carnival Row creator Travis Beacham in the GM's chair. The players, Dan Casey, Aliza Pearl, and Amy Vorpahl, hosted the five-part behind-the-scenes series Into Carnival Row, during which they created the characters they play in the streamed game. They also appeared as extras in the form of their characters in the Carnival Row TV show, connecting their characters to the show's canon events.
Here's what Nerdist's official announcement has to say:
That's right, folks: you can now create original characters that exist in the same universe as Rycroft "Philo" Philostrate, Vignette Stonemoss, and all of the other denizens of Carnival Row through a brand new tabletop role-playing game.
"The use of the Cypher System for Carnival Row is a natural fit," said Monte Cook Games COO Charles Ryan. "The game's narrative focus, the unique way it frees the GM from mechanical work, and the core mechanic of resolving tasks via back-and-forth between players and GM, rather than number-crunching, make it a rising star among game streamers. And its amazing flexibility makes it super-easy to adapt to new settings." The Cypher System has been licensed for use as the game engine for several third-party RPGs, with more in the works.
The Carnival Row Roleplaying Guide and "The Heist on the Row" were released today. Season 1 of Carnival Row is available now on Amazon. The revised Cypher System Rulebook releases next week.