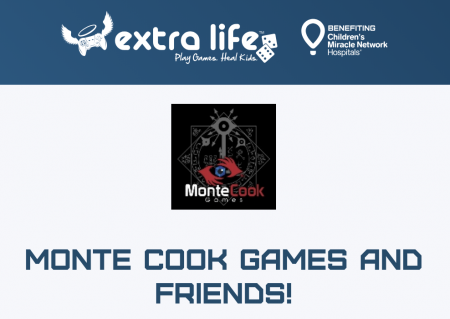 On Extra Life weekend (November 2nd–4th), we're playing and hosting Twitch streams of MCG games and games of our community members. Let's come together to play games and help kids!
How It Works
Extra Life is a fundraising and gaming marathon to support Children's Miracle Network Hospitals.
On November 2nd, 3rd, and 4th, we'll be hosting and playing games and raising donations from friends like YOU! 100% of the donations go to Mission Critical Funds of the Children's Miracle Network Hospital.
TOGETHER we will make a difference for sick kids! Your donation is tax-deductible and will make miracles happen for families who desperately need them.
You can click the "Donate" button at the top of our Extra Life page to make a safe and easy online donation.
Matching Donations
Up to our initial goal of $500, Monte Cook Games will match your donation, doubling the impact of your money! PLEASE help us reach that goal–we'd love to donate that entire $500 extra!
Incentives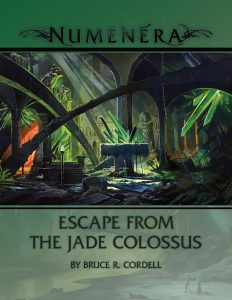 Every person who donates $15 or more will receive a coupon good for the adventure Escape from the Jade Colossus—or for $5 off any purchase at the MCG Shop. With a free copy of our quickstart rules, you'll have everything you need to play Escape from the Jade Colossus. Or, if you're rather, pick up any of our many adventures and short PDF titles for free using the coupon, or use it toward a print core rulebook, any of our useful decks, a supplement, or anything else on the shop. The coupon is good for anything in our web store for up to one year (expires November 30, 2019). Donate and play more cool games and adventures at home!
Just make sure to provide your email address when you submit your donation (make sure it's the email you use on our MCG shop if you already have an account). After the Extra Life weekend, we'll provide your store account with the $5 coupon so you can check out with your prize!
Game Schedule
We'll continue to update this schedule as more Monte Cook Games streams get added. If you'd like your game to be added to the lineup, please tweet the details and tag us @MonteCookGames.
You can watch games on their home stream or sit back and watch them hosted on MCG's Twitch channel.
Friday November 2nd / 4 pm Pacific / Cypher System
Callisto 6 is a fantastic supers/cyberpunk show using the Cypher System by Geek and Sundry (GM'd by Your Best Game Ever consulting expert Eric Campbell). Watch the season finale on Geek & Sundry's Twitch or Project Alpha.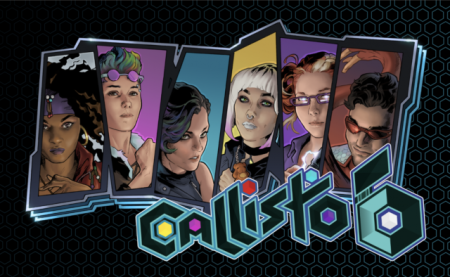 Friday November 2nd / 6 pm Pacific / Invisible Sun
GM Grant Ellis is running a one-shot of Invisible Sun on the Grimjack21502 Twitch channel! Grant runs several Invisible Sun narratives supported by his Patreon.
Saturday November 3rd / 2-6 pm Pacific / Invisible Sun
Watch Invisible Sun GM'd by Ian Smith on their Twitch channel. Ian is a co-GM of the fantastic Invisible Sun narrative, The Truth Bleeds at Twilight. Our own Darcy Ross will be a player as well! Your donations prior to and during the stream can influence the game–see Ian's Extra Life page for details.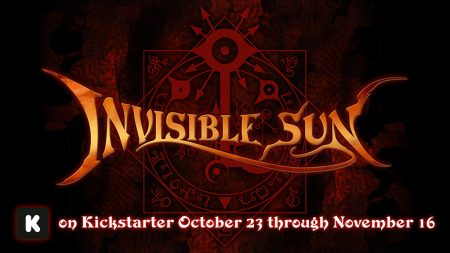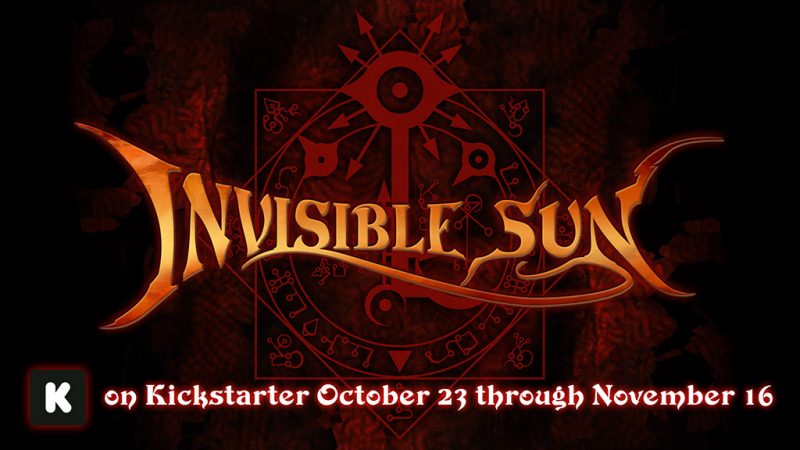 Sunday November 4th / 1 pm Pacific / Durance
CypherCast co-host Jim Ryan will be running a series of Durance one-shots starting this Sunday! Durance by Jason Morningstar is a storytelling game about the balance of power in a prison colony on an inhospitable planet in deep space. Darcy Ross will be playing in this game, too!