This year, Monte, Shanna, and I were invited as guests to attend Dragon Con in Atlanta, Georgia. We attended the convention over the Labor Day weekend. The convention was over all too soon! Here's a brief recap of what it was like.
We were asked to appear on a series of panels related to our areas of expertise (obviously including tabletop gaming and writing). My panels included how one might get started writing in the field of RPGs, tips on how to design and present a really great monster, how to fix those seemingly unfixable problems that GMs sometimes run into in their games, and the essence of evil—and how to portray it—in RPG games.
Shanna's panels included storytelling through roleplaying, LGBTQ trends in science fiction and fantasy, diversity in gaming, and more. Monte's panels included D&D history, anecdotes about the best dungeon ever, the game behind the game (a panel Shanna was also on), and more. (Since I didn't sit on their panels, I don't have any interesting anecdotes to share; ask Monte and Shanna!)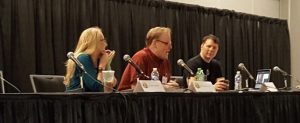 All three of us did share one panel. Not surprisingly, we were on the Monte Cook Games panel, where we described what the company was up to and what people could expect next from MCG. Which means we talked Invisible Sun, our new RPG of surrealistic fantasy, secrets, and magic played both at the table–and away from it.
After wowing the audience with concepts and surrealistic art for Invisible Sun, we described what people could expect from our new book Numenera Character Options 2. For instance, in addition to new foci and descriptors, the book introduces 2 new types to the game: joining the Glaive, the Nano, and the jack are the Glint and the Seeker. The Glint is a master of interaction with others, while the Seeker specializes in exploring—and exploiting—ruins of the prior worlds.
(In fact, the MCG panel touched on most of the other upcoming products you can expect from MCG over the next year, which is also provided here.)
Monte and I (and Cam Banks) sat on the "Help! My Game is On Fire!" panel. One of the perennial questions is always "How do I deal with this problem player?" The answer is some variation of setting expectations, talking with the player outside the game, and—assuming the player wants to help fix the issue—coming up with strategies in the game to remind the player of what they hoped to improve.

The final panel I sat on, "Demons, Devils, and the Occult" included my great friend Robert J. Schwalb. Rob entertained the crowd with his legendary ability to imagine unsettling scenes. For instance, Rob imagined that instead of blood, a demon's veins filled with swarming white mice, which are visible under the skin. When cut, white mice pour out. When the cut begins to "scab" over, it's mouse fur. Maybe not evil, but unsettling as all hell.
I had a great time, both while sitting on panels, and having the opportunity to interact with friends like Monte, Shanna, Rob, and Cam.
Dragon Con is fantastic show that focuses a lot of attention on that particular sense of fun and adventure only found in RPGs. I was honored to be a guest.