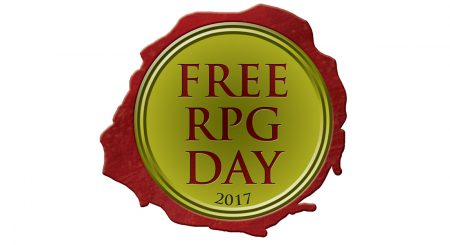 MCG is participating in Free RPG Day 2017! In addition to being a sponsor for Free RPG Day (which means we're providing a free adventure to participating stores), the MCG Asset Team is running game events at the following locations:
United States
• Games of Berkeley, Berkeley, CA
• Emerald Knights Comics & Games, Burbank, CA
• Game Kastle, Fremont, CA
• Dice House Games, Fullerton, CA
• Game Empire, Pasadena, CA
• The Wizard's Chest, Denver, CO
• Adventure Game Store, Davie, FL
• Dungeon Games, Estero, FL
• Mayhem Comics, Clive, IA
• Games Plus, Mount Prospect, IL
• Third Eye Games, Annapolis, MD
• Collectors Corner, Baltimore, MD
• Source Comics & Games, Roseville, MN (run by Saturday Night Space Opera, not the MCG Asset Team)
• maCnarB Gaming, Gautier, MS
• Wyvern's Tail, Asheville, NC
• Dragon's Lair Comics and Games (153rd Street location), Omaha, NE
• Jetpack Comics, Rochester, NH
• Dragon Snack Games, Buffalo, NY
• Twenty Sided Store, Brooklyn, NY
• Alterniverse, Hyde Park, NY
• Kirwan's Game Store, Catskill, NY
• Just Games Rochester, Rochester, NY
• Rune & Board, Hillsboro, OR
• Guardian Games, Portland, OR
• Wade's Comic Madness, Levittown, PA
• Reality Shift Games, Narragansett, RI
• Dewayne's World of Comics, Kingsport, TN
• Comic Cellar, Memphis, TN
• Space Cadets Gaming, Houston, TX
• Dragons Lair Comics and Fantasy, San Antonio, TX
• Geek World, Tyler, TX (running an MCG game but the store doesn't have Free RPG Day items)
• High Gear Games & Hobbies, Taylorsville, UT
• Wandering Havoc Games, Marysville, WA
• South Hill Games and More, Puyallup, WA
• Adventures Underground, Richland, WA
Australia
• Jolt Games, Canberra, ACT
Brazil
• Livraria Cultura, Rio de Janeiro
Canada
• GameKnight Games and Cool Stuff, Winnipeg, Manitoba
Mexico
• El Reino de los Juegos de Mesa, Guadalajara, Jalisco
• IMP Hobbies, México City, México
United Kingdom
• The Games Shop, Aldershot
• Patriot Games, Sheffield
So… is it June 17th yet?
On Free RPG Day, go to your local participating game store, pick up a free adventure, and see who's up for a game!