Short Film Numenera: Strand Is Now Free to Watch Online!
The Numenera brand, already soaring with the launch of a line of novels by Angry Robot this month and the release of Torment: Tides of Numenera CRPG in February, this week enjoys the launch of the spectacular short film Numenera: Strand, by Valdes/Eriksdotter Productions.
In March 2015, the Swedish film company Valdes/Eriksdotter held a crowdfunding campaign to create a short film in the Ninth World setting of the Numenera tabletop roleplaying game—Earth, one billion years in the future. The result was Numenera: Strand, which was released to backers December 2015. Now the film has been released online, where everyone can see it for free!
In Numenera: Strand, a scavenger roams a desolate beach looking for useful items and stumbles upon a rare piece of technology. This starts a chain of events leading to an experience that changes the very essence of his being. Although the film is roughly eleven minutes long, the story is compelling, and the visuals are feature-film quality.
"We've been working with Valdes/Eriksdotter for roughly two years on this film, and we've been amazed throughout its development by their incredible vision, grasp of the Ninth World setting, and filmmaking skill," commented Charles Ryan, COO at Monte Cook Games. "Minute-for-minute, I think this is maybe the best game-related film ever made. Numenera fans are loving it, and it's going to bring zillions of new fans into the Ninth World as well."
Numenera: Strand was directed by Joan Valdes and produced by Martina Eriksdotter, in close cooperation with the creative staff at Monte Cook Games. There's also a PDF supplement, Exploring Numenera: Strand, that gives game stats for the person, location, and devices shown in the film!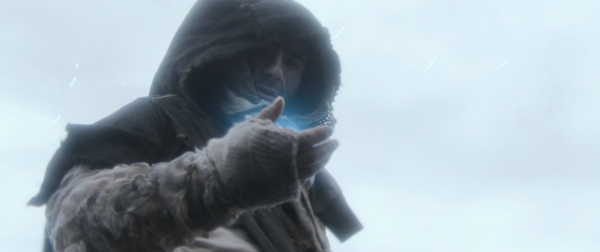 Numenera fans are already heaping praise on the film, which went live on Youtube and Vimeo late last week.
"Numenera: Strand beautifully shows the wonder and mysterious nature of the Ninth World. This would be a great tool to introduce someone new to the world of Numenera and what they might expect from playing the game." —John Neary
"An incredible and visually epic film! Bringing a world setting as complex and interesting as Numenera to the screen is a gargantuan achievement, and Numenera: Strand beautifully captures the wonder and oddity of exploring a world nine ages into the future." —John Arcadian, Gnome Stew podcast
"Numenera: Strand shows the Ninth World in a way nobody has seen until now. The visuals are stunning, and the acting superb. Without any dialogue from the main character, this short film tells an epic story of wonder and mystery. After watching it, you are still left with the same question that began it all: Is it technology, or is it magic?" —Austin Kazda
"Numenera: Strand is an excellent visual introduction to the world of Numenera. It bleeds style and intent with every shot." —Jacob DC Ross
"Watching this film made me wish I could grab my friends and jump a billion years in the future. It shows the subtle beauty that is the Ninth World, while at the same time depicting the awesome danger that lurks around every corner." —Bryan Robbins
"Numenera: Strand felt simultaneously mysterious, new and still familiar. It perfectly embodies the childlike curiosity many of us have when encountering the unknown. I find myself daydreaming about what happens post-ending and even pre-start of the film." —Thomas Howell
"This short film is a perfect introduction to the world of Numenera. The music, narration, and color palette evoke the Ninth World's themes perfectly." —John Kramer
"Stunning! An amazing and beautiful introduction to the world of Numenera. I will require all my players to watch this before we begin our first session." —William Nabors
https://www.youtube.com/watch?v=C5_wiYzHZ70