One of my favorite parts of games design is working with artists and Bear, our art director, to bring the vision that's in my head to the page.
My first stage is the magpie stage, where I gather everything that inspires me. These days, I use Pinterest for this—gathering colors, clothing, characters, creatures, and settings that seem to encapsulate some element of the project I'm working on.
I started this Pinterest board for Predation long before we even launched the Kickstarter. (It's true…we often leave a trail of Easter eggs for astute fans to follow about projects that we're working on). Every time I saw anything that seemed like Predation, I added it, whether it was feathered dinosaurs, a piece of clothing that fit the setting, or some cool time travel concept.
Stage two is when I get to start working with the artists and the art director to get the ideas out of my head and onto the page.
One of the pieces that I knew I wanted for Predation was a fun scientist-type character that people would want to play. We asked Jon Petersen, the lead artist, to give us a scientist growing a tiny dinosaur in a lab. At the end of the art order, I wrote, "He should be excited to see that his dinosaur is doing well!"
When I saw this photo of John on his Facebook page, I knew we were in for something really fun with this piece. Not all artists do a photo shoot for their art, but when they do, it's always fun to watch it move from reality into fantasy.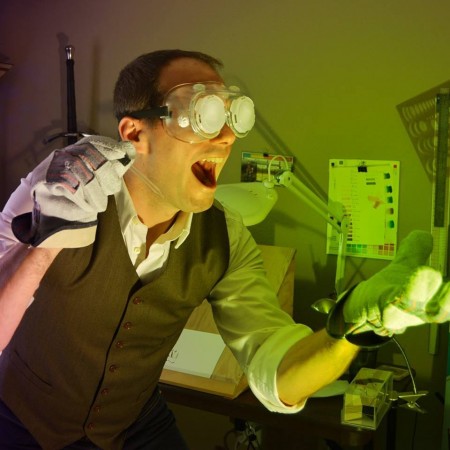 "The hardest part was figuring out the clothing," John says. "I was given a couple examples of pre-existing art for a mad scientist character, but I didn't want to just do a generic lab coat and I didn't want to draw too much from someone else's work. The flask is going to contain green luminescent liquid. For the photo shoot I wanted to find a similar round flask and drop in a few glow sticks, which would have been a very useful reference to consult, but I really didn't have time. My own hair is not so crazy and full, so I had to look at a lot of photos on Pinterest of pixie haircuts."
And then we got this amazing sketch from him. I totally want to play this character, and I'm pretty sure his focus is Plays God.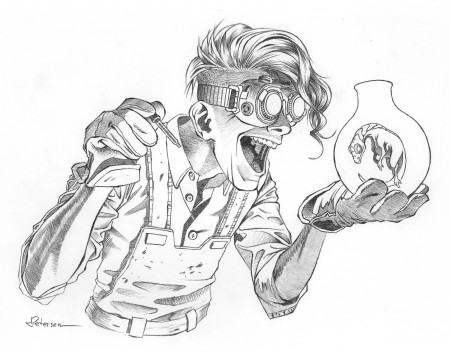 Next, John will add color and fill in the details of the lab and the lab equipment. Stay tuned—we'll have a final to share with you soon!