Description
Create fantastic, whimsical adventures for your No Thank You, Evil! game
Someone stole all the robot waiters from The Cake Is a Pie, a famous cake and pizza restaurant. Clues lead to an alien factory where everyone looks the same. Can the players overcome obstacles and hazards, confront Joe the Giant, and solve the mystery to return the robot waiters?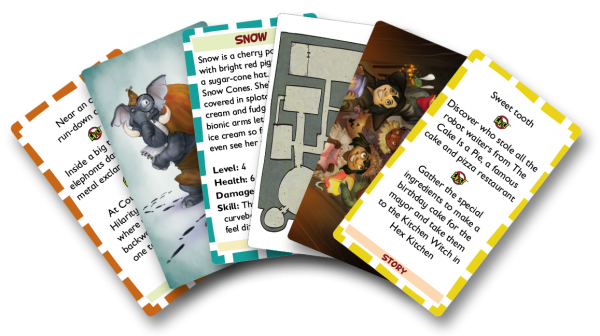 Journey into Storia in adventures of your own design! Combine an engaging STORY card with one or more cool PLACE and PERSON cards to outline your quest. Then give your adventure a surprising TWIST, and maybe some fun and useful STUFF. There are even maps and handouts! Pick cards, draw them at random or mix and match. Create a great story with all the details you need—in minutes!
This expansion requires the No Thank You, Evil! game to play.