The 2022 Holiday Gift is now closed. Thanks to the hundreds of gamers who took part, leading to donations of nearly $6000 to our charities!
Here's $10. Now pick which charity you'd like us to give it to. Or use it to get a gift for a loved one—or a little present for yourself—from the MCG Shop. The 2022 MCG Holiday Gift is here!
This is a tradition here at MCG: we give you a $10 coupon for the MCG Shop. Use it to get a little something for yourself or a loved one—or turn it into a donation to one of three charities we're supporting this holiday season. We make the donation (100% goes to the charity) and you pay nothing!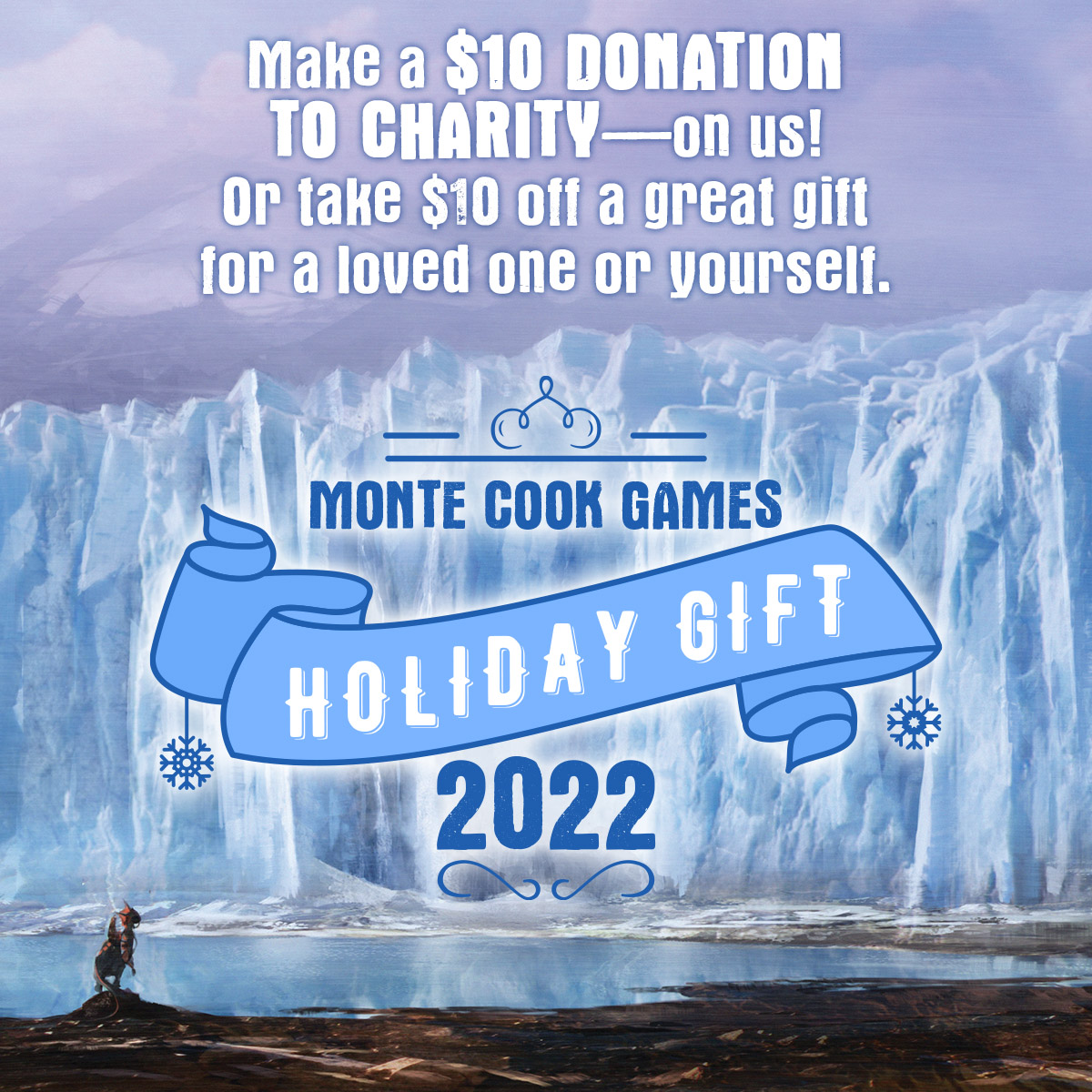 Here's how it works:
Go to the MCG Shop.
If you'd like to make a charitable donation, click on the 2022 Holiday Gift and add one of the three donations to your shopping cart. They're $10 donations, so when you use the coupon code you pay nothing and we make the donation!
Or you can shop for a gift for a loved one—or for yourself. Or do it all!
Regardless, at checkout, enter the following coupon code, which gives you $10 off: 2022MCGHolidayGift
Get $10 off The Darkest House, First Responders, or Ten Years of Adventure. Pick up a Player Notebook or GM Notebook for half off. Or give a gift certificate to a friend (and get a smaller one for yourself, as a gift from us). Get a PDF adventure, like The Takings, absolutely free! Or choose a $10 donation to the Women's Committee of Iran NCRI, Heart-to-Heart International, or The Trevor Project and make the holidays a bit brighter for someone else. You can use the 2022MCGHolidayGift gift code for anything you like!
But don't delay: The code expires on December 26th. And one code per user, please!
Here's a little information on the three charities we're supporting this year:
Women's Committee of Iran NCRI
A committee of the National Council of Resistance of Iran, the Women's Committee of Iran NCRI works for equal participation of Iranian women in political leadership as well as gender equality in political, social, and economic arenas. The Committee regularly reports to the UN on the plight of women under the mullahs' regime, and is the source of much information from within Iran about women's issues and currently ongoing resistance to the regime.
Heart to Heart International
Heart to Heart International seeks to improve healthcare access in the U.S. and around the world by ensuring quality care is provided equitably in medically under-resourced communities and in disaster situations. HHI has shipped over $2.4 billion in aid to 131 countries, including a response to the Ukraine crisis that includes medical aid, clinics, and health and hygiene kits totaling over $89 million.
The Trevor Project
The Trevor Project is the world's largest suicide prevention and crisis intervention organization for lesbian, gay, bisexual, transgender, queer, and questioning (LGBTQIA+) young people. The organization's work in advocacy, research, education, and particularly crisis support, with trained counselors available 24/7, 365 days a year, benefits the 1.8 million+ LGBTQIA+ young people who seriously consider suicide each year in the U.S.