It's the season of giving, so let's make it a great holiday season for some great causes!
Continuing an MCG holiday-season tradition, here's the 2017 MCG Holiday Gift! We're giving you a $5 coupon for the MCG store. Use it to get a little something for yourself or a loved one—or you can turn it into a donation to one of three charities we're supporting this holiday season!
Here's how it works:
Go to the store and shop for your items, just like you normally do.
If you'd like to make a charitable donation, add the 2017 Holiday Gift to your shopping cart. It's a $5 donation, so when you use the coupon code you pay nothing and we make the donation!
At checkout, enter the following coupon code: 2017MCGHolidayGift
Get $5 off that Predation setting you've been thinking about. Or $5 off a copy of No Thank You, Evil! for a young gamer-to-be you know. Or give a gift certificate to a friend (and get a smaller one for yourself, as a gift from us). Get a recent PDF, like Unmasked: Day One, absolutely free! Or choose a $5 donation to the ACLU, Doctors Without Borders, or the Atlantic Hurricane Fund and make the holidays a bit brighter for someone else. You can use the 2017MCGHolidayGift gift code for anything you like!
But don't delay: The code expires on December 26th. And one code per user, please!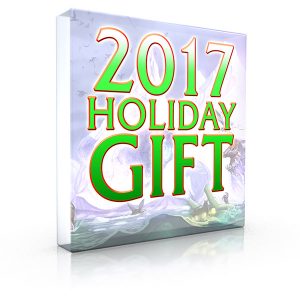 Here's a little info on our three charities:
American Civil Liberties Union
The American Civil Liberties Union has worked for nearly 100 years to defend and preserve the individual rights and liberties guaranteed by the Constitution and laws of the United States. They are tireless advocates, working in courts, legislatures, and communities to defend and preserve the Constitution's promise of liberty for everyone in our country—people of all races, religions, ethnicities, sexual orientations, and economic statuses.
Doctors Without Borders
Doctors Without Borders (Médecins Sans Frontières) helps people worldwide where the need is greatest, delivering emergency medical aid to people affected by conflict, epidemics, disasters, or exclusion from health care. On any given day, more than 30,000 doctors, nurses, logisticians, water and sanitation experts, administrators, and other qualified professionals are working with MSF to provide medical care around the world.
CDP Atlantic Hurricane Recovery Fund
The Center for Disaster Philanthropy's mission is to transform disaster giving by providing timely and thoughtful strategies to increase donors' impact during domestic and international disasters. The organization focuses on medium- and long-term recovery from major disasters, which otherwise often attract high levels of donations but only in the immediate aftermath of the event. The Atlantic Hurricane Recovery Fund addresses rebuilding homes, businesses, and infrastructure; meeting the needs of young children; and supporting mental health needs in the aftermath of hurricanes Harvey, Irma, and Maria.
---
There are other great charities and philanthropic projects we're supporting this year–consider checking them out if you're looking for more ways to give back this year!